Last week I was blessed with some of the biggest and best news to hit the airwaves. OK, no, Donald Trump didn't forfeit the election, but I consider this breaking information to be of equal importance to our society and, well, mankind.
UMass Dining is finally # 1. That's right, after six arduous years in the Top 10, The Princeton Review has officially crowned Massachusetts' flagship campus No. 1 for best campus food in the nation. The Today Show even featured UMass' famed Napoleons and sliders on its August 30 broadcast.
Being a part time food-connoisseur and full-time professional overeater, the UMass dining halls have been there for me when I have needed them most. I have spent hundreds of hours (at this point) feasting on custom-made sushi, layers of flank steak, bowlfuls of stir fry and dozens of slices of key lime pie. And that is just in one sitting (I kid, I kid, somewhat). I have an immense affection for each one of our four dining halls: Berk, for the endless options and cozy interior; Hamp, for when I'm trying to get my health-on; Frank, for the eclectic people-watching and most fire stir fry on campus; and Worcester, for when I just want to sit by myself and eat multiple plates of Asian delicacies.
In addition to the four dining halls, there are also almost two dozen other eateries scattered across the UMass campus. These include markets, cafés, food trucks and a fine dining restaurant. This means that I have indulged myself on pretty much every square foot on the UMass campus. I have set my alarms for 8 a.m. omelettes and have fallen asleep at the foot of food trucks alike.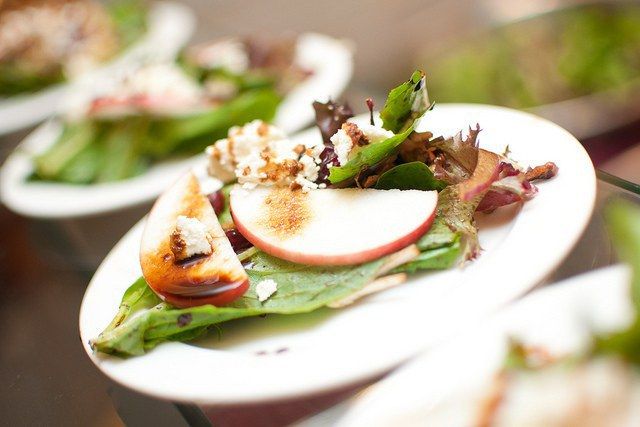 UMass prides itself in offering local and sustainably-grown food to its students. It has also pledged to serve chicken 100% antibiotic-free chicken in its dining establishments. That means that those braised chicken thighs that you are stuffing your face with come from high-quality local farms -- farms that are both committed to sustaining your health and the local Western Massachusetts economy.
Whether you're an athlete looking to eat clean with some high-powered protein, or if you're just trying to fit as many crab rangoons in your cheeks as possible (like myself), UMass dining has what you're looking for. No matter what you aim to eat, it'll always come through, and that's why it's #1. Clear plates, full stomaches, can't lose. And we won't again.
Cover Image Credit:
UMass