If you are not on Twitter or have not been blessed by seeing the iconic account that is Thoughts Of Dog, then buckle up, buddy! Thoughts of Dog is quite possibly the best account on Twitter. It is filled with humorous tweets that can make you think about your own dog or others.
1. When you come home
The moment when you open the door and see your doggo waiting with excitement to see you is truly the greatest form of "I love you." Nothing could ever beat it. I mean, who else starts running around with excitement at the mere presence of your face?
2. Literally, every dog is a "good boy" or "good girl"

I know for a fact when you pet a doggo, you are either verbally saying "good boy!!!" or saying it in your head. Unless you hate dogs, then I want you to watch dog videos on YouTube.
3. They just want the human snack!!

When a dog sees human food, you better believe they will be right at your feet. Or chasing it across the kitchen. The look in their eyes causes you to give in, and you drop the food.
4. I'll miss you, human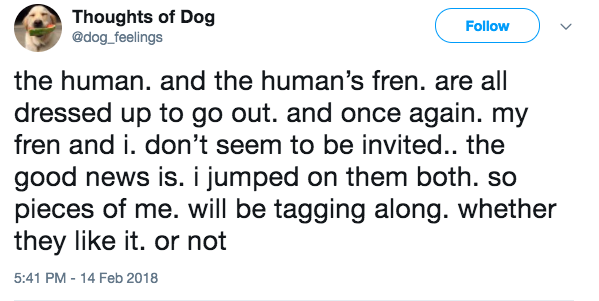 A dog just wants to be with their companion aka their human. The human provides the food, love, and overall enjoyment of the dog's life. So snuggle with your doggo a little more and give them all the love.
5. One word: Rain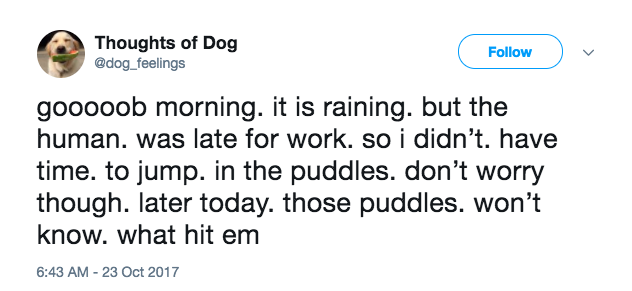 Dogs splashing in puddles are adorable even if you will need to clean them up afterward. They might be messy and muddy, but no matter what it will still make you smile!
6. They always look so sad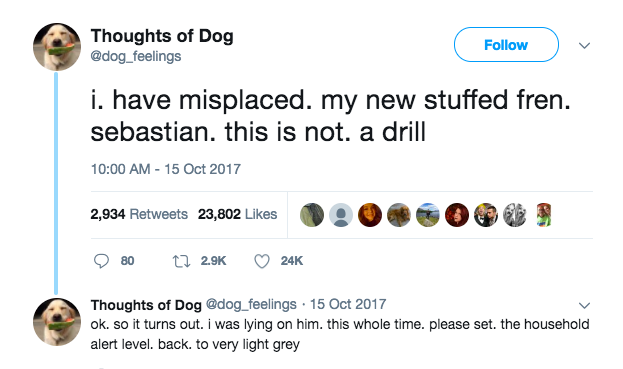 Running throughout the house. Sniffing the carpet. Ramming head into the doors. All they wanted was their favorite toy. Poor doggo.
7. Only dogs can know our deepest, darkest secrets


It's incredibly mean, but whisper "treat" to the next dog you see. Aside from that, I know for a fact you have told your dog secrets. They like listening to you.
8. THEY WANT SOMEONE TO LISTEN TO THEM, TOO

Listen to the dogs!! They want to be loved just like we do!! They just love you so much, human!! It is only right to give them your attention!!
9. Squirrels, dude

Doggos are hilarious when they chase the stinking squirrels. I believe in you, puppers and doggos! Show those squirrels up!
Thoughts Of Dog is the best, people. It is filled with many more hilarious tweets that will have you rollin' for hours! It is great for a study break, something to cheer you up, or a way to see what your dog is thinking!