Almost three years ago, on the day my grandfather died, his star was placed on the Hollywood Walk of Fame to celebrate his many achievements in the entertainment industry. This past weekend, I visited the star in honor of the upcoming three-year anniversary of my grandfather's passing. As I was leaving, I noticed a crowd of people standing around another star laughing, and I walked over to see what was happening. A group of tourists had assembled around Donald Trump's star, which had been defaced with protest messages written in permanent marker. At first, I laughed along and took a few pictures, as I agreed with the sentiment of the protest. However, I thought back to where I had just come from, another star that meant so much to me. I thought to myself, "How would I feel if someone had done that to my grandfather's star?" I realized that the markings on Trump's star were not an act of exercising First Amendment rights, but a disrespectful and disgusting act of vandalism.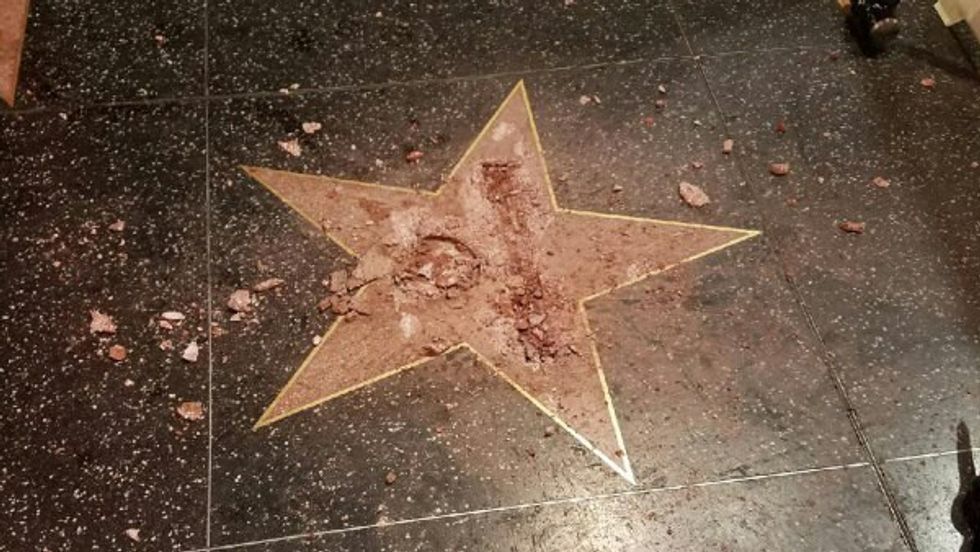 Trump's star was a frequent target for vandalism during the election season as people searched for effective ways to protest his campaign rhetoric. However, defacement of a star on the Hollywood Walk of Fame is not simply an act of political protest, but an attack on the very essence of what the monument stands for. A star on the Walk of Fame is bestowed on an individual for significant achievement in one of five fields of entertainment (motion picture, television, music, broadcast radio, and theatre). The stars pay tribute to the impact that the honorees have had on the world through their work in entertainment. Additionally, stars have become places for both fans and family members of deceased honorees to honor the legacy of their achievements. The Hollywood Walk of Fame is a tribute to the history of entertainment and the legacies of individual entertainers, and as such, any vandalism done to it tarnishes that legacy.
Although I disagree with and was angered by much of Donald Trump's rhetoric throughout his newfound political career, there is no doubt in my mind that he deserved his star on the Hollywood Walk of Fame. Although he may be an inexperienced and unqualified president-elect, he is a masterful entertainer. He has a great talent for stirring up drama in the media, fueling a fire that keeps the people begging for more. He created the image of a lavish lifestyle to serve as one of America's most well-known personas. When hosting "The Apprentice," he masterfully kept us in suspense as we waited to see who he would fire next. And in the presidential campaign, his divisive rhetoric and off-the-cuff style engaged both supporters and detractors in ways that no presidential candidate ever could before. In fact, I think that Trump is a dangerous politician and leader because he has the natural instincts of an entertainer. Every move he makes seems to be an effort to stir up controversy. This may be a recipe for disaster in government, but it's a winning formula in entertainment.
It is within our First Amendment rights to speak out against and protest anything Donald Trump, or anyone else, does. However, the Hollywood Walk of Fame, a monument to the history and the legacy of our pop culture and entertainment, should not be destroyed or altered for political statements. The Walk of Fame is a place where family members can go to honor the legacies of their loved ones, and where fans can go to connect with their heroes. Defacing a star has a much greater effect than simply disrespecting the name on that one star. An attack on even a single star is an insult to every name on the Hollywood Walk of Fame, and to the industry and the institution that the monument stands for. The Hollywood Walk of Fame is a celebration of great achievements in entertainment that have enriched all of our lives, and its stars are not platforms for political protests.