If you have ever needed to go to the pharmacy, you may have noticed that drug prices are a big problem. If you have, you wouldn't be the only one. An analysis from Bloomberg shows that 7 of 8 top-selling drugs are more expensive in the US than in other countries, even after you take discounts into account.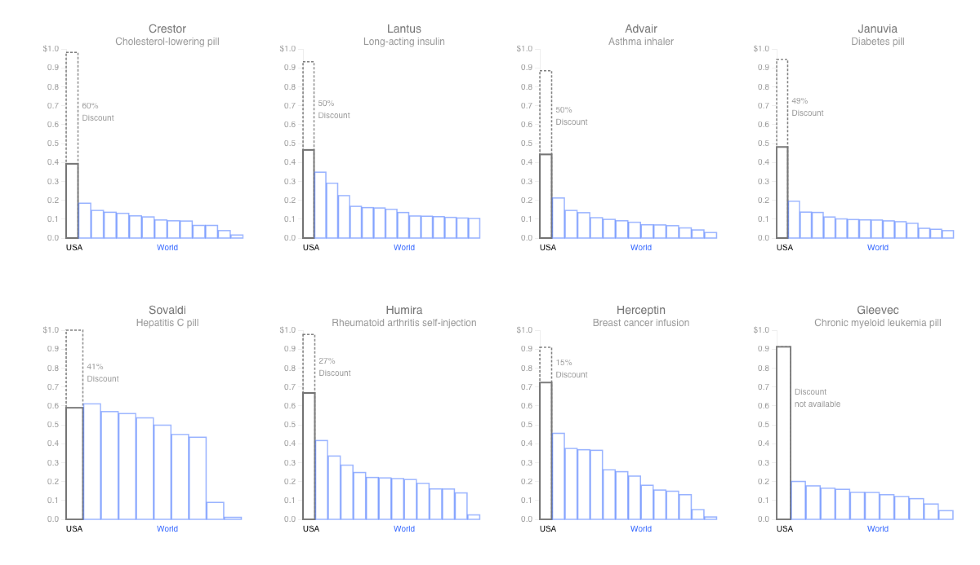 So the obvious question is "where do these costs come from?" Well, many will point to the research and development of these drugs, but a quick look into that shows that idea doesn't really pan out. Looking at below chart, put together by the BBC using data from GlobalData, you can see that for many companies their profits are comparable, or even larger than their R&D spending.
World's largest pharmaceutical firms
Company
Total revenue ($bn)
R&D spend ($bn)
Sales and marketing spend($bn)
Profit ($bn)
Profit margin (%)
Johnson & Johnson (US)
71.3
8.2
17.5
13.8
19
Novartis (Swiss)
58.8
9.9
14.6
9.2
16
Pfizer (US)
51.6
6.6
11.4
22.0
43
Hoffmann-La Roche (Swiss)
50.3
9.3
9.0
12.0
24
Sanofi (France)
44.4
6.3
9.1
8.5
11
Merck (US)
44.0
7.5
9.5
4.4
10
GSK (UK)
41.4
5.3
9.9
8.5
21
AstraZeneca (UK)
25.7
4.3
7.3
2.6
10
Eli Lilly (US)
23.1
5.5
5.7
4.7
20
AbbVie (US)
18.8
2.9
4.3
4.1
22
Source: GlobalData

Another contender, PBMs, or pharmacy benefits managers, never heard of them? Neither had I until I read this Washington Post article which said:
"PBMs are for-profit companies that negotiate drug price discounts on behalf of insurers and employers. They include giant companies like Express Scripts Holding and CVS Health. They make money from fees paid by insurers and employers and by taking a cut of the rebates they negotiate. Drug companies have argued that the need to give larger and larger rebates to PBMs is what's driving up the list prices of drugs. "
The article continues with "PBMs say they typically pass along 90 percent of the savings they negotiate to customers " but then they provide this paper to show that the rebates PBMs argue for have 0 effects on drug prices.
So essentially, PBMs are middlemen, that do nothing more than bog down an already complex system, and take in money that could be passed on to the consumer, or go to making better drugs.
The Washington Post article goes on to say how the whole debate gets skewed since two people could spend very different prices on the same drug depending on their insurance plans.
And by-and-large, it is a mess, but that shouldn't stop us from trying to fix it. What it really comes down to is the fact that America's way of getting medicine to people is not as efficient as it is in other countries. In other countries, the government can negotiate with pharmaceutical companies, and if the country doesn't get a good deal, the company loses out on selling to that entire nation. But that isn't true in the US. Let alone all of the various PBMs and insurance companies, Medicare is bound by law not to negotiate with pharmaceutical companies. This, along with the all of the other players such as PBMs and all of the different insurance companies, which makes it so hard for Americans to get good drug prices.
That is without even mentioning the power pharmaceutical companies have to get consumers to spend money on their most expensive drugs. Since generic brand rugs are cheaper and equally effective, many people would prefer to use them, but of course, many people just use whatever their doctor rights in the prescription. This is why it is a big deal that pharmaceutical companies give doctors "gifts, educational grants and sponsor[ed] lectures" which the BBC describes as still "commonplace in the US". They then point to this research paper to show that "doctors in the US receiving payments from pharma companies were twice as likely to prescribe their drugs."
This would be another problem that could vanish if the government was a bigger player in buying drugs for the US.
Other solutions could be having US-made drugs which are exported to other countries (where they are sold much cheaper) be bought by Americans (something that is currently outlawed). Or have a price-cap on certain drugs. Ideas both presented in this Los Angeles Times article.
Either way, we need a solution, and since this is something that Trump has said he is going to tackle then now seems like a perfect time for something to be done.