Travelers Listen Up! Have you ever wanted to see crystal blue water, white sand, but didn't want to pay the price of an airplane ticket to a tropical place? North Michigan is perfect!!
Over Memorial Day weekend I had the luxury to explore North Michigan. I found incredible views and had a lot of fun in the process. I have never experienced Michigan before but the weather I had was perfect.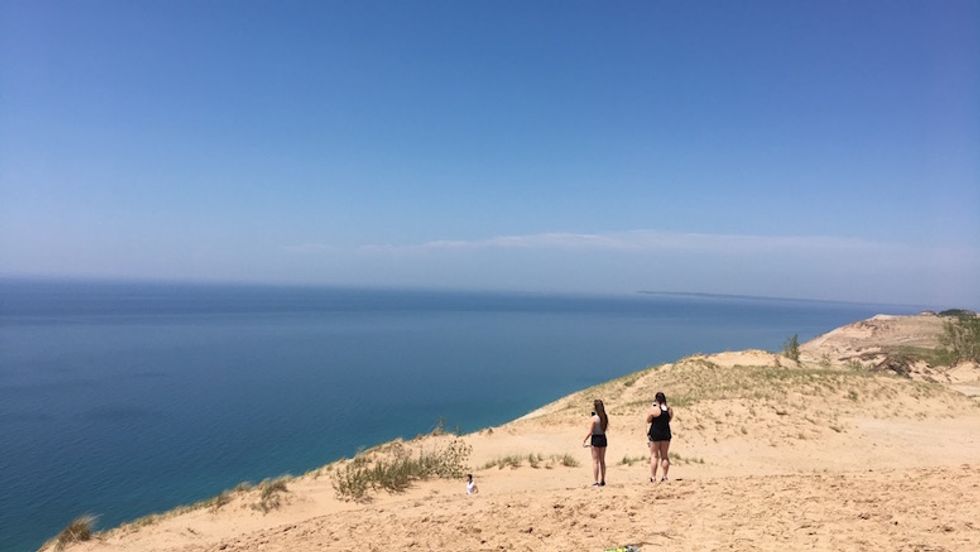 While I was in Michigan for a little less than a week I stayed in a log cabin named Lemond Lodge. We were the perfect distance from beaches, small towns, and state parks! Frankfort Beach was one of the first beach towns we explored. It had an enormous beach, volleyball courts, mountain like views with crystal blue water, plus a lighthouse!
Right next door was Frankfort's small town. It was perfect to stroll after hanging out at the beach: ice-cream parlors, small boutiques, antique shops and a movie theatre. This country-side beach town fits in perfectly with the atmosphere.
Another day we explored a Sleeping Bear Dunes State Park and saw Scenic Views of different lakes. Within this State Park, there was also a site called Sand Dunes were you scaled the side of a mountain at 70 degrees for 2-3 hours. Once at the bottom of the mountain you reached blue water that was so refreshing but looking up you had to climb the sand dunes that looked a mile high with the steep incline. Worst hour of my life, but once reaching the top I felt like I accomplished something amazing!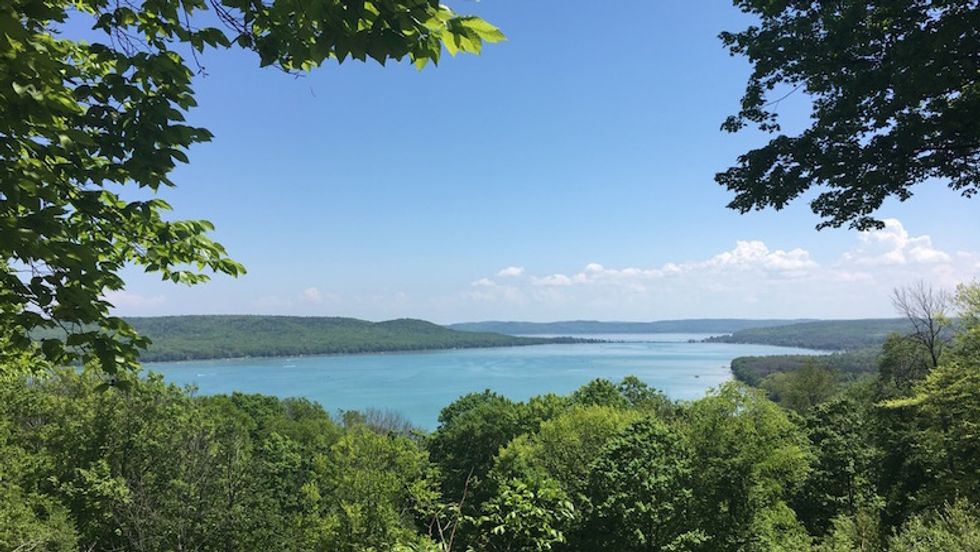 After being covered in sand from head to toe I washed up and headed to some wine vineyards that were less than 45 min away. We reached two different beautiful vineyards: Big Little Vineyard, and Black Star. They had different vineyards only a few miles apart of each other so you could hop between them. A party bus could be rented for you and your friends to try out different wines all day! Without buying any bottles you could spend less than $10 on several glasses of wine between the two vineyards! Perfect locations for adults to hangout out and try different wines with friends.
Towards the end of our trip, we hung out in Traverse City and played beach volleyball all afternoon and strolled downtown and hopped different lunch locations. When we reached a corner of the town square there were bars and food trucks with live music playing all evening! The vibes in Traverse City were some of my favorites through the entire trip. One of my favorite spots was a doughnut shop that had hundreds of different flavors!

Our last day In Michigan we drove two hours south to Big Lake Michigan and had the opportunity to hang out with family friends. We paddled board, jumped off the boat, swam in the lake, played spike ball and had ourselves a great last day with friends and family! Spending days on the lake are the best days. I was so happy to make new friends and see all the different sceneries.
Overall, I had a great time with family in Michigan. I would have never expected to experience the amazing things Michigan has to offer. Anyone who loves to travel to beaches and tropical towns don't forget about North Michigan in the summertime! It was beautiful and one of my favorite trips.