Pinkberry? I don't know her. Here I present you the best soft-serve places I have discovered in LA. I ranked them based on flavor, location and "healthiness". Nothing is better than a guilt-free dessert that is actually delicious !
---
---
---
---
---
---
---
---
---
---
---
---
Cha Cha Matcha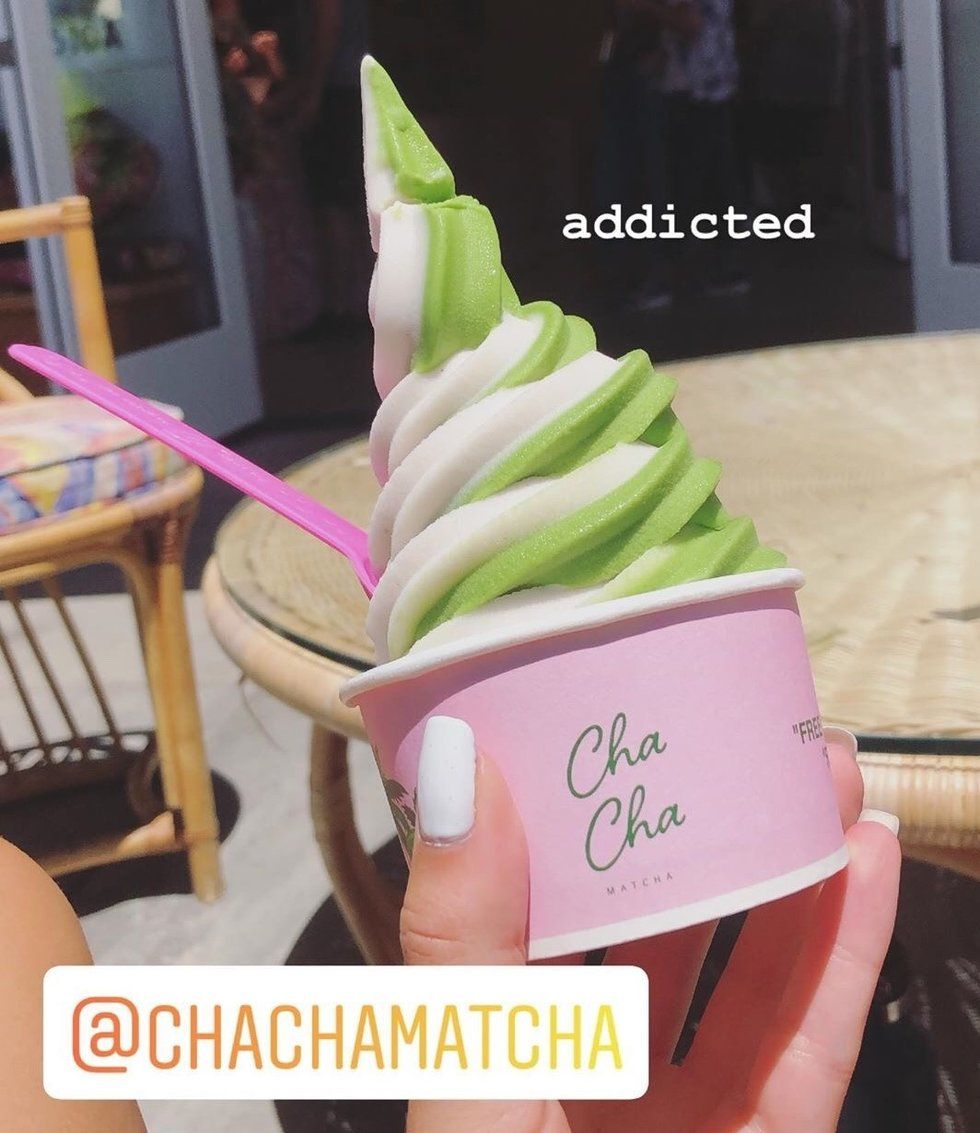 me recognizing my addiction: Matcha
myself
Overall, the absolute supreme, best soft-serve I have had in LA is from Cha Cha Matcha.
Cha Cha Matcha is located on the corner of Robertson Blvd. and Melrose Ave. in the midst of the adorable area of West Hollywood. The location is incredibly nice and the cafe is absolutely charming. It may be a bit small, but the outdoor seating is just too cute. This cafe not only has a multitude of matcha beverages ranging from lavender matcha infused with CBD to Beetroot matcha with a stunning pink hue, but it also has a quaint and delicious offering of food. There is avocado toast, almond butter toast, waffles, vegan cookies and donuts and of course. Lo and behold, the VEGAN MATCHA SOFT-SERVE. Praise the lord, this stuff is just too good. It is refreshing, perfectly sweet and vegan (which means its healthy, right?). Right. This soft-serve comes in first as it just always hits the spot, and pairs perfectly with their avocado and tahini toast.

They also have a rotating soft-serve flavor. I have tried the Lavender with CBD and the Vanilla (both vegan). They swirl elegantly with the earthy notes of the matcha and create the PERFECT summer treat.
Magpies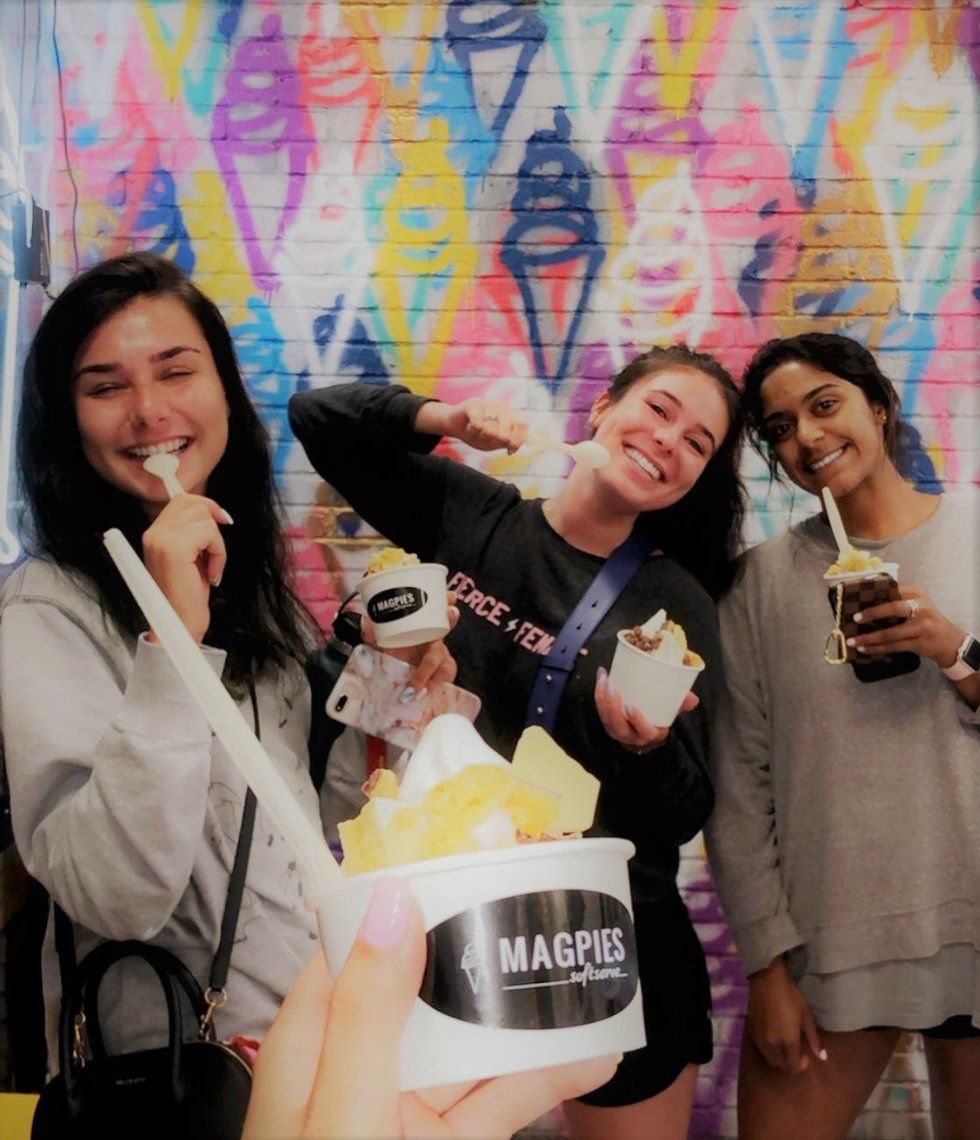 me, my sister and her big, Sruthi, posing with our prized possessions.
Sam Bloom
Magpies is a vegan soft-serve heaven for those that enjoy unique flavor combinations and honeycombs. I, for one, enjoy both of those things so when I discovered Magpies it was life altering. Magpies' soft-serve is almost all vegan, aside from their two dairy flavors: sweet cream and malted chocolate. Both of which are delicious. However, I typically opt for the dairy-free flavors to save my insides from peril.
Photographed above, I am enjoying a horchata-milk tea swirl with honey combs on top. The flavor profile is delicate, sweet, yet satisfying. The honeycombs provide a necessary crunch and light sweetness that pair beautifully with the soft-serve. My sister, Sruthi and my lovely friend, Sam, all enjoyed theirs too topped with the honeycomb. We are clearly very happy with our treats.
Magpies ranks second on my list simply due to location. I have been to the one in Tarzana. It is not the cutest place nor is there any aesthetically pleasing outdoor seating. The flavors and product almost outweigh the scenery, but just not quite.
The Bigg Chill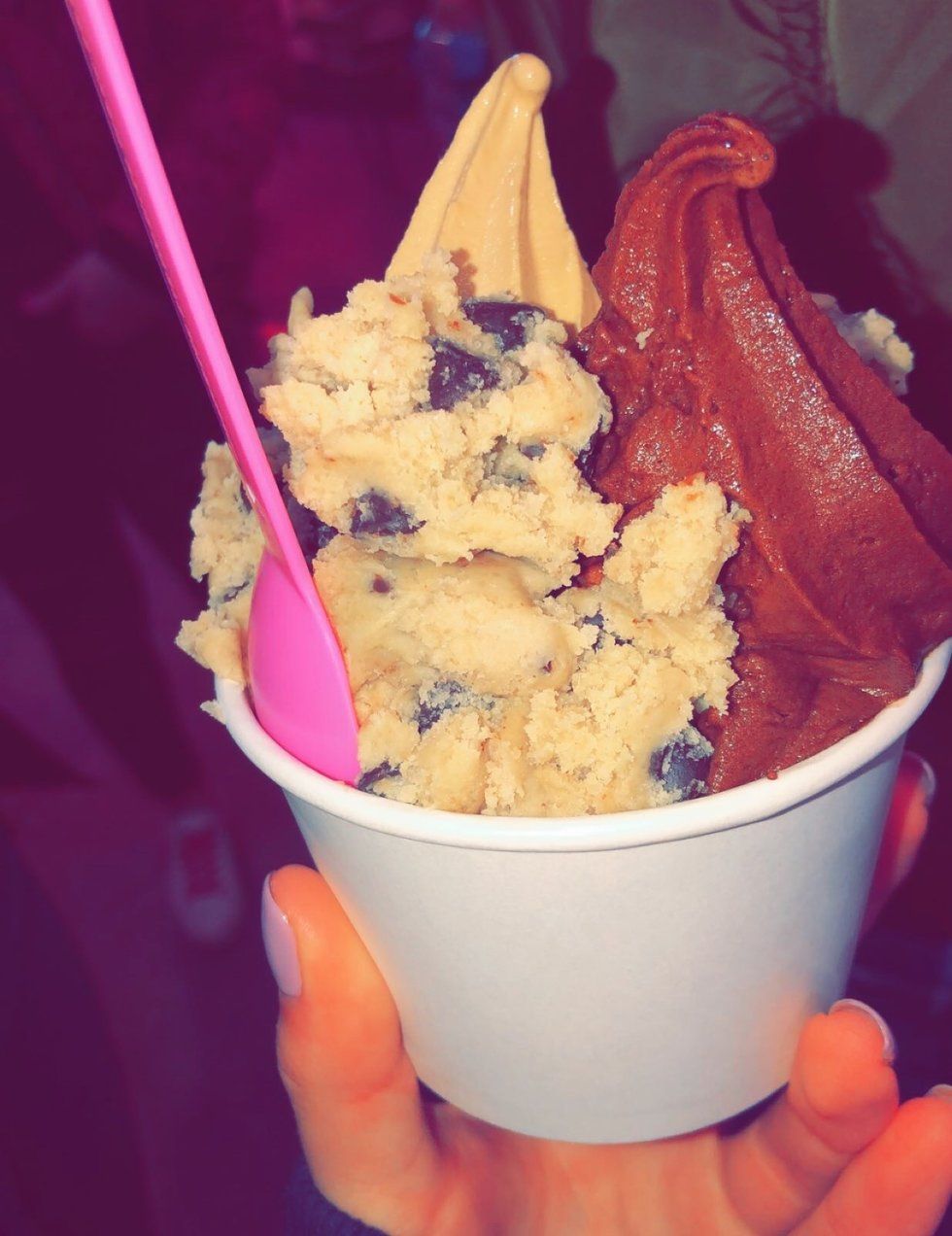 Ah yes: soft-serve + vegan cookie dough
myself
You cannot speak of soft-serve without at least mentioning LA classic, the Bigg Chill. What's so great about Bigg Chill you ask? Well, they top their delicious soft-serves with vegan cookie dough of all types. They have chocolate chip, s'mores, double chocolate, peanut butter, and "everything" just to name a few. Along with a wide range of unique toppings, their soft-serves come in different categories. There is low-carb, dairy-free, and regular. Personally, I love the dairy-free chocolate and occasionally make the sacrifice and pair it with a regular flavor. The texture is much creamier than the aforementioned soft-serves, and is not as "healthy". However, if you're looking for a dessert on your cheat day, the Bigg Chill is where it is at.
The location is not the cutest, but the food is delicious. How could you not love vegan cookie dough on soft-serve!
Disclaimer:
While placing Cha Cha Matcha as my top pick might be a bit ~controversial~ I did so because the location and the expansive menu is just an asset to their amazing soft-serve. I fully recommend giving it a shot even if you do not think you like matcha. It is very difficult to dislike, even my friends who are not matcha fiends thoroughly enjoyed it.
I hope you all try at least one of these spots if you're out here or ever visiting lovely LA!