I have been working in politics since I was 13-years-old. Now, almost seven years later, I continue to see and use politics as a force for change to help others. Politics are my identity.

I did not enter into politics as a matter of convenience, I networked and researched candidates and organizations whose platforms defended and believed in equal rights for all. When I was 13, I took a 90 minute bus ride to volunteer with a Congressional reelection campaign or intern with a voting rights organization. My first campaign job was vetting donors and coordinating field efforts. My first political internship was registering voters and educating citizens on voting rights - before I was even eligible to vote.
When I was 15, I testified on a bill in Colorado allowing 16 and 17-year-old to preregister to vote. As a senior in high school, I interned for my U.S. Senator and Governor. At 19, I interned for a refugee resettlement organization, a U.S. Senator's reelection campaign, and Hillary Clinton's Presidential campaign. I have volunteered with several other candidates, campaigns, and causes to advocate for refugees, immigrants, women, children, education, and equal rights.

That being said, I have found my seven year political resolve shaken to its core by this election, presidency, and administration. My resolve and hope in the people, in the country, and in the world ranges from devastation to inspiration.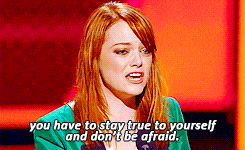 Here are ten things to remember when you feel lost and defeated during the Trump presidency:
1. Be inspired, not defeated. When overwhelmed by devastation, pause and look for inspiration. Look to politicians, celebrities, children. Look to individuals who continue to fight for themselves, for others, for the country. Look to persecuted individuals who do not let hatred and fear stop them. Inspiration is out there as long as people continue to stand up for what is right. Inspiration still exists - we just have to open our eyes and look.
2. Do not let anyone silence your resolve. We were born to change the world, not succumb to it.
3. You are an incredible person. Do not let one man or administration ruin your hopes, dreams, ambitions.
4. Your voice, opinions, and actions matter. No matter how small you think your contributions are, remember that you are part of a bigger picture and all of your efforts are important.
5. Keep up the good fight. Do not give up. Keep fighting. Keep on keeping on.
6. It hurts - and that's okay. It is okay to be overwhelmed by all the changes in the country. It is okay to cry or be mad. Get emotional, feel the emotion, then channel the emotion into action. Passion is fueled by strong emotion and opinions.
7. Do not compromise your values. Stand by your values. Do not waver in your morals.
8. Never stop believing in yourself, in the people, in the United States. You cannot give up. You must believe in and trust the people.
9. You are not alone. Others are fighting for the same values as you. People will always be there to fight along side you or support you.
10. We will persevere. Onward!