Reading has become a morning habit to me. Starting off in the morning, I always devote time to God and then read various outlets to check up on the latest news. More and more we have become fixed, or at least media wants us to become fixed, on the Kardashians and the Jenner family. Article after article is written about the family that regular, important news gets blurred out or forgotten. When was the last time that you heard about the Benghazi or the War on Terror? Don't get me wrong, I did at one point watch them religiously, but this religiously that the news outlets wants us to.
I apologize, in advance if I offend people but I do not care about who in their family is talking to who and what they wore to go get pizza. We are making these people idols. We are putting their lives up on pedestals for shear satisfaction? I have heard some people say that their lives are just so interesting but when you look around yours is too.
We as people, more importantly Millennials, are so wrapped up in living through someone else. Maybe if I wear their new perfume or I have a fur coat I have feel what it might be like to be apart of that family. Did you ever look around and think how crazy that is? When are you going to be apart of your family and live your life? You could be doing crazy things that other people want to do. I remember a time in high school when my friends and I went outside during a thunderstorm and went slipping sliding in the ditch in my backyard. I was honestly one of the greatest and craziest memories I had ever had and I wouldn't have experienced.
Honestly, do we need to know every little detail that there is about the Kardashians? Their family and the news has become to much. More and more people are becoming annoyed with keeping up with them because people are told that they have to. What did they ever do for our society that betters people? How often do they serve in soup kitchens or make a real impact on our environment? It not wrong to say that I am sick and tired of seeing them all of the Facebook trending section because Kim wore another body hugging outfit.

I did some counting the past couple of days one various new or outlets sources on how many articles were written on or about the Kardashian's and their clan and each company wrote roughly four articles on them a day. That is a staggeringly too high of a number when we think about what else there is to read. It wasn't even a year ago that VH1 published an article about being tired of the Kardashian and questioned why we still read about them.
Everyone Says They're Tired of the Kardashian-Jenners, So Why the Hell Are We Still Talking About Them?

Even other celebrities, such as Perez Hilton, tweeted about not wanting to read about the Kardashian for a week. He only asked for a week! It is so crazy to ask for a week? I would at least like to go one day without an unwanted update on their lives. Perez Hilton runs a rumor and gossip celebrity site and he became tired of them.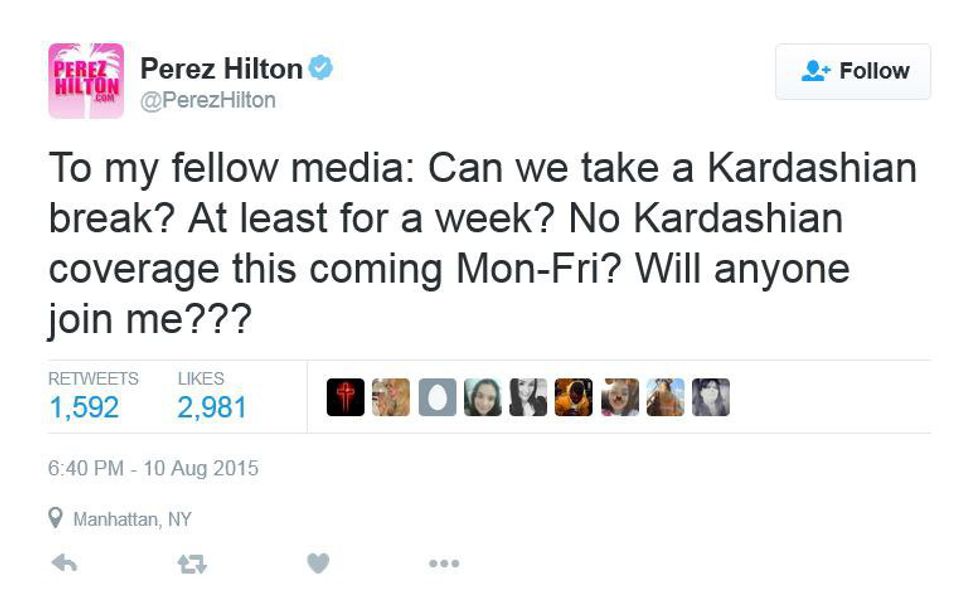 If you are feeling guilty about agreeing with this article yet you still want to tune in on Sunday than that is fine. We do not need to see or hear about them 24/7 and we as Americans need to stop giving them our attention. Please let's stop with the Kardashian family so we can get back to important items like continuing to mourn Prince's death.