After my fifth bag of Hot Cheetos and countless Netflix shows in quarantine, I began to wonder if quarantine truly is just a negative experience that we all have to endure, that perhaps there is no silver lining. After doing some digging, I realized how my mindset was affecting the relationships in my life and how much I truly had to work on myself and my life. I realized that quarantine could be a time of immense growth after all.
College life is busy, whether you're running around from class to class, finding time to hang out with friends, juggling extracurriculars, professional commitments, homework, or just enjoying the college experience in general. There is rarely room to sit down and reflect on what is going well in our lives and what is not.
When my university announced we were no longer coming back to campus this semester, I remember my heart dropping. I felt a mixture of disappointment, nostalgia, and FOMO, oddly enough. I didn't know what to do. I know I was not alone in feeling like this.
I wore sweatpants explicitly for two weeks, ate countless bags of junk food, and definitely cried quite a bit. The stages of grief were truly being seen and I loathed myself for being so unmotivated. I just felt oddly doomed.
However, this mindset gets tiring so fast, and at a certain point, you realize that things need to change or else your mental health, relationships, and success will be impacted.
With the busyness of college life, young adults often forget to take "inventory" of their lives.
What is draining you?
What is motivating you?
What fuels you?
How are you being treated by others?
How are you treating yourself?
These are questions we all should be asking ourselves periodically— but when was the last time you did?
To be honest, I don't remember ever asking myself these questions. This realization allowed me to really start working on myself and strengthen aspects of my life that I didn't even realize required maintenance. Here are five things that I have found most helpful in taking "inventory" of my life
1. Imagine who your best self is.
Who are you when you've reached your fullest potential? What do you wear? What are your hobbies? What does your day-to-day schedule look like? What is your job? What do you eat? Imagine every single aspect of what your best self is like.
2. Create a Vision Board!
Use Pinterest, cut up some magazines, make a PowerPoint, get creative! Now is the time to add visuals to what your imagine your best self as. Here's an example of the "fashion" part of mine!

Photo by Amitoj Kaur / Pinterest
3. Reflect.
What is the difference between the lifestyle your best self is living and the one you are currently living? What are some distinct differences? What stands out to you? What surprises you?
4. Set goals!
Now that you have noticed these differences, what are you going to do to make those changes? What concrete actions are you going to take to reach your best self's life? How are you going to keep yourself accountable? When is the next check-in to make these changes happen?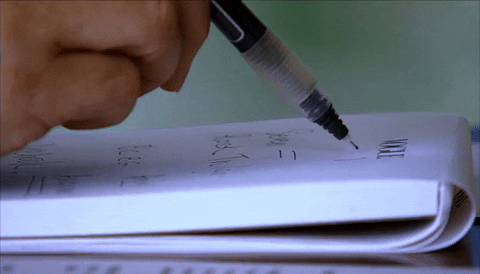 lauren conrad lc GIF by The Hills Giphy
5. Manifest.
Now that you've made these goals, make them happen! Focus your energy during quarantine to make yourself happier and healthier.
And remember—you've got this!