Time's Person of the Year is plural for 2017: The Silence Breakers.
Unveiled on December 7th, the cover features a striking image of five women: Ashley Judd, Taylor Swift, Adama Iwu, Isabel Pascual, and Susan Fowler. The sixth appears only as a jacketed elbow, pictured in the lower right of the cover. This tiny detail is elusive but pointed. The elbow belongs to of one of the unnamed "silence breakers," for whom coming forth is still difficult, but whose voices matter no less.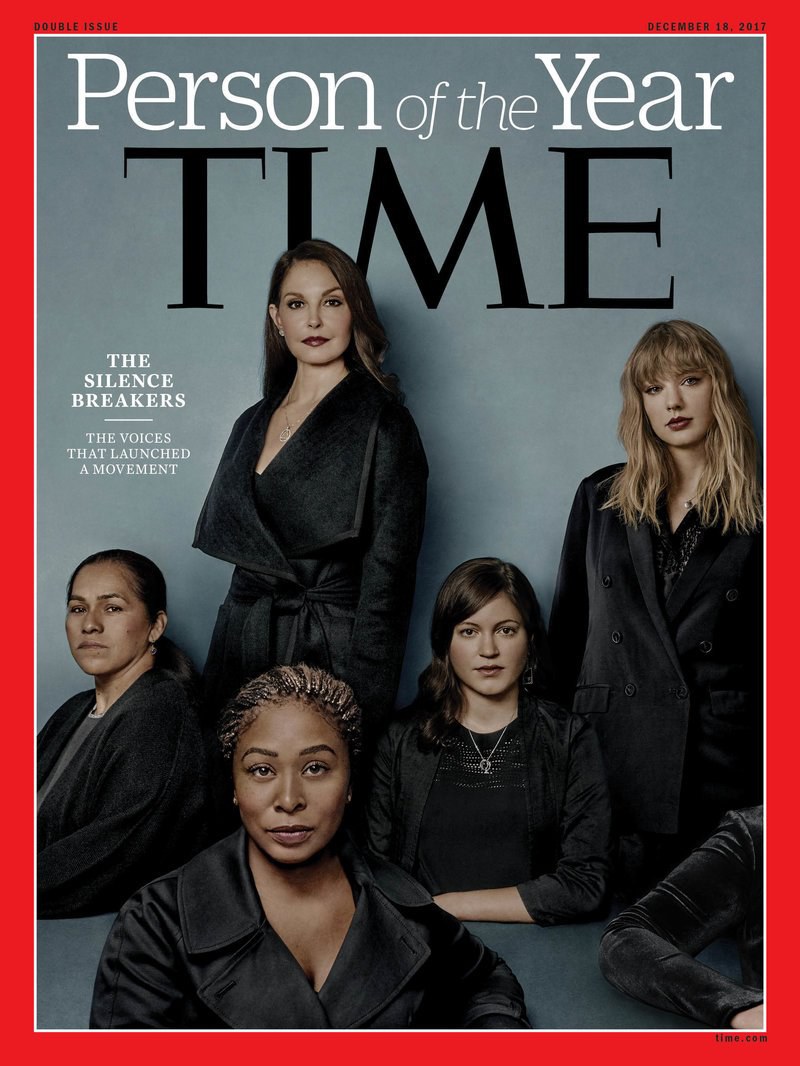 It speaks to the value of the movement of the silence breakers; they aren't all high profile celebrities whose platforms extend globally. They cannot all tell their stories as wholly or as openly as some have. This does not disqualify their experiences. It reminds us that the silence breakers are not limited to people working in Hollywood. They surround us. Theirs is not a movement with a leader or with a unifier.
On the woman cropped out of the image, Time correspondent Charlotte Alter provided, "That's an anonymous woman who is a hospital worker who was experiencing harassment and didn't feel that she could come forward." In the feature story, aforementioned hospital worker emphasizes that she remained anonymous "as an act of solidarity to represent all those who could not speak out."
The feature finds that "When a movie star says #MeToo, it becomes easier to believe the cook who's been quietly enduring for years." In fact, since the Weinstein allegations have come to light, a Time/SurveyMonkey online poll for American adults finds that "82% of respondents are more likely to speak out about harassment." The diversity in the women telling the stories demonstrates the universality of the issue, being that they are all of different ages, religions, ethnicities, and incomes. Many of the interviewees expressed fear of repercussion for coming forth, as many of them are "vulnerable in society- immigrants, people of color, people with disabilities, low-income workers and LGBTQ people." The fact that they will be recognized as people of the year, whether named or not, demonstrates a willingness and need to detach fear of coming forth from these instances.
Despite the social media revolution and the increased impetus for telling one's stories, the legal and policy protections that address sexual harassment have not evolved to meet the demands of that revolution. The number of these stories that have emerged indicate the failings of sexual harassment policies, and of the norms that remain stagnant while others change. Recognizing the silence breakers is a step forward, but it is one of many yet to be taken.