So, I just finished Part 1 of Harry Potter and the Cursed Child, the new play written by J.K Rowling, John Thorne and John Tiffany. It's not a book like the other Harry Potter books; it's a script, and tells the story of Harry's son Albus as he navigates Hogwarts and living in his father's shadow with his best friend Scorpius Malfoy.
I still have to read Part 2, but halfway through the script, and I already have a lot of opinions. I'm obsessed with all things HP, so on July 31st I woke up extra early to go to my local Target to buy the script. Even though spoilers were published online weeks before the release date, I resisted the urge to read them, because I wanted to be surprised when I actually read the book. I won't reveal any spoilers here (J.K. Rowling has been tweeting #KeepTheSecrets for weeks now) because I'd hate to ruin the story for everyone else. But, here's my honest of opinion of The Cursed Child so far:
The Trolley Witch scene felt very juvenile: I won't go into details about what happens with the witch who sells treats on the Hogwarts Express, but there is a short scene were she has several lines. It was a real WTF moment. First of all, the whole thing felt totally unnecessary to the plot. Like, why was it even in there? Second, I know Harry Potter is technically a children's story, but this scene literally made me feel like I was reading a book published by Nickelodeon or Cartoon Network. It actually reminded me of the scene in The Spongebob Movie when the little old lady selling ice cream turns into a monster.
Scorpius Malfoy is the best character. He's so adorably geeky! He is definitely one of the funniest characters in the play and has a lot of lines that made me smile. He may be a hopeless romantic in the book, but he's won my heart.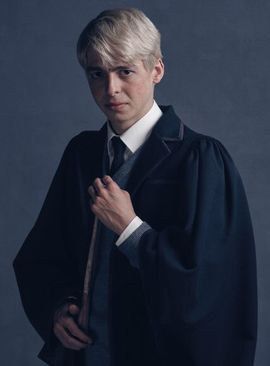 When did Hermione get so dumb? She's supposed to be the brightest witch of her age, but when it comes to hiding a very valuable object, all she does to guard it is a few easily solved riddles. It took two 14 year olds about 5 minutes to find one of the most classified objects in all the Ministry of Magic. She definitely could of tried a little harder to hide it well.
While entertaining, the book reads like a fan fiction. The play debuted in London before the book went on sale, so I read a few spoiler-free reviews. One compared the plot line to a Twilight book, and I couldn't believe it. But now that I've read most of it, I totally understand. It is full of cliches and overly-ridiculous plot twists. It doesn't do much to move the actual plot the Harry Potter saga forward. It reminds me a lot of fan-fiction.
Overall, I really enjoy reading The Cursed Child. I like being back in the Harry Potter world. It makes me nostalgic and gives me real feels for the good ole days when Harry Potter books and movies were still premiering. But, the story is not without flaws, and while it is fun to read, I would never call it as good a piece of literature as the original 7 books. But still, I will never not love anything Harry Potter related.