About 3 months ago, my whole life was uprooted by a breakup.
My ex ended a relationship with me very suddenly that I had the full intention of being in for the rest of my life, and even thought I knew it was a necessary loss, coming down from that high and detoxing our toxic relationship from my system was the hardest thing I have ever been through. There was a day I finished up in class and zoned out and started driving, until I found myself three hours away from home. I didn't eat for days, and I woke up every day having panic attacks when I remembered everything that had happened. The first few weeks were a dark, horrible blur, with pain at levels I would never wish on anyone. On top of that, I was also forced to move an hour away from home and quit a job that I loved as a result of the breakup.
I wasn't just losing a person, I was losing everything that I built my identity up to be. Our relationship was my whole life, and that's why I knew that us breaking up was necessary, but that didn't take away the two and a half years of memories I was left with. He also chose to end it in such a violent and excruciating way — telling me he never loved me, cutting off all contact with me, and basically telling me to kill myself. Sitting in the rubble of all of this, I had never felt so empty and void of happiness before.
But when you're completely shattered and sitting in nothing but rubble, you're presented with a beautiful opportunity — a blank canvas. There are no morning and night routines laid out for you, you don't have the same people texting you as before, you don't have the good morning text that you were used to. You have nothing. Because of these things, your own interests and desires become the default setting you're programmed to operate on, and you get to know yourself in a way that you didn't before.
Here's how I found my way out of the void.
1. Small distractions are so helpful.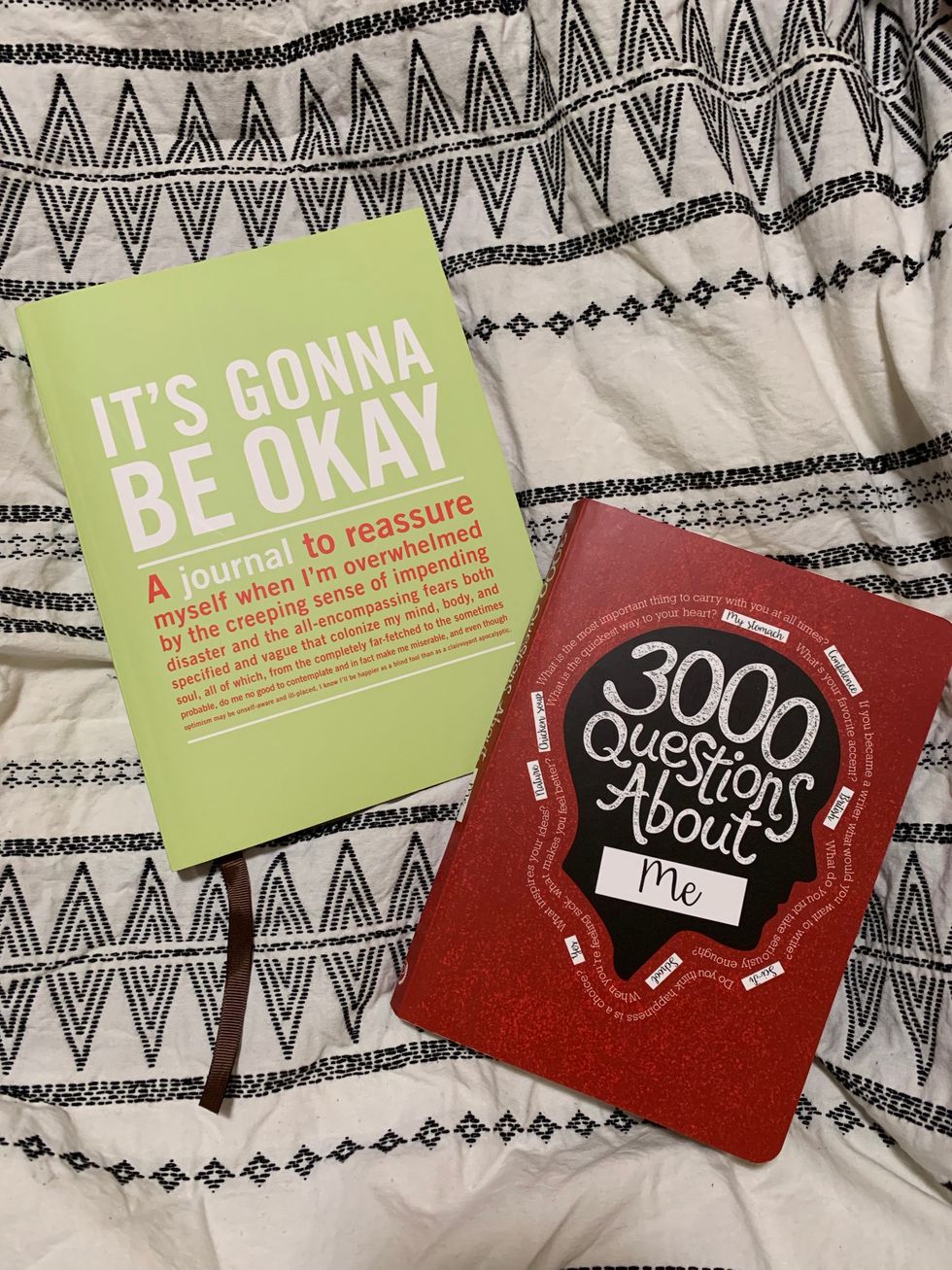 .There were a few things that I turned to that were absolutely crucial to me when I was struggling to keep it together: New Girl, playing the game Words With Friends, and journaling (free-writing, and writing in these that I found at Target). Honestly, these things rarely actually made me feel better. However, the value I found in them was creating new habits and filling my life back up with things that didn't involve my heartbreak.
2. You need a support system.
I have always had a hard time trusting people and talking about my feelings. So I thought, naturally, the way to cope with that is to find one person you can trust, and for them to be your ride or die. That's what my ex was for me. When he was gone, I had to learn how to open up to people again, which was extremely foreign and uncomfortable for me. It was an odd feeling to text a friend and say "I'm not okay right now and I need you", and even more uncomfortable when they were nice and supportive back. But all of the dozens of people I leaned on ended up being literally a support system for me- giving me advice, keeping me in check, and telling me all of the things I didn't want to hear, like how pathetic I was acting at some points.
3. You absolutely cannot avoid pain in life.
A quote I found by Jon Kabat-Zinn reads, "You can't stop the waves, but you can learn to swim" and that became a guiding philosophy for me in dealing with pain. As comforting as it would've been for me to tell myself I'll never let anyone hurt me again, or I was never going to be in another relationship again, I instead decided to tell myself that I was never going to let something break me so deeply again, because I would have a stronger foundation of me and a stronger sense of self. So that when the next person left my life, I would be sad, but I wouldn't feel shattered to the core ever again. Life involves constant rejection, constant disappointment, and constant anxiety. You will never escape that. You will hurt so much throughout life. But if you can build yourself to be strong enough, it won't matter.
4. You can empathize with somebody and forgive their actions and still want nothing to do with them- and that's okay.
When my ex and I were together, he messed up and did a lot of things wrong. He would scream at me and tell me he hated me and apologize with so much fear and hurt in his eyes and say, "I'm sorry, sometimes my anxiety causes me to demonize you" and in the moment I wasn't strong enough to say "it's okay, but you're abusive and I need to be away from you". I instead would say, "It's okay, let's not worry about it and just go to bed" and it would keep on happening. I empathized too much with his demons and gave him too much understanding at my own expense. Now I've learned that I can still feel that way about him, but when he reaches out asking for another chance, I can say no. And I don't feel guilty anymore.
5. Your relationship with yourself should be your top priority.
To explain my experience of learning to love myself, it would take pages. Simply put, I started being okay with things just being me, myself, and I. If I had a rough day, I would at first come home wishing I had my ex there to talk to and be there for me. Eventually I started going to Target, picking up a bottle of wine, and taking care of my damn self. I stopped thinking "oh I'd love to do this but I don't have anybody to go with me" and started eating at restaurants alone, going to bars alone, and going on hikes alone. I bought myself jewelry that I wished a guy would buy me. I said yes to every guy that asked me out on a date just to put myself out there. I spontaneously went and got a new tattoo completely by myself. And now that I steady to the core in my own being, anybody in my life is there because they're a complement, not a supplement. This will protect me from ever staying in a relationship again that manages to gut me in the way my previous one did.
A quote that I love from J.K. Rowling reads, "Rock bottom became the solid foundation on which I rebuilt my life", and that is absolutely true of what the past three months have been for me. Day by day, I've pieced together a new identity and healed my soul. I wouldn't have been here if I hadn't hit rock bottom.