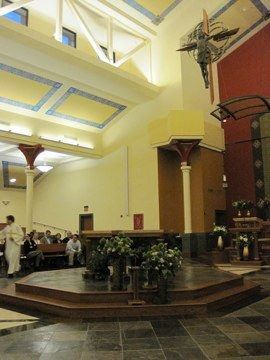 As a little girl, I went to Sunday School almost every Sunday with my mom to the Second Church of Christ Scientist in Richmond, VA. It was only a five minute drive away from our house. Some mornings, my mom had to bribe me to go with her or pull me out of bed to go. I would've rather stayed home playing with my Barbies or with my best friend down the street. One thing that usually got me to go to Sunday School was the fact that my mom told me that we would go out to lunch with everybody after church. Also, my childhood best friend was in my Sunday School class. She made it a little more bearable.
As I got older, I tried to get out of going to church more and more. The first time I was ever left home alone was the day I absolutely refused to go to church with my mom. I had no interest and wanted to go back to bed. My mom waved the white flag and left. After that fit, I decided I would obey, and that I would go to church again. I mean, c'mon, it's only an hour.
Then, 2009 hit. I was still going to Sunday School and going out to lunch with all of our family friends after. I was starting to understand more of what we were learning. Then, the summer came. Now, for the past four years I had been going to summer camp in Maine called Newfound/Owatonna. My mom, my uncle, and some of my mom's closest friends went there when they were kids. We had pretty much planned for me to go back in 2009, too. A roadblock got in the way when my mom got sick. I had a very close family friend come pick me up for church on Sundays, and then another friend would take me to dinner before Wednesday night testimonies. I started losing my faith.
My mom passed away and I went to church for a few more times, and ended up refusing to go anymore. I couldn't understand why God would let something like this happen to a girl like me.
That's when my dad and his side of the family decided to take me to Catholic mass one Sunday at St. Mary's Catholic Church in Richmond. I wasn't so sure. I had been to Catholic mass as a little girl when we went down to Texas to visit my family. I didn't like it. I found it long and boring. I usually just took a nap in the pew.
I then began going to mass with my dad every Sunday. I started to really enjoy it and felt like this was where I was supposed to be. I knew this was what I needed.
After a few months, my dad introduced me to Father Renninger, at the time, he had just started at St. Mary's as the priest. He was hilarious. He had the entire congregation laughing out loud during his homilies, and he still does. I then met two ladies who would become my catechism leaders. From then on, I went to mass every Sunday at 9:00 A.M. and then would have my catechism lessons downstairs in one of the church's board rooms. I did it along with my friend from elementary school. These lessons went on for a number of weeks. I learned prayers, stories, teachings, and why different sacraments were performed.
Then, Easter came along. The week leading up to Easter Sunday, I had almost my entire dad's side of the family come into town. We went to Holy Thursday and Good Friday services. Then, the Saturday night before Easter Sunday, I was baptized into the Catholic Church. I received my Baptism, my Confirmation, and my First Communion all in one night. I couldn't wipe the smile off my face for hours. I was so happy. It was a feeling of peace and happiness that washed over me like a wave. I realized, 'Wow! I've been missing out on all off this my entire life!'
As of today, I still love being Catholic. There have been moments where I have questioned my faith and if it is really for me, but I know 100% that I am right where I need to be.
*Picture above is mine