The Film Industry is full of timeless stock characters. From the "tragic hero" to the "village idiot" we are exposed to these cinematic archetypes from our first trip to the box office. In recent years, however, a new character has been brought to light: The Manic Pixie Dream Girl.
Film critic Nathan Rabin defines the Manic Pixie Dream Girl as "that bubbly, shallow cinematic creature that exists solely in the fevered imaginations of sensitive writer-directors to teach broodingly soulful young men to embrace life and its infinite mysteries and adventures."
Basically, a somewhat quirky female character that is responsible for helping a male character see the beauty in life. (See Summer in "500 Days of Summer," Penny Lane in "Almost Famous," etc.) Now, this description may seem innocent enough; however, if we break it down, we can analyze some rather problematic implications.
The notion that certain female characters are designed specifically to propel a male figure's story-line forward is a concept as old as the art of film itself (see Katherine Hepburn in "Bringing Up Baby," etc.)
The issue with this archetype is that it primes audience members to see women's talents and personal choices as disposable and secondhand in nature. It inspires the idea that women are simply tools needed to propel the patriarchy and help men lead better lives.
(SPOILERS AHEAD)
A specific example of the patriarchal driven development of the Manic Pixie Dream Girl can be seen in the genre-transcending 2009 film "500 Days of Summer." In this film, we see the male protagonist, Tom, fall in love with the female lead, Summer. Summer warns Tom that she doesn't believe in love and that she views it as a fairy-tale-like notion. Still, we see Tom fall in love and develop his own tainted views towards the prospect of relationships. With the cinematic help of Tom's drastic character development and lengthy internal monologues, we as audience members are blindly predisposed to see Summer as a horrible human being that crushes Tom's heart and ruins his view of love. This is due to the fact that the film itself is presented solely from the male perspective. Upon further analysis of the film, however, we can easily see that Summer isn't actually so evil. In fact, she was quite up front with her views towards love and constantly communicated her intentions with Tom throughout the bulk of the film. However, the issue is that because she was presented in classic MPDG fashion, many audience members formed opinions on the character at face value. They left the theater viewing Summer solely as a tool to help Tom learn to embrace life and its hidden beauty.
Another drastic flaw with the concept of the MPDG is that often the character is created FROM a male perspective FOR a male perspective. The archetype is commonly written in a shallow/aesthetic based manner. Traditionally, feminine imagery is used to create an aura of romanticism to help develop a character that's true internal conflict never sees the light of day. In fact, often we are never even given the chance to view the MPDG's true internal monologue and perspective. Instead, we are only introduced to this character through the eyes of the male protagonist. This implies that the woman is simply a concept rather than an individual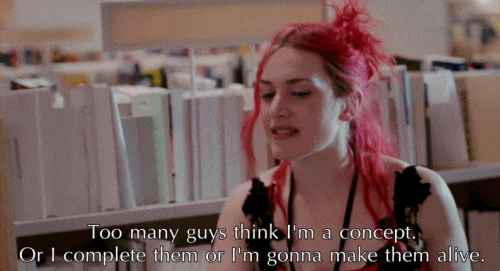 (Kate Winslet in Eternal Sunshine of the Spotless Mind)
Luckily with more attention being brought to this problematic archetype, women in the industry are taking a stand against it. Zoe Kazan's film "Ruby Sparks" presents an interesting take on the MPDG concept. The film details the struggles of a writer, Paul Dano, who has essentially created a woman based solely on his fevered imagination. Towards the beginning of the film, this magical adventure is seen as romantic and positive; however, as the story continues we see some downfalls as the male character discovers the very traumatic dangers of treating individuals as concepts/objects rather than real people.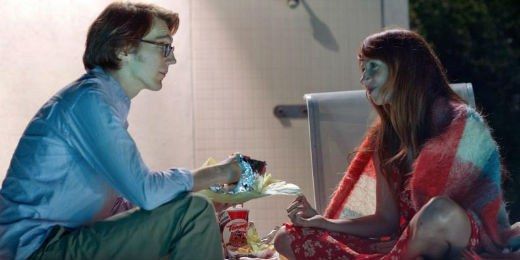 Films like "Ruby Sparks" are important because they bring light to the big issue here: the implication that women can exist solely in the imaginations of men without regard for their own thoughts and passions. This concept is objectifying in nature. Not only does it silence the female voice, but it predisposes male youth to believe that their perspective is more dominant within society and therefore more important.
So, with all that being said, next time you are at the theater and find yourself being exposed to a brooding male protagonist who comes across a superficially developed female counterpart ask yourself this: is the Manic Pixie Dream Girl just an innocent stock character? Or is this dreamy archetype priming today's society to view women as concepts rather than individuals?