I'm writing this to remind you that the little things matter.

Many people think that in life, it's the big things that count. But what we sometimes forget is: without the little things, there wouldn't be any big, amazing things.
This week, I started working for a company that started out small.
The CEO started out as a singer/song writer, and one day, she took the old key of a hotel room she was staying at and made it into a necklace. After she started wearing her necklace on tour, she got the idea to take old, used keys and have a local lock-smith engrave inspirational words on them. She would sell these at the merchandise table during her tours, and the necklaces would outsell her albums! She started making more and more necklaces herself (often with cuticle-clippers - true story), and pretty soon, she started a movement of people wearing necklaces that carried inspirational words. She encouraged people to pass these necklaces on to other people who needed these encouraging words, and pretty soon, The Giving Keys company was born.
She wanted to do more than just start a cool jewelry company though. She saw the poverty of thousands living on the streets in Los Angeles, and she knew something had to change.
One day, she was walking down a street and spotted a homeless couple carrying a sign that said 'Ugly, Homeless, and Broke.' After talking to them and hearing their story, she found out that they were skilled craftsmen and jewelry makers! She immediately asked them if they would want to join her team, and they did! They began making key necklaces for The Giving Keys and were offered full-time positions in her company.
All of these small actions led to something truly great:
30 full-time jobs have been created so far for the homeless in Los Angeles. There are over 1,530 stories of lives changed after receiving a necklace with an encouraging word on it. Over 300,000 words on necklaces have been bought and shared throughout the world.
Working for this company really helped me to see that we all have great potential. But the real question is: are we willing to invest in all the small things,
the things that sometimes seem worthless,
the things that don't seem all that fun,
the things that aren't all that glamorous,
the things that take more time,
the things that really matter?
The Bible says: Do not despise the day of small beginnings!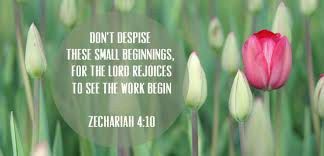 So if you're feeling discouraged because your big dreams haven't taken off yet; don't fret and don't freak out. Look around you and look at all the small progresses you're making. Chances are, these things really aren't 'small' at all - they're a big deal in God's eyes and they're forming the very framework of your character and the amazing future that you are dreaming of.