In Dahlonega, there are two festivals which dominate the social calendar. One is a reason to move away from Dahlonega, the other is a reason to live there forever. The first one is Gold Rush — an event to be avoided at all costs. No amount of fool's gold in the world can compensate for the swarms of yellow jackets, tourists and traffic that infest the city during this time. The other is Bear on the Square, which is from April 22 to 23.
This festival arrives with the spring blooms and warm weather. Leafy oaks sprawl like parasols over the town square, shading the vendors in their white tents below. It is a bouquet of barking dogs, hand-holding couples and children sporting freshly painted works of art on their cheek. The food trucks offer rare delicacies like corn dogs, homemade soda, cotton candy and fried Oreo's.
The best part about Bear on the Square however is the music. Street performers dominate the town square, each playing Appalachian and Blue grass classics. Every street has a musical group, but their chords never overlap or clash with the performers on other streets.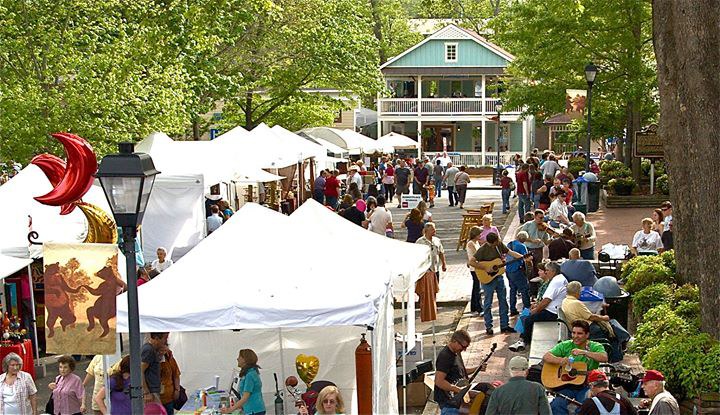 Interestingly, most people do not know how Bear on the Square came into existence. The tale is both local lore and historical fact, typical of Dahlonega oral tradition.
From the forest, a baby black bear ambled into a Dahlonega sycamore tree. This was not the first time that a bear had entered the town, but the citizens of Dahlonega were none-the-less thrilled. It soon became clear, however, that the cub was in danger and unable to escape the tree. His ambitions exceeded his means, and he flew too close to the sun. Many people who worked in the square feared that he might fall and hurt himself, so they took the matter into their own hands.
Everyone assembled by the sycamore tree, and it was decided that a forest ranger would would coax the cub down and then sedate him. The citizens then worked together to remove the bear from the square and relocate him to his forest home.
Hooray! The baby bear is saved! Everyone returned to their daily tasks, feeling connected with the community and nature.
The bear woke the next day with a hangover, in a part of the forest he was unfamiliar with. In typical bear fashion, he returned to city. We may never know why — perhaps he was hungry? Maybe he liked the fan-fare. I think he just didn't like being told what to do. Regardless of his reasoning, he decided to walk in the middle of Main Street and was hit by a car.
The little guy is commemorated by a statue fastened to one of the trees in the town square. Bear on the Square is a community festival about the citizens of Dahlonega trying to save a bear, and celebrates Appalachian culture, music and a precocious little black bear who united a town.