We live in a world where natural beauty is seen as lazy and unappealing. We live in a world where the average sized American is considered plus size. We live in a world where we wonder why young girls are already hating their bodies, yet so many people say they don't understand why. When photoshop is used in almost every magazine and billboard of course America's view of body image is going to be skewed and unrealistic.
While many people in the media spotlight choose to have their pictures touched up by photoshop, recently, many celebrities have chosen to not use any photoshop on their pictures.
One of the most recent celebs who made a statement against using photoshop was Meghan Trainor. Trainor recently released her sophomore album titled "Thank You." Following the release of the album she released a music video for her new song "Me Too." Once the video was released Trainor discovered that they had altered the size of her waist to appear thinner. While in today's world this isn't uncommon, Trainor is not one for photoshop. She admitted she was so embarrassed by the photoshop and "It's just not who I am, I don't want to promote that," Trainor tells etonline.com. This isn't the first time Trainor has been in headlines for her opinion towards negative body image. Her debut song "All About That Bass," shot her into the spotlight not just for being catchy, but for its stance towards body image. With lyrics such as "It's pretty clear, I ain't no size two," "Yeah, momma she told me don't worry about your size," and "Every inch of you is perfect from the bottom to the top."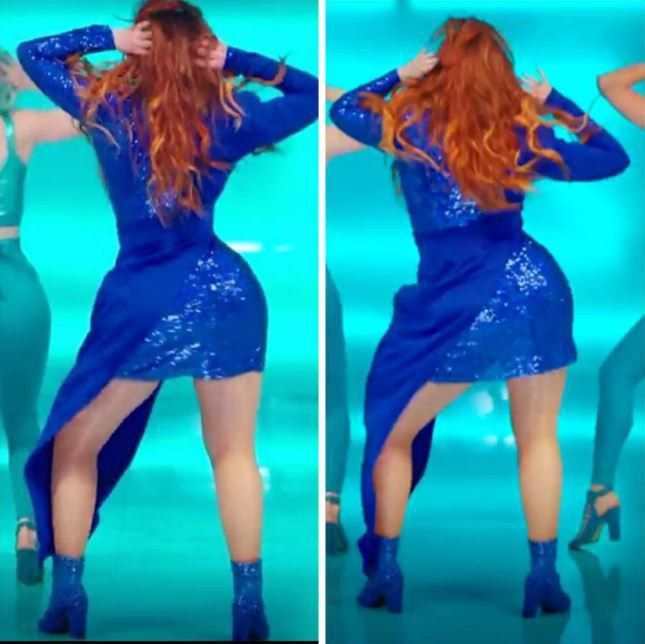 Lawrence is without a doubt a role model for young girls. She is constantly in the media for insane sense of humor and not caring what people think.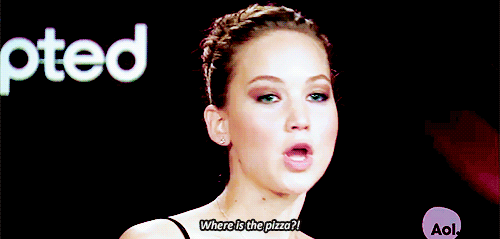 From actresses, to singers many people in the spotlight do not care what the expected body image to be. Another celeb who shares this opinion would be Adele. In one of her most famous interviews, Adele has the address the issues of body image and does it flawlessly. "I like having my hair and face done, but I'm not going to lose weight because someone tells me too. I make music to be a musician, not to be on the cover of Playboy." Adele is proud of her size and has never been ashamed of it, which is has said in many, many different interviews. She understands the importance of representing the average person's size, not what people expect. "I've never wanted to look like models on the cover of magazines. I represent the majority of women and I'm very proud of that."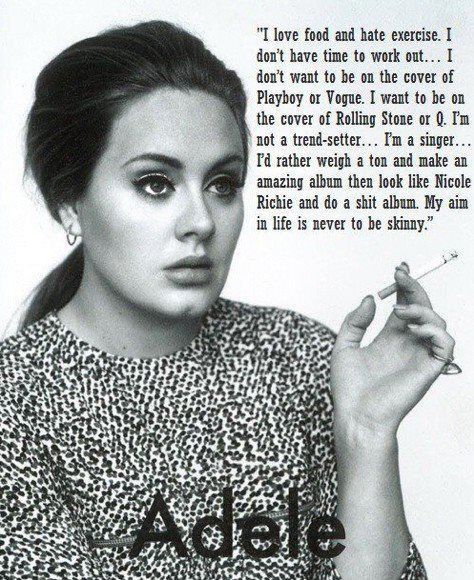 Amy Schumer is one of the most recent women to end up in the spotlight who has absolutely no shame about her body. Her movie "Trainwreck," sent her skyrocketing into popularity and has definitely has earned her stay. Schumer has hilariously and shamelessly showed her opinion to the world, that no she is not a size zero, and no, she doesn't want to be. She has tackled the mean words and comments by brushing them off her shoulder and remembering she is right where she wants to be. "I'm 160 pounds and I can catch a dick whenever I want," Schumer has hilariously stated. She has also more seriously stated quotes such as "I want to throw my hands in the air after reading a mean twitter comment and say, 'Alright I got it. You figured me out. I'm not pretty. I'm not thin. I don't deserve to use my voice.. All my self worth is based on what you can see.' But then I think, f--k that." She has no shame about who she is and has no shame showing it.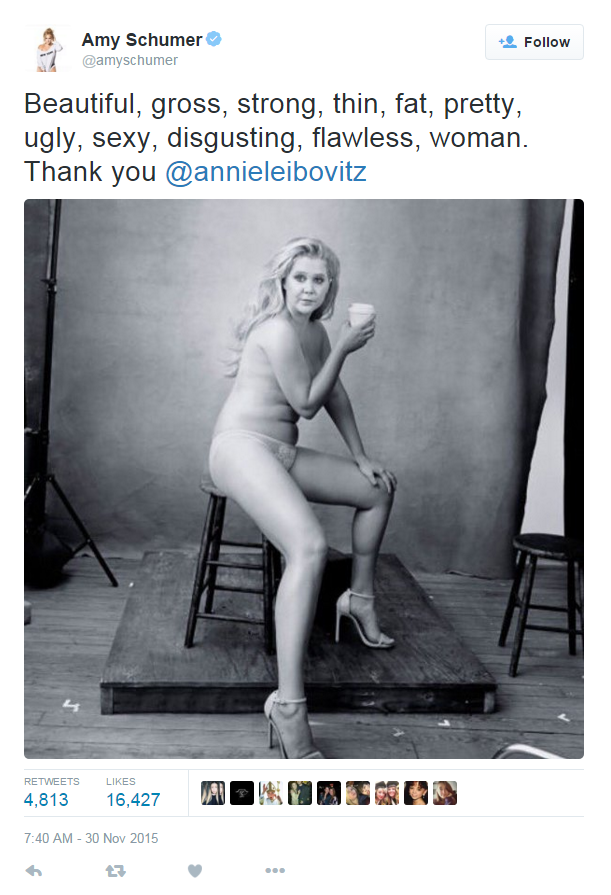 So many women today look at the media for what they feel is the ideal body image. What many of them don't realize is that you can't compare yourself to the world's unrealistic photoshopped standards. While too many people comment and leave negative comments all over the place, thankfully there are still people in the media who still have a realistic view. So many people look up to these four beautiful women and strive to look like them, or feel the confidence they feel. If anything, these four women want you to realize how beautiful you truly are. Stop comparing yourself to the photoshopped unrealistic standards and listen to the reality of these women, you are perfect the way you are.