With Black History Month in full swing and Rosa Park's birthday just behind us, it dawned on me to educate those who aren't aware of the girl who first refused to move her seat. With prejudice and injustice still prevalent and the #BlackLivesMatter movement becoming more powerful than ever (looking at you, Beyonce!), some of the original Civil Rights Movement heroes are worth learning more about. Most of us know the story of Rosa Parks, but few know the story of Claudette Colvin.
Hero, who?
Montgomery, Alabama was the first U.S. city to have a fully segregated transportation system, as of 1906. Claudette was poor but worked her butt off in school getting mostly As. She even dreamt of someday becoming the president.
In 1955, 15-year-old Claudette Colvin thought this law, and other laws supporting segregation, were totally violating her constitutional rights. On March 2nd that same year, Claudette took the bus home with three kids from school. There were not yet any white people on the bus, so the middle section was free for Claudette to sit down. The rules stated that the front 10 seats of the bus were reserved for white passengers, and after they were filled, black passengers had to give up their middle and/or rear seat to a white person.
When a white woman stepped on the bus on that ever so important March afternoon, Claudette refused to move her seat. She was escorted off the bus by the authorities a few blocks following and was arrested. She was charged with disorderly conduct, violating the segregation law, and with assaulting the policemen who had dragged her off the bus.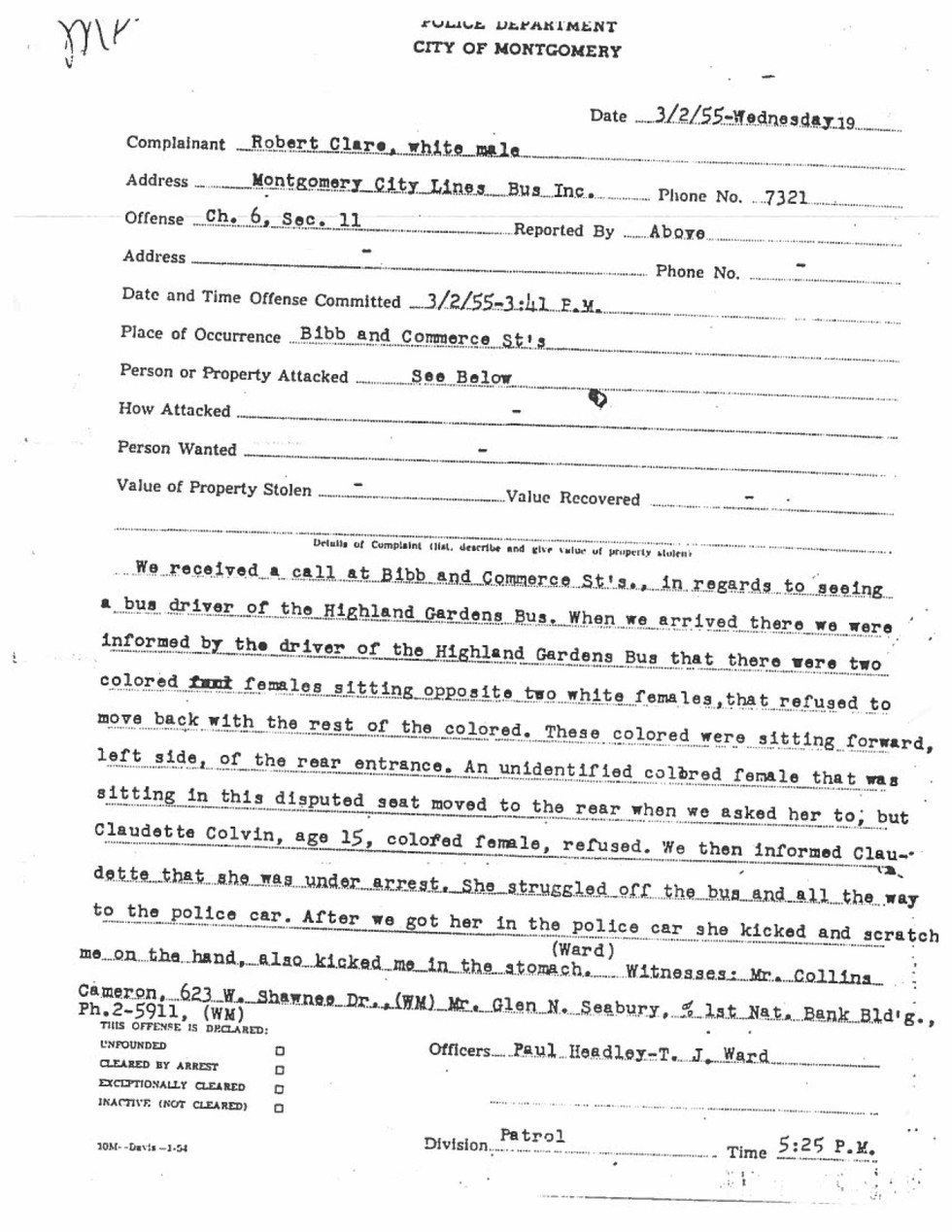 If it weren't for her age, the NAACP may have reconsidered not challenging the segregation laws that made her case in the first place. It also didn't help that Claudette became pregnant in the few months after her arrest.
She was branded as a trouble-maker. The little-known reputation she had was destroyed. She dropped out of college and had extreme difficulty finding work.
It sounds like Claudette was doomed to live in the shadows forever and never help end segregation, right?
WRONG.
Claudette became one of four plaintiffs in the Browder vs. Gayle case. If that doesn't already sound familiar, the 1956 case went to the Supreme Court and deemed that Montgomery's segregation laws were unconstitutional.
Hero, why?
You may be confused as to why Rosa Parks became the face of the Civil Rights Movement, even though her actions took place 9 months later.
Claudette's "troublemaking" reputation, deep complexion, and nappy hair, wasn't widely accepted by the vast majority, not even her own community. Unfortunately, 15 year old activists are sometimes labeled as plain rebellious, especially when they become teen moms in such a conservative time period. Her acts were seen as a scandal, rather than a courageous stride.
Rosa Parks was educated, light-skinned, older, and seen as a wiser member of the community. She was well respected, unlike Claudette Colvin. MLK even endorsed Rosa Parks as a figurehead of the Civil Rights Movement.
Without Colvin's bravery, Parks may not have had the means, preparation, or knowledge to prevail. I'm not saying that Rosa Parks isn't hella important. I'm just saying Claudette Colvin is HELLA important, too! You go, girl.
Sources:
http://ezproxy.limcollege.edu:2287/ehost/detail/de...
http://www.biography.com/people/claudette-colvin-1...
http://search.proquest.com/docview/851725292?accou...
http://find.galegroup.com/gic/infomark.do?&source=...