Last night, Disneyland celebrated its 60th anniversary on ABC7 with "The Wonderful World Of Disney: Disneyland 60". It's been celebrating being 60 since May of last year, and it's actual birthday is July 17th, but they chose a date in February to keep the celebration going for the Happiest Place on Earth.
It was during this time that Harrison Ford, A.K.A Han Solo, revealed some of what Disneyland is hiding under its sleeve for Star Wars land. It is in this land that guests will be able to take a ride on the Millennium Falcon, have a drink at the Cantina, and be a part of a galaxy far, far away in Anaheim, California.
Don't get me wrong, I too am excited to be able to experience Star Wars in whole new ways ( I mean, just LOOK at the released concept art).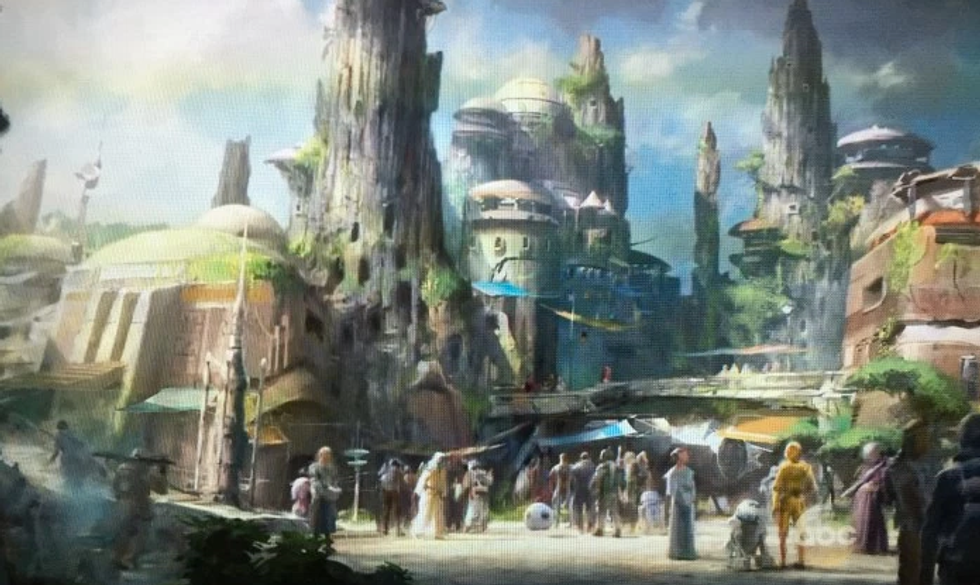 But lately, all I have really been seeing out of Disneyland is that fact that it is now 60 years old and that it really, really has a thing for Star Wars.
I just went to Disneyland last month, and since "The Force Awakens" has made its way into theaters, Tomorrowland has essentially become a mini Star Wars Land.This is apparently for promotion purposes, for the new Star Wars movie, but with no end date in sight it can likely stay that way until Star Wars land is built in 2017- or maybe even longer. They have upgraded Star Tours and gave a makeover to Space Mountain to make it Hyperspace Mountain, they have Jedi Training, fancy BB-8 cups, and not to mention the gift shop in Tomorrowland is essentially devoted to all things Star Wars.
Correct me if I'm wrong but isn't Tomorrowland supposed to represent the future? In 1950, when Walt Disney opened the doors to this magical theme park, Tomorrowland was filled with new innovations to amaze its guests. Now, Tomorrowland is much less about the future and much more about space. Aside from Autotopia and the Finding Nemo Submarine Voyage, everything else is space related- half of which are Star Wars related.
Is this our future then? Space and Star Wars? What about all the fascinating technology that we are creating in the 21st century? Why not blow our minds with something that the guests cannot even imagine? Because currently it seems, that Disneyland is more focused on 21st-century propaganda than the magic that Disney created and intended the park to hold.