We are finding it easier to text rather than call someone. Some of us cringe at the thought of having an hour long conversation during our busy schedules. Can we go back to having more face to face contact with others, rather than communicating via computers and phones? The overuse of media and devices can actually cause us to be more isolated from others and have a detrimental effect on us.
We have become over dependent on social media and devices. Our interactions with these devices are increasingly taking up our attention and distracting us from interactions with others. These devices come in handy because we can easily search for answers to a lot of our questions, but too much use is also causing harmful effects on us.
We have a become a society where "people have shown they can hold a conversation over the internet and through phone but put a real face in front of them and they struggle."
Devices and social media keep failing us, more than helping us. It's a way of life that cannot be stopped, but I believe we need to take control back and cut out some of our attachments to these devices, that can leave us feeling isolated from society. Studies show that "Seventy-one percent of teens have more than one social media account." That is no surprise with the presence of social media today. Too much use is causing us to use less of our cognitive skills and intrapersonal skills, all of these which we need in order to function in society.
The excessive use and reliance on these devices hinder our critical thinking skills. We are letting the media dictate too much of what and how we should think about current events, finance, culture, news, politics, current trends, and every aspect of our lives.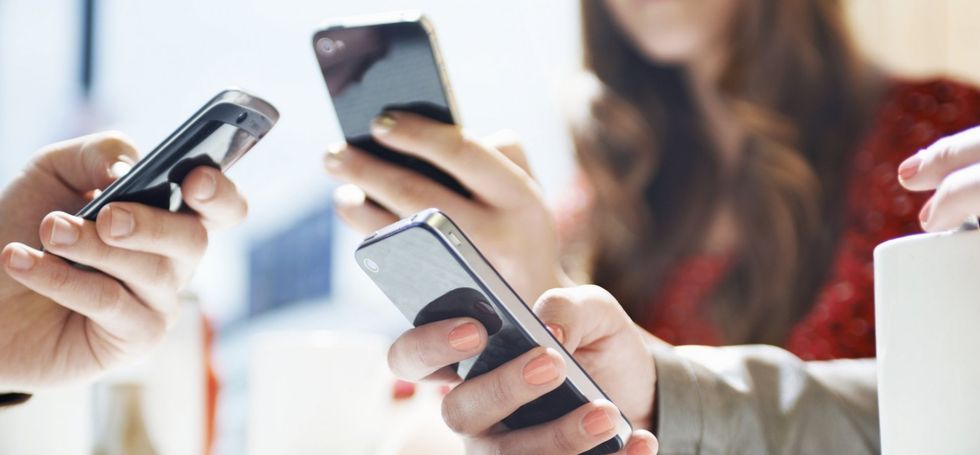 The downfall is that these social media apps are they are making us like zombies. Companies out there are controlling what we read, what we see, our stories on these apps. Every time we click on them, they are quickly being customed to what we like most, and only feed these interests to us. These algorithms are there to learn more about your internet actions and also control what you see on social media apps. The options are being limited to a certain extent.

The positive sides can be that we get to see so many individual's perspectives. Some of these apps let us see the world through our friend's eyes. We see what means most to them, like a picture of their dinner plate, summer traveling, snaps at work and funny moments they wish to share with others. It is amazing how much of their private lives we get to see through these apps.
We are constantly looking up information on search engines. These phones are capable of doing so much for us like they helping us exercise, customizing our alarm clocks, and keeping us on schedule. They do so much for us, that we have made ourselves reliable on them. If we leave our phones alone just a few minutes, we feel that we have missed hundreds of updates.
Sometimes, we find ourselves in a trance scrolling through ad after ad, and funny video, after a funny video on channels that we have subscribed to aimlessly late at night. This has replaced our late night TV watching of infomercials when we owned only a television.
We probably see thousands of images and cannot even process all of it. We try to intake it all, and then it's gone, we really haven't learned much. We pin this, pin that, and yet through so many intentions, are we really being productive at work and spending quality time with our families? Is it possible to reach some sort of control when this has gotten so out of control?
We see so many people trying to post everything, and we see many doing the same things on media. People feel obligated to keep up a social media presence. By using these devices too much, they are taking away precious time from our families and friends.
Our device usage is affecting us personally, and socially. Our values are being undermined, by this modern lifestyle, now where many of us have access to so many devices. This could be adding more stress to our lives than we think so. We should try disconnecting ourselves for a bit from social media and we would feel freer and have more time to think about what really matters.
People expect us to instantly answer their calls, messages, snaps, tweets, Instagram messages and expect us to be available at all times. We can start to feel obligated to answer these requests and we shouldn't have to. Can we go back to avoiding to record every moment and answer every message? Our excessive media use is keeping us from experiencing meaningful and valuable human interactions within our communities. Let us get back to controlling what we do with our time and not waste it.