The Daffodil Project. The annual event put on by the College of Charleston's Holocaust Education Committee, as well as an event done around the world.
Our goal is to create a living Holocaust memorial in remembrance of the 1.5 million children who fell victim during the Holocaust.
The specific breed of daffodil that we plant have 6 petals to symbolize the six-pointed Star of David and the 6 million Jews that were killed in the Holocaust. Daffodils represent new beginnings and rebirth and that there is life after death. We remember the children even after so many years. Daffodils also re-bloom every spring, so when you see large patches of daffodils around CofC's campus, it is because of the Daffodil Project.
Charleston's Daffodil Project was started in 2016 by Samantha Krantz, current President of Hillel/Jewish Student Union and founder of the Holocaust Education Committee. Holocaust Education is something she is deeply passionate about, as she also spearheaded Charleston's first Holocaust Awareness Week last April leading up to Yom HaShoah. The work she has done to spread awareness about the Holocaust is amazing and is excited to present the 3rd annual Daffodil Project.
The event will be on Sunday, November 18, at 1:00 p.m. in Arnold Hall (96 Wentworth; Jewish Studies Building). An hour-long ceremony will commence, focusing around this year's theme of "rescue." We will hear from several local Holocaust survivors on how "rescue" played a part in their story, whether they were rescued by someone or how they rescued someone else. The theme will be related to current events and how "rescue" and rescuing others in need, no matter how is still relevant.
Then, participants are invited to walk over to a private planting to plant the daffodils. Previous planting locations have included Marion Square, outside of Marty's Place, and George Street Gardens.
The event is free and open to the public! You do not just have to be a college student, nor do you have to be Jewish!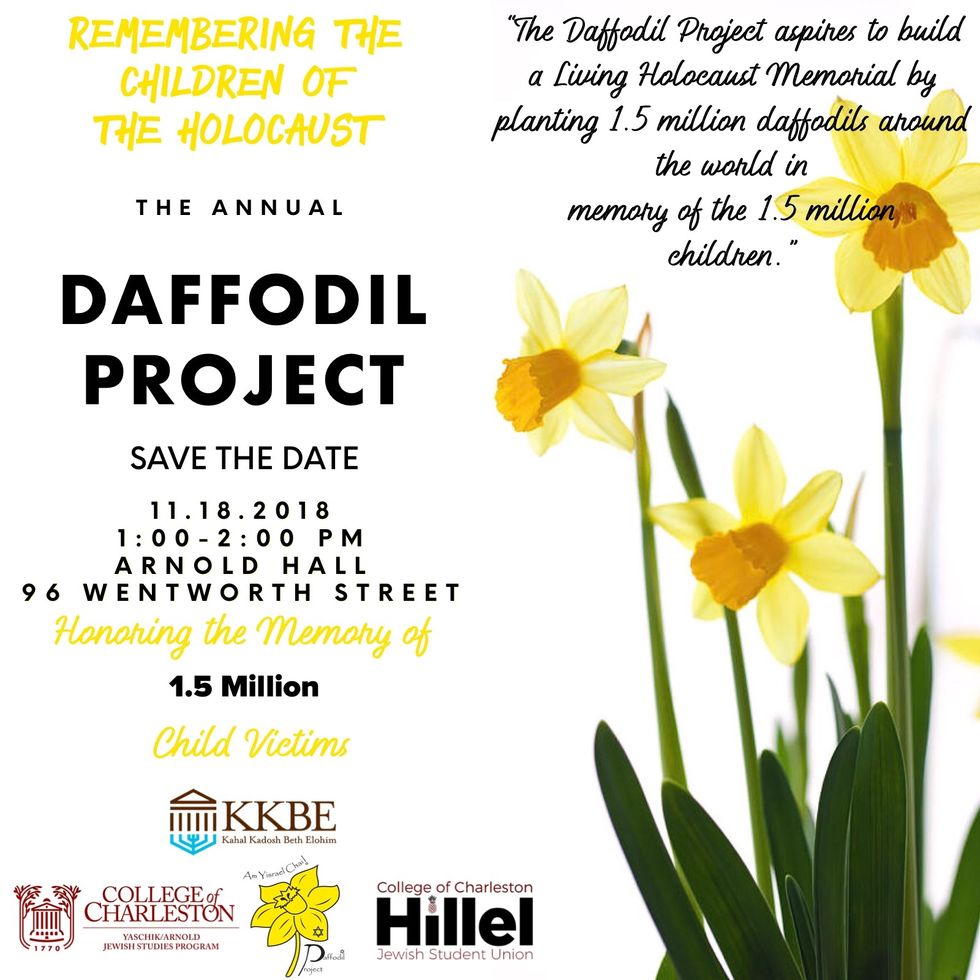 It is important, especially for our generation, to attend these events and hear the survivors' stories. Unfortunately, we will be the last to hear them first-hand, and it will be up to us to keep their memory alive.