I enjoy working out like I enjoy my bi-annual visit to my gynecologist. I enjoy working out like I enjoy getting a Hollywood Brazilian wax. I enjoy working out the same way that I imagine a mother enjoys the pain of contractions during child birth. Let me be clear, I have a love hate relationship with working out, much the same way I do with my beloved Christian Louboutin's after an eight hour day. But it's a necessary evil. One that I've come to not necessarily enjoy, but at least appreciate for the many benefits that it yields.
On a daily basis, when I'm faced with the inevitable decision of whether or not I'll go to the gym, I can think of a quick set of reasons why not to go. And instantly, I can find a just as good reason to contradict my previous thought, for example: "I'm too tired," but then I remember how energized I feel once I'm done. When I feel unmotivated, I think of how inspired I feel after a good workout. When I feel like the results of my workout take too long to manifest, I reflect on the immediate results that I feel afterwards, like a sense of accomplishment in addition to the long term results that working out has such as better health, a svelte figure and clear mind.
I have several motivational tactics that I employ while I'm on the elliptical, the treadmill and the stair master. Depending on what I'm doing, I use different devices. When I'm on the elliptical, I can usually put in my ear buds, close my eyes and escape into ecstasy. And yes, the elliptical has the ability to do that for me. You know, once I resist the tug of war that it takes to actually get me to the gym. Now the stair master and the treadmill on an incline at 6.5 is a whole other beast that often requires the prayer and meditation practices of devout saints around the world. Seriously. During these sessions, I've tried meditating on everything from gratitude to actual chants often heard in ashrams in far, east India. I've tried quieting my brain completely. I've tried focusing on the pain and somehow altering this experience into positive energy. What I've discovered through this mostly unpleasant yet beneficial process is that endurance builds more than physical attributes. It builds character. I've learned many lessons while self-coaching myself until that clock is zeroed out. I've learned that as tired as I think I am, I'm more energized to finish. As reluctant as I feel, I'm more inclined to keep going. I thought of Nemo yesterday…

And I literally repeated this phrase to myself out loud, until I found something more appropriate to say. "Keep working. Keep writing. Keep fighting. Keep trying. Keep Dreaming. Believing. Achieving. Succeeding." This is my personal mantra, although you are more than welcome to introduce this methodology of positive affirmation into your own plan. Tweak it, change it. Apply it to fit your life.
If I haven't already made myself abundantly clear, then please allow me to do so at this time. I hate working out. But I love the results that a good workout awards me, physically and mentally. Maintaining a workout regime has given me a new perspective on life. Personally, I feel like people who work out are more successful, in general. To me, it shows a very admirable quality about a person: discipline. Working out has truly shown me that the actions you take have direct results on your body. It makes me feel like this is one aspect of my life that I have complete control over and that my success is completely dependent on me. During the most vigorous exercises (and life, in general), I try to remind myself to endure the pain by focusing on the end result or to redirect my discomfort into a positive energy source. By no means am I suggesting this makes the journey easier. I'm only saying that for me, it makes it worth it. Endurance is an art form that has the capability to be to created by artists of various gifts and ingenuities. And yes, you can quote me on that.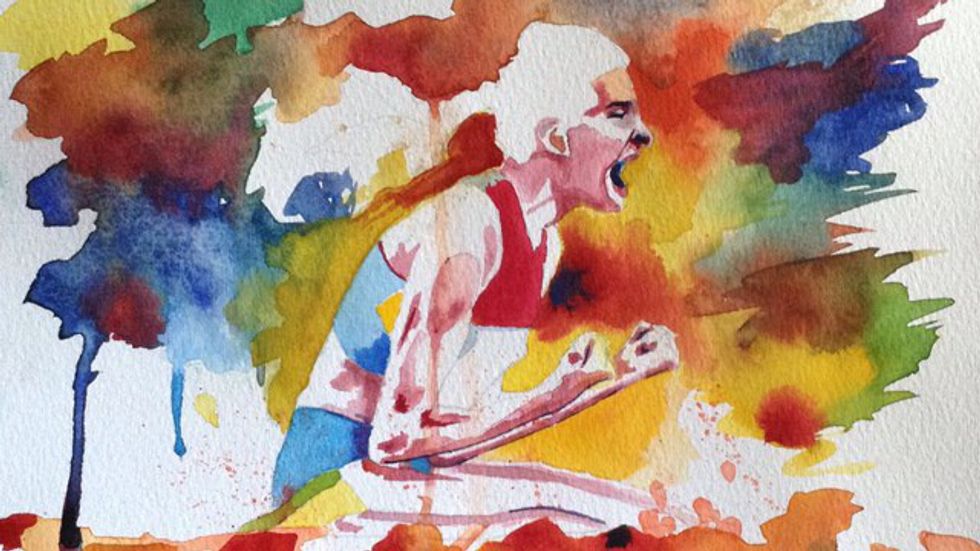 Love this article? Share it with your friends on Social Media.
And for more great reads, be sure to check out my blog & Follow me on Twitter @BlkCrrieBradshw Facebook #TheRealBlackCarrieBradshaw Instagram @TheRealBlackCarrieBradshaw Tumblr @ TheRealBlackCarrieBradshaw