In today's day in age, many of us girls have dealt with our generation's typical boy. I'm sure that there were many times you've wondered to yourself, "Does everyone have to deal with this, or am I just the lucky one?" In fact, as you read the words "our generation's typical boy," one specific guy you know probably popped into your mind, didn't he? Fortunately, you are not alone in this struggle. One day you'll find a guy who won't put you through the mental, physical and emotional stress that the typical boys of our generation, unfortunately, all seem to do. Until that happens, we can all sit here and laugh together over these texts that we've all gotten at least once.

1. "Heyy"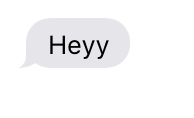 Normally a hey with two "y's" means they really want to talk to you, right? So why is it that half the time, they don't answer when you reply. Even after you have that little "Should I, or shouldn't I?" conversation with yourself and then just give in.
2. "Hey"

A "hey" with one "y" will either be followed with a text asking what you're doing, or just an upfront invite to come over and "hang out." There's no in between.
3. "You wanna come over"

Oh, now I get it. After day's of saying "Heyy" and not replying after I finally give in to answering you, you now want me to come over? No thanks, buddy! (Girls, you've all probably read this and said "I'll just reply in the morning and say I was asleep so he doesn't ignore me forever", it happens to us all.)
4. "We should hang out tonight"

Yeah, "hang out." Sure. Okay, pal.
5. "Wyd?"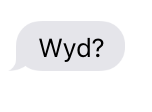 Men who can't type out full sentences are cute. Haha, just kidding. This text is best served at 3 AM with a side of "You wanna come over".
6. "Ok"

There's really nothing as gut wrenching as pouring your heart out and getting THIS as a response. Seriously? That's all you have to say? Man up and love me!
7. "Nice seeing you" (bonus points if an emoji follows!)

Wish I could say the same. But let's face it, you definitely reply to this one with a "It was so seeing you too!" or something along those lines.
8. "Just wherever it goes"

RUN. RUN. RUN FOR YOUR LIFE. Do not pass go, do not collect $200 dollars. This is the perfect time to hit the block button permanently. Don't give in to the pressure.
9. "I hit delete"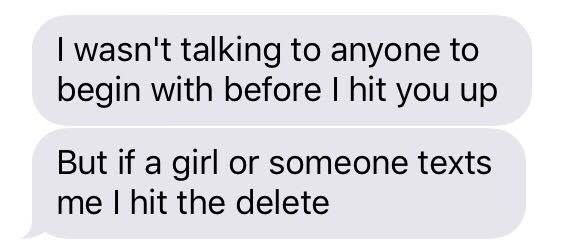 Haha, please, spare me. You don't delete anything from anyone and you certainly are not a one girl kind of guy.
10. "Why are you soo beautiful"


Why are you soo scummy? Just wondering.
So, whatever confusing messages you might be getting from that one guy in your life you just can't seem to shake, don't worry, you'll get through it. Either you'll finally get over him, or he will magically turn into the guy you thought you were talking to in the first place. Hopefully, for your sake, you'll get over him first and go for someone who deserves to be with your caring, loyal, beautiful self.