Tattoo festivals, specifically the Texas Tattoo Showdown, are pretty big events. Tattoo artists from around the world flock to these festivals to promote their art, get new clients, meet other artists, have fun, and tattoo people.
My adventure to the festival started with my tattoo artist, Stephanie, posting a cool drawing she did of a hand holding a fan on her Instagram account. I saw it, and was like, "hey, that's pretty rad," and I asked her about it. After some back and forth, it was decided that I was to meet her on the first day of the festival to get the tattoo. I was pretty excited, considering I had never gone to one before.
The Tattoo
Having gotten all my previous tattoos in the same shop, I was not 100% sure what to expect. I knew tons of people would be walking by and glancing on what work I was having done, but that's it really.
After browsing through all the different setups that all the tattoo shops had, I circled around and met with Stephanie at her shop's setup, which was the biggest one.
Once we blew past a few technical issues and discussing the color scheme, we began.
Getting the tattoo there was a lot of fun. I'd look up (I was laying on my stomach, as the tattoo was being done on my right tricep region) and see people walking around, some peeking over, some with hella fresh tattoos, and others just roaming around. The sound of dozens of tattoo machines buzzing in the background coupled with the loud music actually made the experience very relaxing. The tattoo took around 3-4 hours to complete, and I am in love with how beautiful it came out. The experience was fantastic, and I would totally get tattoos at a festival again.
This is what it looked like just after finishing up.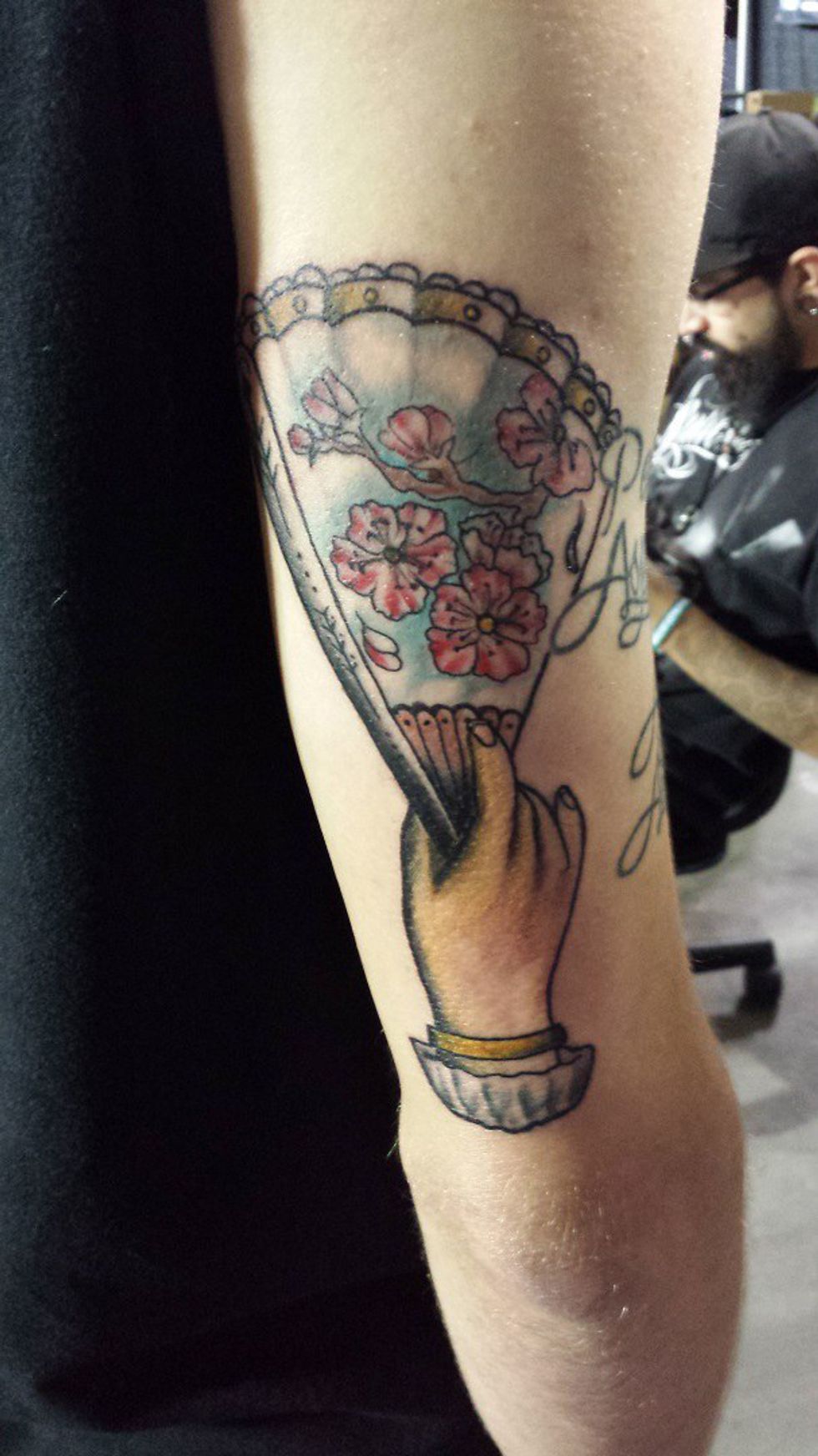 The Festival
I went right as the gates were opening on the first day, so there was not too much set up. I did spend the majority of the time inside the coliseum getting my tattoo. But I did see and do some cool stuff. While I was walking the three aisles of tattoo shop setups, I saw a lot of wonderful art. Some of it simple and elegant, and some detailed and captivating.
Here are a few blurry af pictures I took inside the coliseum after getting my tattoo.
Where I got mine: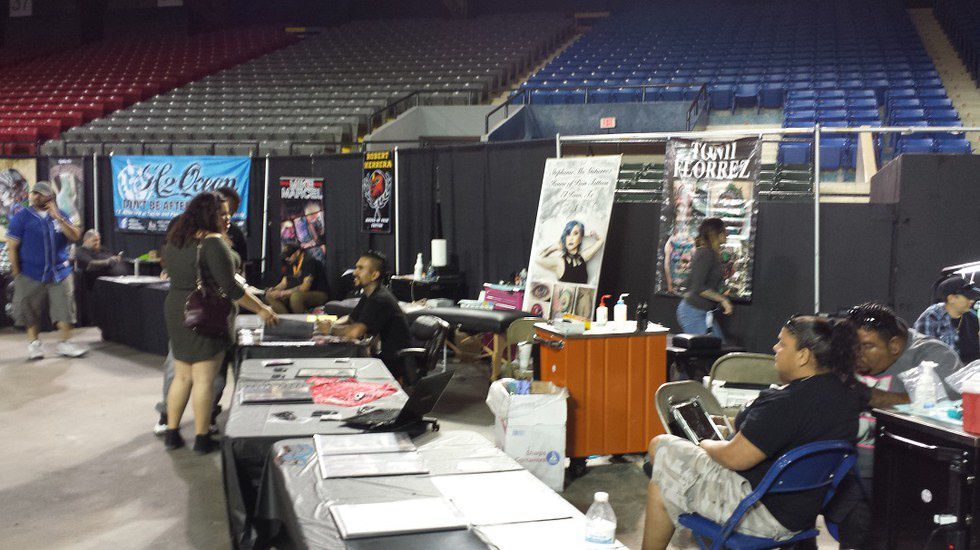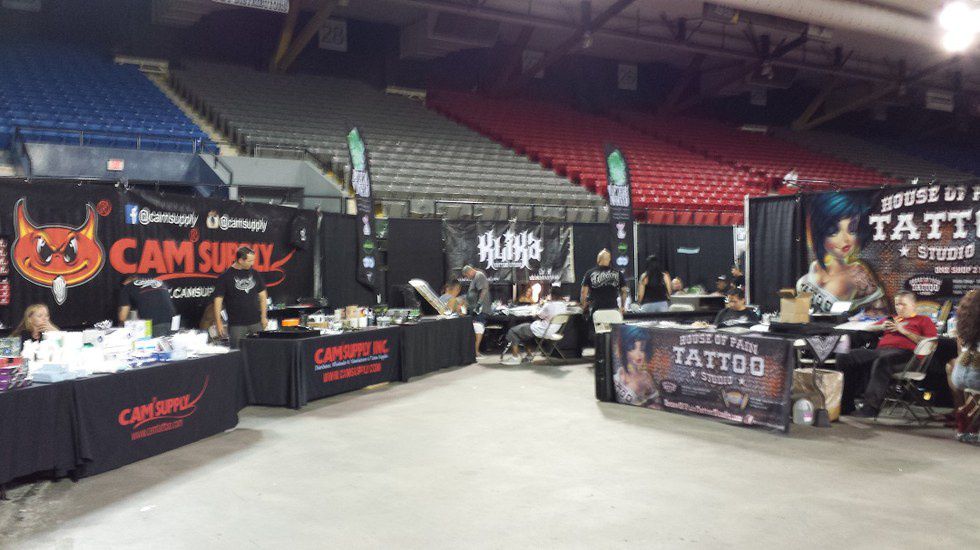 Directly after we finished up, I went outside and saw that some type of show was just about to start, so I decided to watch it. In this show, I saw a guy get out of a straitjacket, a girl jump on glass, and then jump on top of a dude with his face in glass, a girl do a performance on silks, and then a guy swing around with two hooks in his back; it was his first time doing it.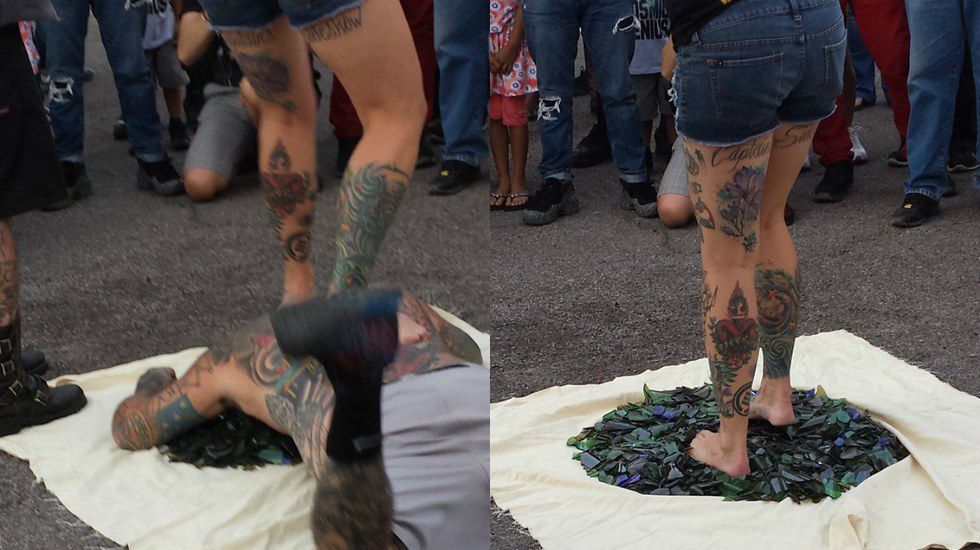 Not a drop of blood came from either of them, which was pretty surprising. The bottoms of her feet seemed to have built up calluses, so that makes sense.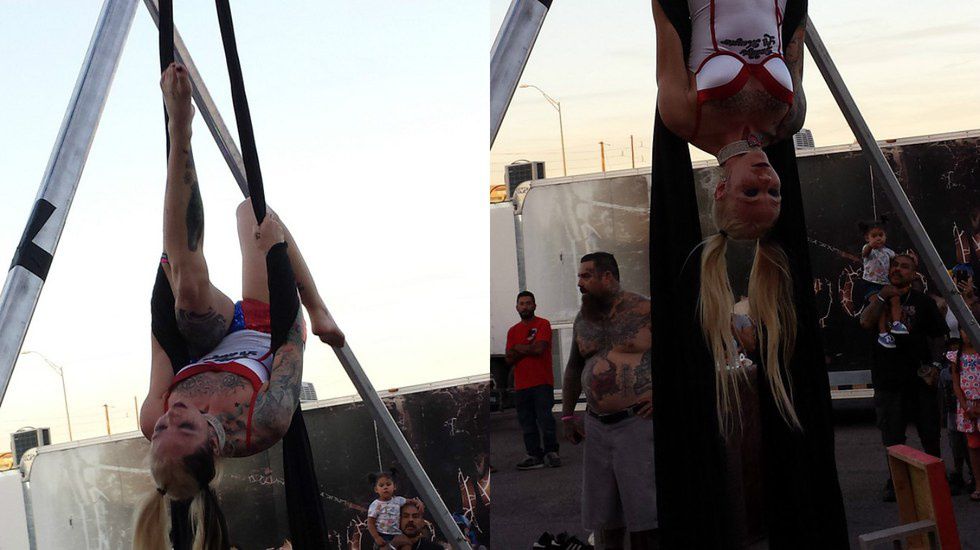 I had never seen anyone do this type of performance before, and it was really cool. She was super elegant and flowed with a majestic grace through the black silks.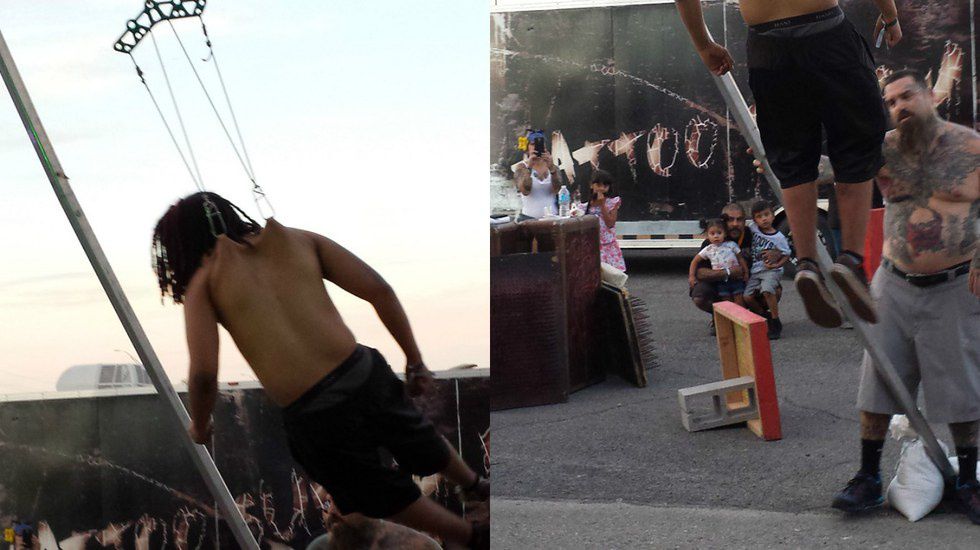 This was a thing. From what the announcer was saying, this is the first time this guy has done this. Even I was nervous for him. The image on the left is to show the top, and the image on the right is to show how high he was off the ground. Before hoisting him up, the few other crew members got pretty close to him one at a time and seemed to give him words of wisdom, telling him it was going to be okay. I got chills when this happened. They hoisted him up slowly to make sure everything would be alright, and then suddenly, one of the crew members pushed him and he started to swing. Ooo girl the tension was real. He swung around for probably two minutes or so, and when he came back down and was unlatched, they all hugged him as if he finished an initiation. The goosebumps were real.
All in all, it was a pretty great day. I got a gorgeous tattoo from my lovely artist, and I saw some cool things that I might not have ever seen if I hadn't gone. 10/10
Cover Image Credit: Carson Bennett