I know I'm not alone when I say I'm a Taylor Swift fanatic. Taylor has blessed us with beautiful country songs to fun pop tunes to heartbreak ballads, with gorgeous music videos. Here's a trip down memory lane- a top 20 countdown of the best Taylor Swift music videos of all time.
20. Tim McGraw.
The fact that this video is over 10 years old makes me feel old. You can tell by the video quality and Taylor's trademark curls.
19. Our Song.
In this 2009 video, Taylor is hair goals, makeup goals, skin goals, dress goals, everything.
18. Mean.
Mean is an absolutely beautiful song and video that takes down bullying, and sets an example for kids being bullied everywhere. The video features a schoolboy holding a fashion magazine being bullied by football players, and a little girl eating her school lunch in the bathroom because she isn't accepted by the other girls. This is a gem from the 2010 Speak Now era.
17. We Are Never Ever Getting Back Together.
The popular conclusion regarding this song is Taylor wrote it about her ex-boyfriend Jake Gyllenhaal. But the more important question here is how does Taylor look so good in pajamas? She can literally pull off any look.
16. I Knew You Were Trouble.
2012 Red era Taylor Swift is probably my favorite. This one's definitely about Harry Styles.
15. Style.
Taylor somehow gets more beautiful in every music video? I don't know how this is possible?? Also, it's pretty much confirmed this one is also about Harry Styles, because hello, Styles?
14. Twenty Two.
Inspiring birthday Instagram captions since 2012. The soundbite when Taylor says, "who's Taylor Swift anyway? Ew" in the background makes me laugh every single time.
13. Picture To Burn.
How can you not love teenage-angst Taylor Swift who just got her heart broken for the first time? Apparently this one is about her high school boyfriend Jordan Alford, who dated and eventually married one of Taylor Swift's girl friends and classmates.
12. Out Of The Woods.
The verdict of Out Of The Woods is it's about Harry Styles. Remember when he and Taylor spent New Year's Eve together in New York City? I do.
11. Begin Again.
A truly revolutionary moment in Taylor Swift history. This song and video tells a beautiful story of moving on from a bad relationship (may or may not be Conor Kennedy) and learning to start over and love again.
10. White Horse.
I think I speak for all of us when I say I wish I looked as good crying as Taylor does.
9. Everything Has Changed, featuring Ed Sheeran.
I still ship Taylor and Ed Sheeran. In this video, their kids meet in school and fall in love, and it's pretty much the cutest thing ever. Can they get married and have kids already please?
8. Back To December.
Rest in peace the Taylors: Swift and Lautner. This song was Taylor Swift's debut with straight hair, and the beginning of an era.
7. Love Story.
Taylor was 17 when she wrote this song. When I was 17 I was eating cereal after school and worrying about boys. Long live Fearless.
6. Teardrops on My Guitar.
TALK ABOUT CLASSIC. Every girl cried over her middle school crush to this song at least once. In case you were wondering, the "Drew" in this song has since been arrested.
What blows my mind is when Taylor Swift made this music video, she was still in high school. Fun fact: Taylor was already on tour with Rascal Flatts by the time her high school senior class was graduating. She got her high school diploma via mail.
5. Wildest Dreams.
This beautiful film by Joseph Kahn captures the pain of a lost love affair. The video gives me Katy Perry vibes, with Taylor's black curly wig, and features of wild animals, but I'm not complaining.
4. You Belong With Me.
ABSOLUTELY CLASSIC. I jammed to this in seventh grade and still do in college. If you can listen to this song and not sing all the words, you're doing something wrong.
3. Shake It Off.
The most fun I've ever had watching a music video. Taylor is actually a comedic queen.
2. Bad Blood, featuring Kendrick Lamar.
This superhero-esque movie depicts Taylor as a red-hot badass, alongside celebrity friends like Selena Gomez and Lena Dunham. Rumor has it the song was written about Taylor's enemy, Katy Perry.
In the title scene, Selena Gomez pushes Taylor out of a building, and she lands atop a car. The scene is reminiscent of "the most beautiful suicide," an iconic photo taken in 1947 just moments after a woman committed suicide by jumping out of the Empire State Building and landing a top a car. The image comparison is below.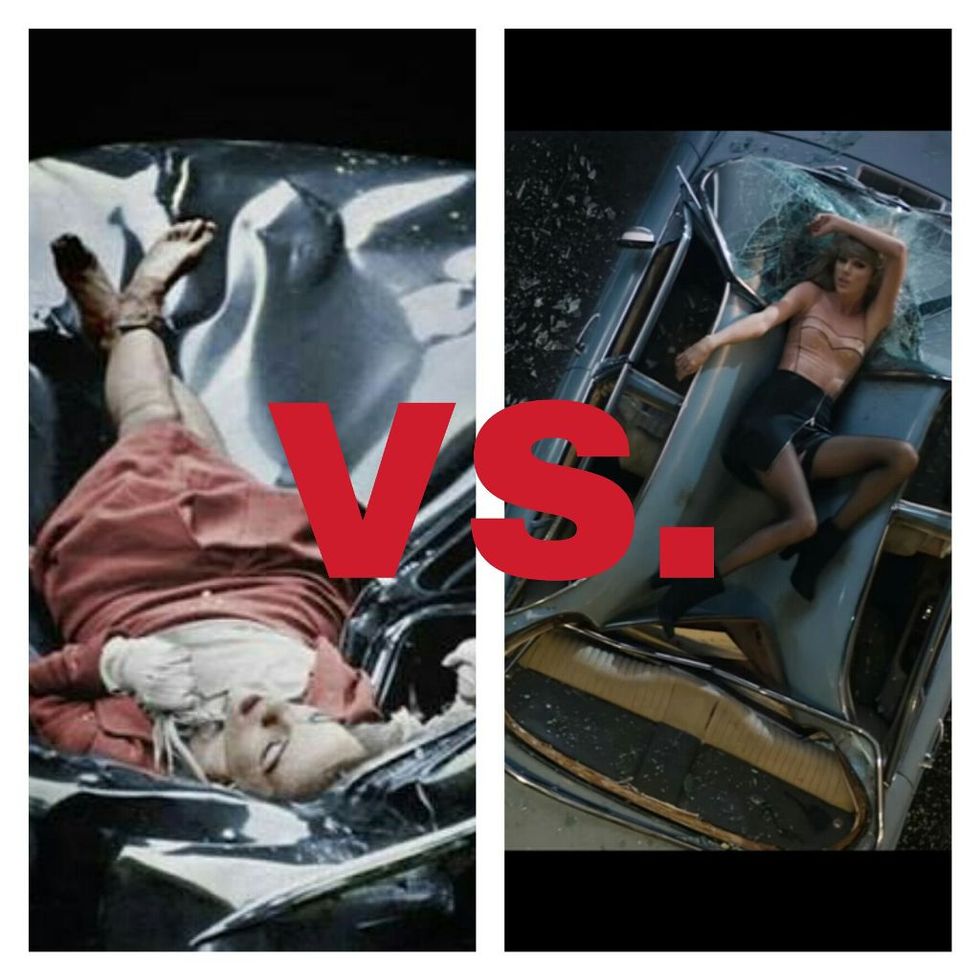 1. Blank Space.
Blank Space, in my opinion, is the best Taylor Swift music video of all time. She encompasses the reputation everyone says she has, as the crazy man-eater who brings in one guy after the next, and because this is so not her, it's hilarious. In the video, Taylor features her pet cat, throws her lover's cell phone into a fountain, and takes a golf club to his luxury car. What more could you ask for?