Due to the recent and unfortunate events in Orlando, media and politics have become riddled with various opinions, demands and criticisms concerning the purchase and usage of the AR-15. Many Americans feel that the rifle is not at fault, but rather the individual, while many others believe the opposite. Opinions and personal beliefs are great, as everyone is entitled to them; however, many of those objecting to the legality of the AR-15 are using exaggerated testimonies, inaccurate terminology, and incorrect statistics to back their views.
Last Tuesday, June 14, Gersh Kuntzman of New York Daily News traveled to Philadelphia to test-fire an AR-15. The goal of this venture was to gain insight into the fascination and purpose behind the rifle; however, Kuntzman simply used his "experiences" and amplified adjectives to demonstrate a strong favoring for tightened gun control.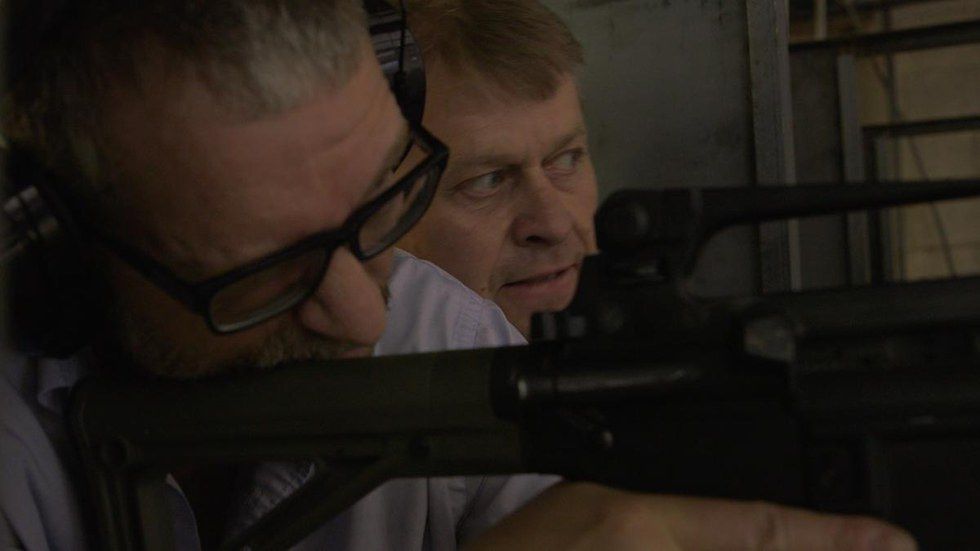 Here are a few direct quotes from Kuntzman's exposure to the "terrifying" AR-15. These various statements are smothered in fallacies and misinformation - which I will point out.
1. "It felt to me like a bazooka — and sounded like a cannon."

An AR-15 is nothing like a bazooka. A bazooka is a recoil-less, tubular rocket-launcher, which is used to damage armored vehicles. Mr. Kuntzman, have you fired a bazooka before? I seriously doubt it.
2. "Squeeze lightly on the trigger and the resulting explosion of firepower is humbling and deafening (even with ear protection)."
You are shooting a gun. Guns are loud. The abrupt and piercing sound of a gun is stunning, especially to someone that is not accustomed to firearms. Don't use your personal fear to make the AR-15 sound more dangerous than it is.
3. "The recoil bruised my shoulder, which can happen if you don't know what you're doing. The brass shell casings disoriented me as they flew past my face. The smell of sulfur and destruction made me sick. The explosions — loud like a bomb — gave me a temporary form of PTSD. For at least an hour after firing the gun just a few times, I was anxious and irritable."
Temporary PTSD? Really? First of all, one loud noise did not give you "PTSD." Second, if I was someone who had actually suffered from PTSD, I would be insulted. This statement is offensive. A trip to the shooting range does not yield the same emotional toll as tip-toeing between life and death to preserve America's freedoms (and your right to even express an opinion on this matter).
4. "Even in semi-automatic mode, it is very simple to squeeze off two dozen rounds before you even know what has happened. If illegally modified to fully automatic mode, it doesn't take any imagination to see dozens of bodies falling in front of your barrel."
Now you are contradicting yourself. You say, "it is very simple to squeeze off two dozen rounds before you even know what has happened;" however, earlier you brought up how the explosion of the bullet leaving the chamber was deafening and greatly troubling.
"...the resulting explosion of firepower is humbling and deafening (even with ear protection)."

"...after firing the gun just a few times, I was anxious and irritable."

If firing the weapon once is so powerful, then how can you fire two dozen rounds without noticing?
On another note, you criticize the AR-15 on the grounds that it can be illegally modified to fire in a fully-automatic manner. The process to make the AR-15 fully automatic, like you said, is already illegal - therefor it should not come into play.
5. "Forty-nine people can be gone in 60 seconds."
This is a direct reference to the 49 victims of the Orlando nightclub shooting. For the record, the first shot fired in Pulse was at 2:00 AM. The shooting completely stopped at roughly 5:00 AM. Three hours is far from 60 seconds.
---
Now, let's take a look at some of the facts and statistics concerning the AR-15.
The "AR" in AR-15 does not stand for "assault-rifle" or "automatic-rifle." It actually stands for "ArmaLite Rifle," which is the original 1950's producer of the firearm.
The AR-15 was originally made for the armed forces, but ArmaLite went bankrupt and sold their design to Colt. Colt tweaked the design into the automatic M16 Assault Rifle, used by the United States armed forces, and sold the semiautomatic AR-15 to civilians. The two rifles externally appear similar, but are quite different on the interior.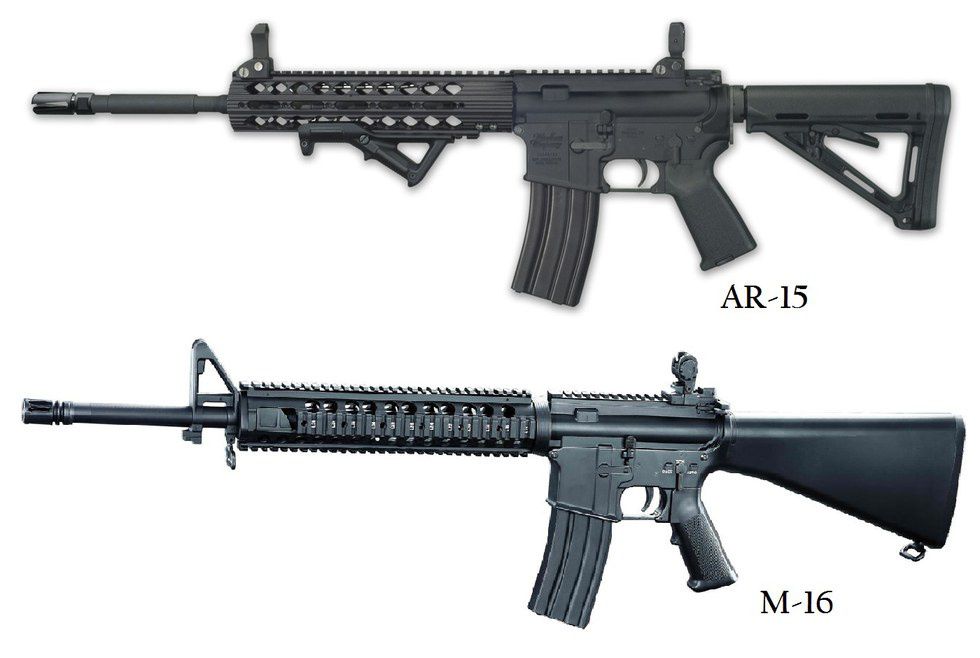 In the United States, there have been more murders committed with a club or hammer than with a rifle. In 2005, for example, FBI records show that 445 people were killed with a rifle, while 605 were killed with a club or hammer. These numbers fluctuate up and down each year, but the rifle murder rate consistently remains below the club/hammer murder rate - even today.
The AR-15 is not a high-powered assault rifle. It typically shoots .223/5.56mm ammunition, which is actually banned from hunting large game animals (like elk or deer) because it cannot take them down instantly and humanly.
The lightweight, accurate AR-15 has many conventional uses.
1. It is very useful in home/personal defense.
2. It is a popular sporting rifle, with both recreational and competitive capabilities. This gun appeals to the professional sharpshooter, but also to the everyday man or woman with the harmless hobby of shooting.
3. It is one of the most popular hunting rifles in the United States. Although the small caliber limits it's capabilities, the AR-15 is perfect for small game and varmint hunting.
4. This gun, developed in the 1950's, has a lot of historical background to it, making certain variations of it perfect for collectors!
5. It could be a swell tool for disaster preparedness.
---
So, does anyone really need an AR-15? No, of course not. People also don't need televisions, radios, motor vehicles, refrigerators, telephones, or any other luxury. This is a matter of want, not need. We purchase and utilize certain products to make our lives easier and/or to provide a source of personal pleasure. Every single person is unique and holds their own interests.
Some people collect art, some race cars, some go hunting... that's their prerogative. If I want to legally - and responsibly - own an AR-15, that's my prerogative. That is my constitutional right as an American. The great thing about rights is that they provide a choice. You hate guns? That's fine! Don't buy them. You love guns? That's also fine! You do you.
Ten-year-old Shyanne Roberts is already a competitive shooter. She has made shooting guns a lifestyle. Ample training, extensive safety measures, and high aspirations make her the poster-child for responsible gun ownership. This is something that makes her happy, while also helping her feel safe and in control.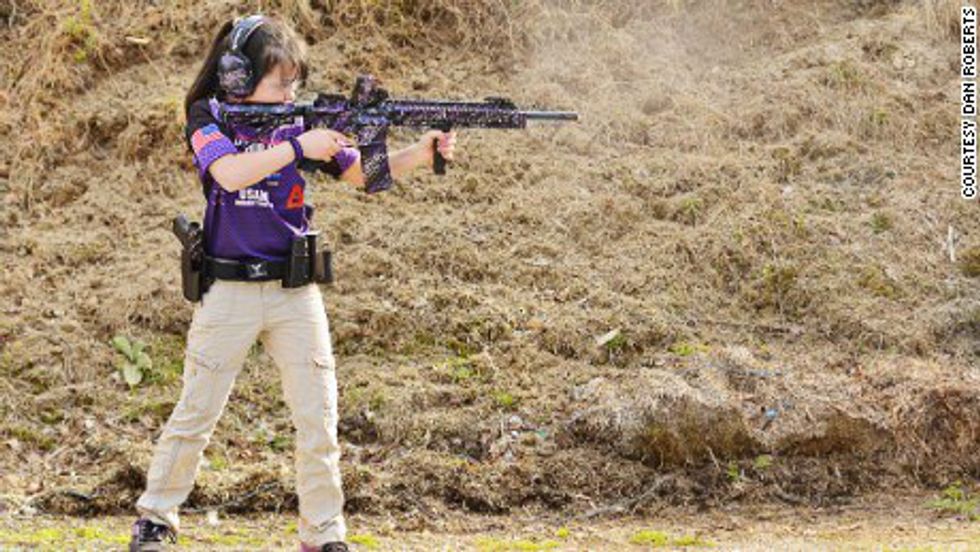 "I want to be an inspiration to other kids and be a leader," says Shyanne Roberts to a CNN reporter. "Kids and guns don't always mean bad things happen."
Regardless of whether you are pro-gun or anti-gun, republican or democrat, make sure you can back up your argument. Quit letting the biased media control your views. Do research, look at the facts, and educate yourself. Don't start blathering on Facebook about how the AR-15 is a full-auto killing machine with no civilian use, and in contrast, don't start ranting about how you'll start a revolution when Obama takes your guns. Ignorance is not attractive.