I have been diving deeper into my exploration of all things sustainable and environmentally-friendly. Although my conclusions related to the vast concept and market of sustainability have not been made, I have still been able to figure out some ways I can remain sustainable without spending an unreasonable amount of money.
Most of the sustainable brands that I have been following and that has been taking off in the sustainable fashion market are tending towards higher prices with their products. I've even noticed the bizarre trend of vegan food ending up becoming more expensive (especially if there is a substitution off the menu required) than the non-vegan options, even meat. The sustainability trend is, as I so far see it just that, a trend. A trend that can fit into a label that someone chooses for themselves to identify or being a part of a sub-culture.
Sustainability cannot survive or make a significant impact on our planet and way of living if it remains a trend. Sustainability has to become more. It must become a regular part of life, or a lifestyle, for all.
Therefore, the initial answer doesn't lie in immediately buying clothes from the top-5 sustainable brands or swerving 180-degrees into a diet of hard-core veganism. Those could work for a few determined souls but generally end up fading out fast as they lack longevity and room for constant growth (the basic definition of sustainability). Below, I have some ideas that could actually make sustainability possible starting with small, immediate changes that will better ensure your interest in making changes to make our world an eventually better place.
1. Donate your clothes and get some discounts.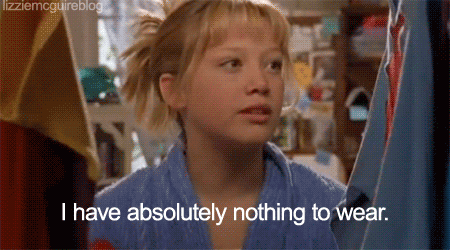 Giphy
As aforementioned in my other sustainability posts, there are a few stores that offer discounts or coupons if you donate to their physical locations. The one that I am most aware of and readily use is H&M's donation service. The store then offers 15% coupons to shop in their store. I am still researching the actual efforts H&M has made towards sustainability, as they are (one must not forget) still one of the biggest fast fashion retailers in the world.
However, I usually reserve my coupons for their sustainable clothing line "H&M Conscious," which has clothes than can be more expensive than their others. This way you recycles, not trash, the clothes that no longer bring you joy, and you can save money on getting some pieces that do.
2. Create smarter, cost-saving purchasing habits.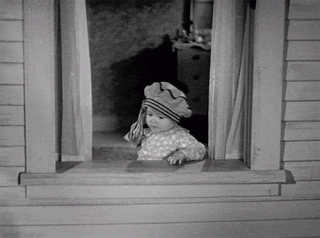 Giphy
Want to save money? Don't want to feel like you're doing what the baby is above? Then, change the way you spend.
Changing the way we shop and repurchase is one of the best ways to save money and our planet. Simple choices to make include replacing our plastic food containers with glass or stainless steel when the plastic deteriorates and is ready to recycle. Another is to avoid buying new containers as much as possible and reusing other food containers. Our moms and dads got it right when they used those old cookie tins and peanut jars for other kitchen and household purposes.
If you're planning on buying lightbulbs anyways, get energy efficient ones and save money in the long run. If you know that you won't eat that trendy health food, capture it for the IG story in the grocery store and then turn towards produce you'll actually eat and won't waste.
3. Thrift to keep your wardrobe fresh.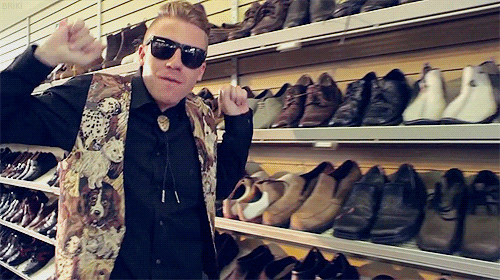 Giphy
Thrifting is actually one of the best examples of sustainable fashion and it does help that it is super trendy to do so. Thrifting produces no new resources are needed to produce the clothes that are available. It is also the best alternative to fast fashion stores such as Forever 21, Target and Walmart as thrift stores both provide low prices and unique pieces. You might also find some awesome designer gems in there (especially since even designer labels cannot avoid being marked as low sustainability brands).
4. Keep those reusable bags literally everywhere.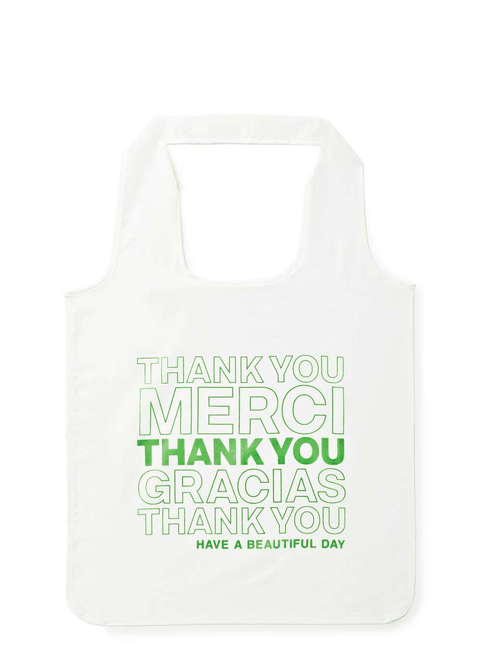 Giphy
It can be a pain to remember your reusable bag wherever you go. An easy step is to just put them everywhere you might need them.
Put some in your car trunk, roll one up into a backpack or handbag, have one hanging on a rack near your front door, or keep one near your daily essentials in your home.
5. Contact your local and state representatives about your green concerns.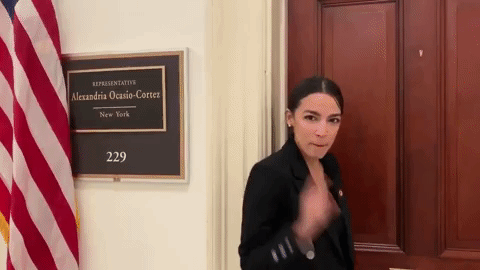 Giphy
If you have concerns about the environment or have strong opinions about what should be done to combat the harmful pollution of major corporations and general lack of knowledge regarding climate change, contact your representative. AOC, dancing above, is a major proponent of the removal of government officials and representatives off the pedestal that they often get placed upon.
Your voice and concerns matter, and it is just as much your job to let it be heard as it is for representatives to listen. Learn and become aware of who represents you and what you can do to make a difference.
The "sustainable market" has been extremely aware of the changes that are happening out in a world growing a generation of young people that will not see their planet in the same way as their parents. Our carbon footprint is large and is growing to a point of no return if we haven't reached it already. Climate change is real and it affects each one of use regardless of how much you want to shut your eyes and ears to the natural calamities, global droughts, and available resources from renowned scientists from reliable organizations.
Being a part of this movement is a huge responsibility. Although that urgency is stressful and the points above are there to relieve some stress, we should be feeling that fire under our behinds to change our habits from a place of wasteful convenience to effective change. We have to because this is the only home we have.
Related Articles Around the Web