It is that time of the year again. Days are longer, nights are shorter, and school is finishing up and summer is on everyone's minds. Pants are swapped for shorts, jackets are swapped for tee shirts and tanks and boots are swapped for sandals. Oh, and it's officially bathing suit shopping season. This is a stressful event for everyone, no matter size or shape, but it doesn't have to be all that bad. Here's a quick survival guide on how to experience a less painful and maybe even enjoyable bathing suit shopping trip.
The first tip is to remember that this is not an easy venture for anyone. Telling yourself that you wish you were thinner, or taller, curvier, or more muscular so that you'd like trying on bathing suits more is an easy way to get yourself more down and it's really just a lie. Everyone, no matter how thin or curvy, has a problem area that bathing suits are all too good at exposing. So, when you're in the dressing room, remember that even that person you wished you looked more like is staring at themselves half-naked in a mirror no more thrilled than you are.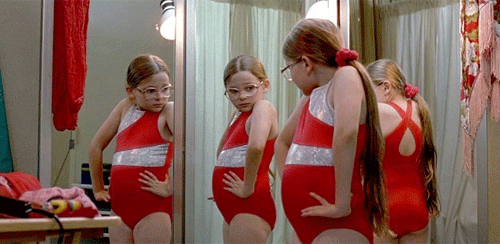 The next tip is to think ahead of time about the problem areas that everyone has. I'm not saying that there are bathing suits certain body types need to avoid, because that is obviously not true. Anyone can rock any bathing suit they feel comfortable in, no matter what. But, if you know there are certain areas of your body you just cannot learn to love, then go online and look for bathing suit styles that will highlight your best features and downplay those areas you aren't fond of. This will avoid the devastating feeling of trying on a swimsuit you loved on the rack only to find it doesn't look the way you were hoping for. By finding bathing suit styles you'd be most comfortable in ahead of time, you eliminate the confidence drop in the fitting room and reduce shopping time because you'll know what you're looking for.
My third tip is to avoid shopping online unless you're really familiar with the store's sizes and know the style you're purchasing is one that you will feel comfortable in. Any good shopper knows that many stores sizes run differently than others and that you can easily be one size in one place while a larger or smaller one in another and that it's nothing to stress over. So, when you order online, especially with bathing suits, it can be difficult to order the right size on the first try and it's hard to tell what the style will look like on you when you're only viewing it on a model. Ordering a bathing suit you find really cute online only to have it delivered and not fit or look differently on you then you imagined can be devastating. Ordering anything online and having it disappoint you sucks no matter what it is, but bathing suits hold the power of doing real damage to people's self-esteem. So, to avoid the stress of wrong sizes or unflattering fits, then shop in store. Trying it on and being able to see what pieces need to be bigger and smaller and which styles will look best is much easier than having to pack the suit up and send it back to the store.
My final tip is to just embrace your body and know that everyone on the beach, or at the pool is going to be in bathing suit and that your harshest critic will always be you. If you try on a bathing suit that you normally wouldn't wear but feel really good in it, then buy it! Don't stress about other people's opinions. Find a bathing suit that makes you look and feel good and rock it unapologetically. Don't worry about what anyone else thinks or feel like other people look better than you do, just embrace your body and your suit and enjoy your summer in the sun. Bathing suit shopping is a stressful event, but it doesn't have to be. Wearing one in public can be worse, but if you find a suit that you're comfortable in, you'll be confident and be should able to show off your suit without a care in the world.