With everything going on in the world, racism is more widely visible than ever. Racism is prejudice and discrimination directed against a person or people because of their particular racial or ethnic group, for those who seem to not understand. It is not having a different opinion.
As of right now, innocent Black men are being killed by police, justice is not being served for any of these murders, and it seems as if the rules only apply to people with certain skin colors.
It also doesn't help that the president of the United States runs an openly racist campaign. President Donald Trump has spent the last four years of his presidency making racial comments, targeting certain minority groups like Mexicans, and doing nothing positive for Black Lives Matter movement.
Even though you may not consider yourself to be a racist, by supporting Trump in 2020, you're enabling racism now — and for the next four years.
Despite Trump saying he is "the least racist person on earth" his record shows otherwise. In 1973, the Nixon administration sued Trump for alleged bias toward prospective Black renters. The Department of Justice brought charges against the Trump Management Corporation, for violation of the 1968 Civil Rights Act.
Despite Trump calling the charges, "absolutely ridiculous," an investigation found evidence that minority tenants were being denied rentals at his properties or instead, being redirected to other housing developments that were less white. Trump settled the case without an admission of guilt. Rental discrimination is still a problem today despite the law that was developed back in the 1960s.

Shortly after, in the 1980s, Trump's casinos were accused of hiding Black employees when he visited. John O'Donnell, a previous president of Trump Plaza Hotel and Casino in Atlantic City, quoted Trump in his book as saying "Black guys counting my money! I hate it. The only kind of people I want counting my money are short guys that wear yarmulkes every day." Another quote O'Donnell attributes to Trump is "I think the guy is lazy. And it's probably not his fault because laziness is a trait in Blacks. It really is. I believe that."
In 1989, Trump paid $85,000 worth of full-page newspaper ads with the headline "BRING BACK THE DEATH PENALTY. BRING BACK OUR POLICE!" in all caps in regards to the "Central Park Five."
After spending years in prison, it was found that the five Black men involved were innocent. Trump said "these young men do not exactly have the past of angels." He also tweeted, "tell me, what were they doing in the Park, playing checkers?"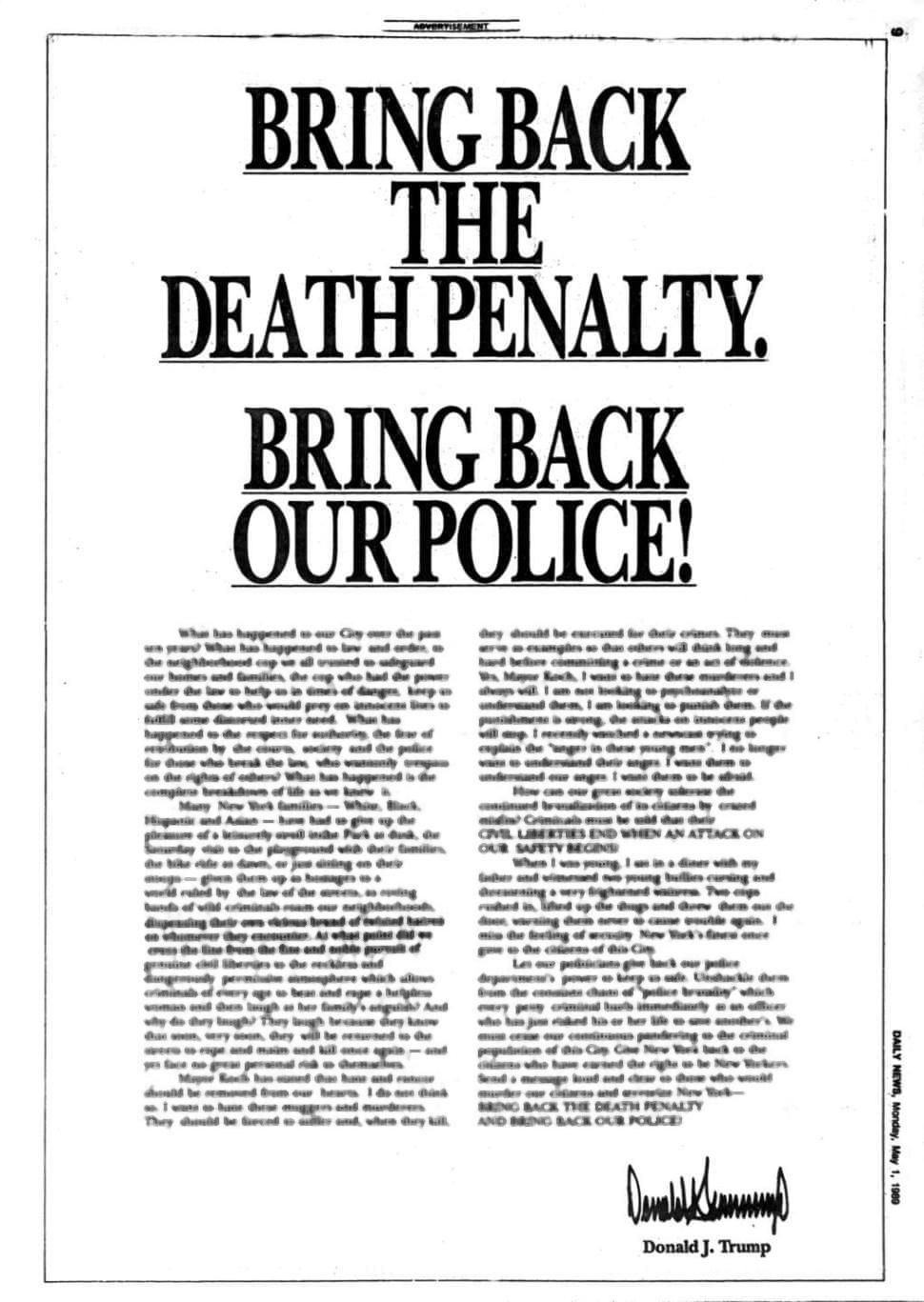 Wikimedia Commons
During a 1993 Congressional committee hearing on gambling casinos operated by Indian tribes, Donald Trump said "they don't look like Indians to me and they don't look like Indians to Indians." He considered the tribe competitors and ran a series of ads against Native American casinos alleging that they were guilty of crimes with no evidence back in 2000.

Donald Trump "They do not look like Indians to me" www.youtube.com
In 2015, President Donald Trump spent his presidential campaign insulting Mexico and its people. He referred to Mexicans as "rapists" and accused them of not being our friends but only bringing drugs into this country along with being very adamant about building a wall on the border of Mexico and having Mexico pay for it.
In a series of tweets, the president said Mexicans are our enemies as well as terrorists of our country. His campaign also called for a travel ban against Muslims entering the United States.
We need the Wall for the safety and security of our country. We need the Wall to help stop the massive inflow of dr… https://t.co/wlyEE41v2w

— Donald J. Trump (@Donald J. Trump)1516281386.0
During a meeting with a group of senators from both parties at the White House, President Trump referred to Haiti and African nations as "shithole" countries in 2018. During this meeting, sources quoted him saying, "Why do we need more Haitians, take them out." He has also falsely stated that people from Haiti "all have AIDS."
Most recently, while all the Black Lives Matter movements across the country have been happening, Trump tweeted that the Black protestors are "thugs" after calling armed white protestors "very good people." To top it off, he tweeted threatening to direct the military to shoot the Black protestors on the street.
....These THUGS are dishonoring the memory of George Floyd, and I won't let that happen. Just spoke to Governor Tim… https://t.co/1KhT776DPw

— Donald J. Trump (@Donald J. Trump)1590727994.0
President Donald Trump has a long history of racism tied to his name dating back years before his presidency.
If you support Trump, you support racism and are part of the reason why racism is still a major problem in the world today. People should be treated equally, not less than others because of their skin color or where they are from.
We have to stand together and do better to defeat the evil of racism.