Boy oh boy, it's that time of year again where I make this big long extraordinary list of plans for my not-so free summer. I've got a feeling that this summer is going to be one for the books, I'm sure of it! This is the summer before my friends and I leave for our junior year of college at MTSU and I intend on making it one to remember. I always make these big bucket lists for summer, but I never check anything off of them. But since my friends and I go our own ways in August, I want to spend as much time as I can with them. This summer will be short lived, but I'll never forget it. This summer I've planned out the best of the best adventures one could dream of! Here's to humid sunny days, great friends, and sweet tea on the front porch!
1. Write a song.
I always struggle when I sit down to write music. I write articles and short stories all day, but I find I can't write a song to save my life. This would be my number one priority this summer.
2. Go to the drive in movie theater.
First thing's first, there is a drive in movie theater about an hour away from my hometown and I have always wanted to go!
2. Camp out at the lake.
My mother probably wouldn't approve of this one, but camping out at the lake would be awesome. Camping out in tents, renting a pontoon boat for the day and eating watermelon would be the absolute perfect summer day.
3. Hike up to Max Patch, North Carolina.
Max Patch is the most relaxing mountain top I have ever been to. It's on the very top of a mountain that overlooks other mountains for miles. Plenty of people go up there and have picnics They lay their blankets down and enjoy the beautiful scenery God has made.
4. Movie night at the barn.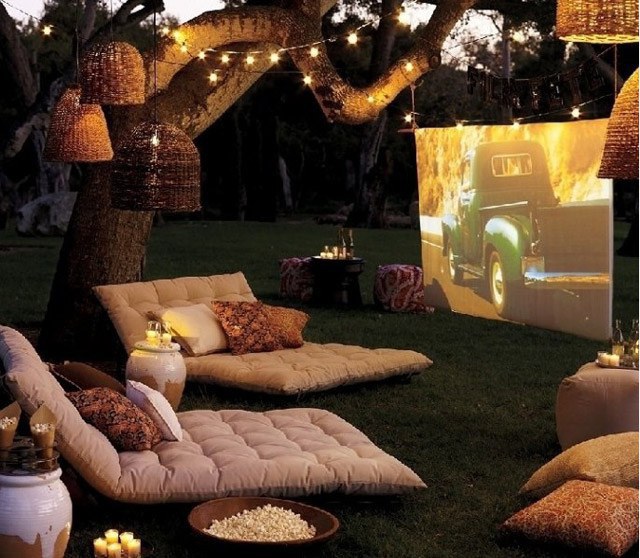 I have talked about this for ages because I saw it in a movie once. It would be the perfect night out with friends, other than having a bonfire. Does this not seem like the best thing you've ever heard? Watching a movie on the side of an old barn with blankets laid down in a field, fluffy pillows galore and string lights tied around trees.
5. Cliff jumping.
I am terrified of heights! All of my friends cliff jump into lakes and rivers but I've never been able to get the courage for it. So, if I overcome this type of fear I would totally have to consider my summer a success.
6. Jazz dancing.
Ok, this one I totally saw in Age of Adaline. I find this to be the most romantic night that could ever happen. Even though I can't dance, nothing sounds better than warm weather and jazz music.
7. Volunteer at a soup kitchen.
Helping those in need has always been something heavy on my heart. I don't have a lot of time, but this summer I am going to dedicate time once a week to help the less fortunate. God has given me so much and I take that for granted when this world has millions of people homeless and hungry.
8. Be the salt and light in darkness.
Matthew 5:13-16 says, "Ye are the salt of the earth: but if the salt have lost his savour, wherewith shall it be salted? it is thenceforth good for nothing, but to be cast out, and to be trodden under foot of men. Ye are the light of the world. A city that is set on an hill cannot be hid. Neither do men light a candle, and put it under a bushel, but on a candlestick; and it giveth light unto all that are in the house. Let your light so shine before men, that they may see your good works, and glorify your Father which is in heaven."
I have read these verses over and over and it is something I strive to be this summer. I want the world to see Jesus through me in a world that is full of so much evil. Also, if it's not enough that these verses hit home, listen to "Salt and Light" by Lauren Daigle.
9. Eat as much ice cream as my heart desires.
This is something my heart cannot say no to. Ice cream is my biggest sin, because I literally eat it twice a day. I am only young once, so to make year 20 of my life better, I am going to eat as much ice cream as I can this summer!
10. Be "courted" by the boy I like.
I can't help but wish for this to happen. By courting I mean, drinking sweet tea on my front porch in a pretty white sun dress with the gentlemen I've become fond of. By the way, courting just means to date but it's much more simple and romantic than a Netflix date.
11. Make a castle-blanket fort.
I remember as a kid, I would make blanket forts connected from one side of my living room to the other. Unfortunately, they weren't as elaborate as they could be. But, with my goofy friends, I know we could make a castle-blanket fort. Is that even a thing? Ha, well it will be!
Summer is right around the corner. I am determined to make sure that this one does not slip away. Here's to all the good memories to come.