The return of the Airbender (to Netflix)
If you haven't been on the internet for the last couple of weeks, you may have missed the news and hype around 'Avatar: The Last Airbender' and its return on Netflix. At first, I was happy that everyone was tuning in to the series, it is one of the greatest cartoons from the 2000s. But as the weeks pass – my enjoyment from the hype has grown into annoyance. Now, I don't like gatekeeping people at all. Everyone should be allowed to like the things they like. I never want to tell someone for example they can't like Marvel because they don't read the comics. However, it comes to a point where it is sometimes necessary. I may know the rules of football, but I don't go around claiming I know the entire history of the NFL. But if someone presented me the information about stats and players I will be inclined to learn.
So what does this mean with 'Avatar: The Last Airbender?' The series has been around since 2005 and it surprises me that there are people out there who have never seen the series. A lot of them are experiencing it for the first time, and they might not be accustomed to the lore of everything. Avatar isn't like Marvel or DC there is one singular plotline and not everything is answered with it. Especially with the sequel series 'The Legend of Korra' where a lot of the original characters are either gone, no the focus of the series, or never mentioned. This has led to individuals, especially kids on TikTok, to spread false information about the series and what happens to its characters.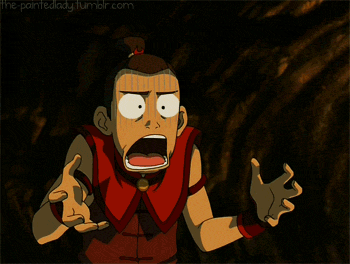 avatar the last airbender what GIF Giphy
The release on Netflix of the series has aided the spreading of fake news
A rumor that has circulated for example is that a character from the original series, named Suki, died young in between ATLA and Legend of Korra. However, as someone who has never left the Avatar hype train, I know for a fact that isn't true. I never stopped being a fan of avatar or abandoned it. I know everyone isn't lucky enough to have time for the things they used to enjoy in the past. Life happens, people grow up, etc. But as someone who is in this sphere all the time as my hobby and a soon-to-be job, I just hate when people spread miscommunication. Or assume that this is the first time that Avatar was on Netflix when it was on there in 2010 before Viacom ended their contract – that's how I watched the series in its entirety originally before it was just me catching an episode or two on Nickelodeon.

I hope Aang leaves
This is just a mini-rant; I secretly hope the Avatar hype goes away. Like I said I hate gatekeeping, but it sucks when everyone starts joining your hobby or special club and starts making it mainstream. Sometimes it's nice to have a small community of individuals. That way things like this don't happen. Maybe I'm just grumpy, either way, I hope quarantine ends soon so we can all get back to our own little bubbles.