Jordyn Woods posted two photos the day she had to present an award at the NFTA Award show and the caption didn't go unnoticed.
In her caption, Jordyn said, "those that counted you out, can't count 💋" and then she posted another set of photos with the caption, "I know I make it hard for you to forget ❄️" and that's when people began to have a fit.
Jordyn had to get on Twitter and defend her captions, that she could have easily gotten from Pinterest boards, but people always look at the negative and read into the littlest things too much.
People were bashing Jordyn for photos captions and saying that she's trying to stay relevant since the scandal is wearing down, but it's really Khloe that has to fight to stay relevant since she was the main force behind why the scandal turned ugly in the first place.
Khloe then felt the need to hop on her Instagram and post a really long story about how she has forgiveness in her heart, but can't accept their behaviors - it was a whole thing.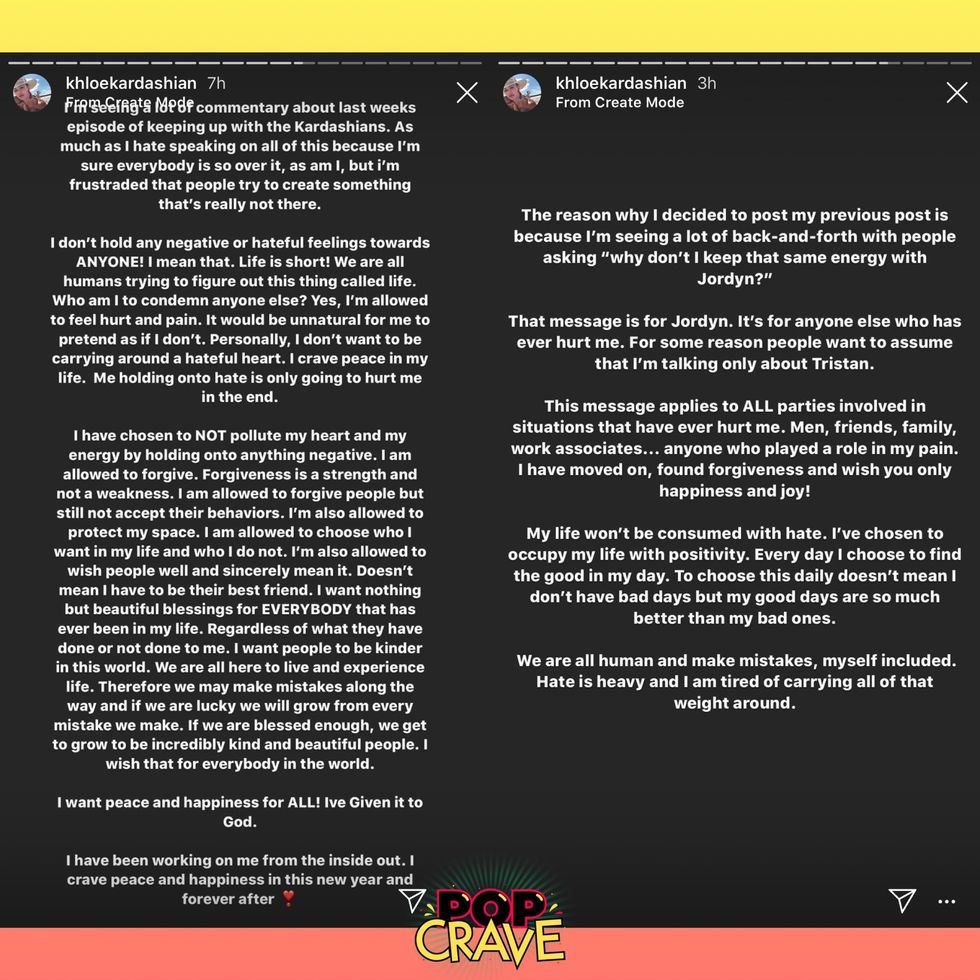 Khloe is notorious for posting things on her story that are shady. Sometimes motivational, so I'll give her that, but for her to say that she won't accept certain behaviors from people who've done her wrong is a bit cynical.
She seems to be the only one still speaking and riding the coattails of the scandal that will be a year old next February while Jordyn hasn't spoken about it since her Red Table Talk with Jada Pinkett Smith.
Khloe soon saw the ugly side of the scandal (the only side that Jordyn had to endure) when Khloe took to Twitter showing her true colors on how she really felt about Jordyn and then when people were jumping at her, she decided that she had to apologize and then got on her reality show and cried saying that her life is now ruined because of this and she's not just a TV show.
I felt no sympathy for Khloe (and still don't) because she brought it all on herself. She took Tristan from another woman (ironically named Jordan, as well) who was pregnant with his baby.
Tristan is now trying to get in Khloe's good graces, but isn't making an effort to care for his other child because she's not a Kardashian and she can't ruin his name as they can - that's the power we, as lovers of entertainment, have given this family.
Khloe is nothing but shady and always has been, whether it's to her family or even to people associated with her family. If you aren't a token in her life, she'll shade you and the fact that she's 35 acting like a child is beyond me. Jordyn is the reason that Khloe has maintained relevancy after the scandal.
So to those who accused Jordyn of shading "the woman whose family helped make her" can kindly take a seat and realize that their "fave" Kardashian sister is nothing but a bandwagon rider who needs the scandal to keep her relevant instead of getting an actual job or creating a business.