All of the hype surrounding this season of college football culminated on January 7th at one event - the National Championship in Santa Clara, California. On the turf of Levi's Stadium, the top two college teams in the nation, the Alabama Crimson Tide and the Clemson Tigers, faced off to determine who truly dominated the 2018 season. A statue of Dwight Clark, former wide receiver for both the San Francisco 49ers and the Clemson Tigers, stands outside the stadium to commemorate his successful football career. Was this statue of a former Clemson Tiger a sign of what was to come? I would say that it most definitely was.
College football was led this year by the Alabama Crimson Tide, coached by the relentless, ever-stoic Nick Saban. The Crimson Tide came to the National Championship with a perfect record and a big reputation. The Clemson Tigers, led by head coach Dabo Swinney and true freshman quarterback Trevor Lawrence, also had a perfect record. Though second only to Alabama, the Tigers were not favored to win against the Tide. The media was sure of an intense game and was convinced that Alabama would go on to win its sixth championship under Nick Saban. However, the game did not go as most people imagined it would. No one could have predicted what actually happened in Levi's Stadium on January 7th.
Clemson startled the Tide in the first two minutes of the game by intercepting the ball thrown by Alabama's quarterback Tua Tagovailoa and running it for a touchdown, the first touchdown of the game. Though the first quarter ended with Clemson in the lead by 1 point, the Tigers quickly widened the gap in the second quarter, shocking the Alabama defense, and closed the first half with 31 points, more than two touchdowns ahead of Alabama's 16 points. Clemson continued to rack up points in the second half with an incredible performance by the talented true freshman quarterback Trevor Lawrence. Clemson's defense continued to hold off Alabama, who never scored again after the first half.
The final score of the game was 44 - 16, an outcome that completely shook the world of college football. Not only was the Natty a complete blowout, but it was the worst loss the Tide has ever suffered under head coach Nick Saban. Alabama's #1 spot in college football was usurped by the #2 seed, Clemson, in an embarrassing loss.
The statue of Dwight Clark stands outside Levi's Stadium still as a reminder of his successful career but now, perhaps, also as a reminder of the Clemson Tigers' massive triumph over the Alabama Crimson Tide, winning the 2019 College Football Playoff National Championship, 44 -16. I'm so proud of my Tigers, and I can't wait to see what their hard work brings next season. GO TIGERS!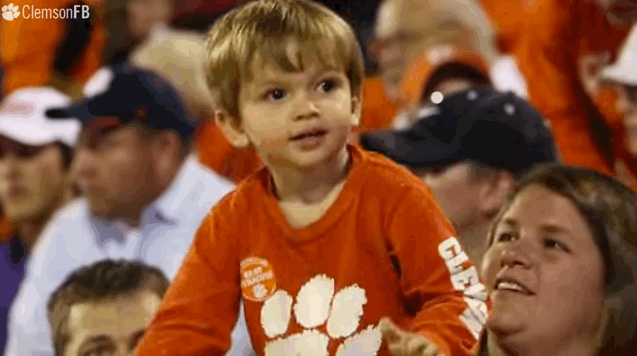 media1.giphy.com