There have been a lot of articles circulating Facebook and the like with a less-than-stellar opinion about Odyssey -- which is fine, I have more than a few opinions on some changes I would like to see; however, I want to focus on the positive. I joined the Odyssey on a whim, thinking it would be something fun to do for a few months then it would fall apart like most of these platforms do in the current day and age.
When I took over as Editor-in-Chief I thought, "Is this worth it? Will the Odyssey prove to be the outlet I need to kick-start my professional career, or will this end of being another hobby I pour my everything into just to have it fall apart at the seams and give me nothing?" Before I really started to see what this company had to offer not only myself, but my community, I believed in the more negative outcome; I'm glad to say that Odyssey has continually surprised me and that my experience has been more positive and beneficial than I had hoped for.
1. The Amazing Friendships
When I took over as EIC my team dropped from 15 Creators to four in the span of one week. Needless to say, I was devastated. My Managing Editor at the time was getting ready to leave so I had little-to-no contact with her for guidance or advice and I felt lost. I had just taken on this project with little experience and zero hope for the future of the team; however, this all changed when I realized that the Creators who stayed with me when the outlook was bleak were superstars. Not only did the remaining team -- as well as the previous Editor -- give me the confidence I needed to turn the team around, they supported me the whole way through. To this day those original four are still with me and serve as a reminder that no matter what, my team has my back.
Now that my team is so much bigger and diverse, I have so many people to rely on. My team gets me through weeks where page-views are low, shares aren't what I want them to be, and life in general is pretty bland. I know that when I need some support that they will give it without question. I know that when I need them to come through for submission goals or even just a pick-me-up after a rough day that they will do their best. We may not see each other in person on a regular basis, but we all have a common ground through the Odyssey. We were all brought together by a common interest when otherwise we may have never met or even glanced at each other. I know that my team is special, and that every team out there is special, and that I will be forever grateful for being introduced to such a silly, diverse, beautiful group of people.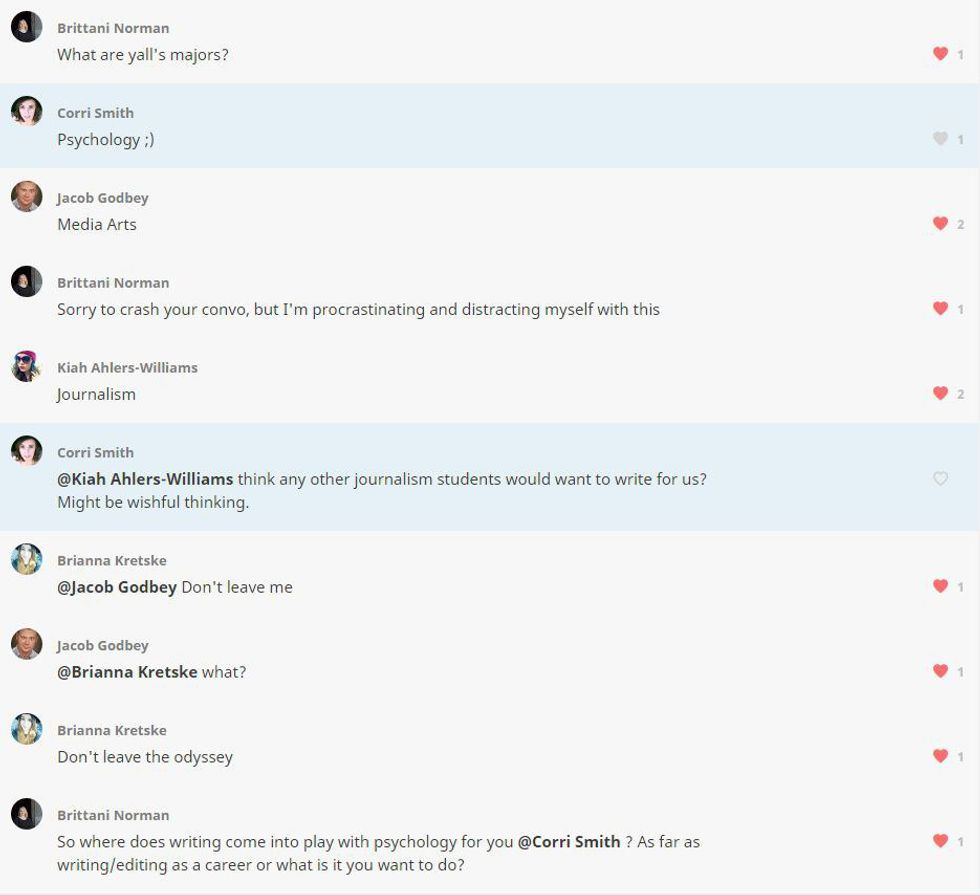 One of our many conversations. We are always active in the group chat.

2. My Awesome Managing Editor
Like I said, my first ME was MIA when I first switched into the position, so I was like a lost puppy looking for help. Thankfully about one month into the position I got a new ME! He's been an immense help and without his guidance and support, I'd be a mess. I mean, not to brag, but I'm pretty sure I have the coolest ME at Odyssey -- no offense to all you other Editors, I'm sure you're pretty cool too. Thanks to him, I learn how to be a better EIC as well as important skills concerning team building, social media marketing, and I now know exactly what I want to do after graduation. A pretty cool benefit if you ask me!
3. The Resume Benefits
I'm at a point in my life where I need to be seriously thinking about what career I want to pursue after I receive my degree -- thanks to my many mentors, I know what I want to do, but now I need to figure out how to achieve it. The Odyssey provides me with ample opportunities to grow as a leader in terms of team building, problem solving, hiring, and managing a large group of people; and it also give me necessary social media marketing, writing, editing, and photography skills as well as experience with working with deadlines. Not only that, but I'm able to create an online portfolio and add content every week -- how many people can say they have so much of their work published by the time they graduate?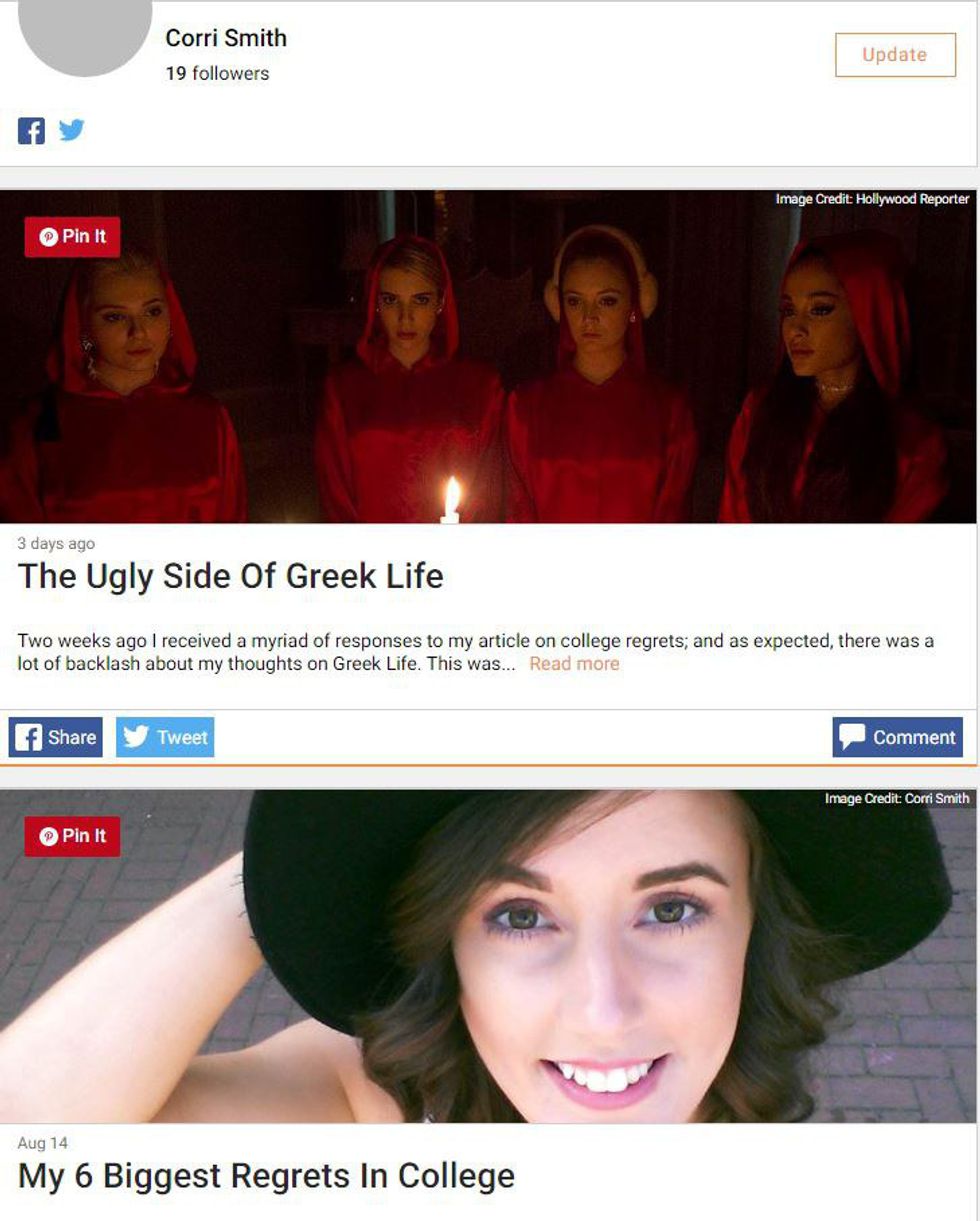 Shameless plug—go follow me to see more content! I promise I write interesting things.

4. The Opportunity To Write
I am a huge fan of writing -- I've recently re-entered the world of fiction, but I have a strong connection with current events; which makes this job perfect for me! I can write a silly listicle, or a news event, or a rant, or even a philosophical view into nature—whatever I happen to be in the mood for! This is a really nice change of pace since most writing classes or newspapers or magazines assign you a specific topic. I can choose whatever I want and roll with it! It really is a great creative outlet for people who dislike routine.
5. The Goal-Oriented Executive Team
I constantly receive emails and read articles about where the CEO and Founders want to take the company, and it's honestly inspiring. I love knowing that the minds that created this company are working so hard to make it the best it can be. There are always surveys to fill out in order to make the website better, and Creators are asked frequently what could be done to make the Odyssey a better experience for everyone. I feel like our opinions truly matter and that we are valued. I know that whatever changes are made -- it's for the better; the Odyssey is going places whereas I feel like similar companies are stuck in the status-quo and will remain stagnant and eventually die out. The Odyssey is evolving in a positive way and it will be relevant for a long, long time.
If you ever get the opportunity to work for this company -- take it! I think the Odyssey is innovative and creative in a way that so many other platforms are not. The Odyssey changes as is needed, it values its Creators and staff, and I think these qualities place it above and beyond other platforms. Sure, there are definitely some changes that need to be made, but that does not a failed company make. There is so much room for improvement and growth that I know will be taken advantage of in order to keep this amazing thing going. I'm proud to be able to use this platform and experience it as it changes and as we change with it.