I grew up watching the Star Wars franchise, and can vividly remember the excitement I carried into the movie theater when I got to see Revenge of the Sith with my best friend as a kid. So while Star Wars has faded into a distant favorite in my mind, when I heard the series was being renewed, I was optimistic. I didn't start to get truly excited, however, until I saw the trailer and the film's new leads.
The idea of having a young woman and a black man as this epic sci-fi series' heroes really got to me. I didn't even know I cared that much about the franchise featuring light saber-wielding Jedi women until I started seeing the Pop Vinyl figures of Rey creeping up on comic book store shelves. I thought to myself, I can finally dress up as a hero other than Black Widow for Halloween. Little boys would finally start to see themselves represented in a character that - like Luke Skywalker - might eventually become a household name.
I actually have mixed feelings about the film as a whole, which I won't get into now, but overall I enjoyed the new installation. I wasn't the only one who was a little iffy but many more people were rushing to embrace the new episode, and, little to my surprise, to ship two of the film's mains together: Finn and Poe.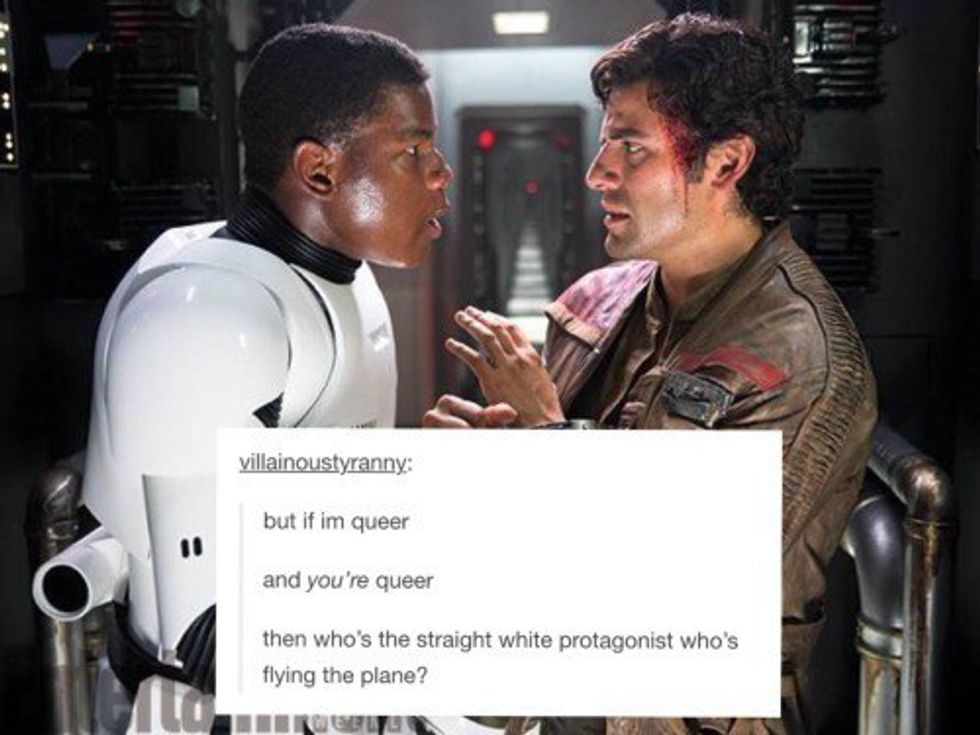 I'm never against ships, though generally rarely on board with them either, but I really did not notice the chemistry these shippers had seen on screen. Still, that very same optimistic part of me that had been thrilled to see Daisy Ridley and John Boyega cast, remained open to the idea of this ship actually being canon while still not trying to get my hopes up.
Cue the GLAAD, formerly the Gay and Lesbian Alliance Against Defamation, 2016 Studio Responsibility Index reports. A review which this media-monitoring organization comes out with every year to review the representation or under-representation of LGBT people in the media produced by our major film studios and distributors. Only 20th Century Fox and Lionsgate Entertainment seem to have garnered an "adequate" rating among their peers, but Walt Disney Studios (surprise, surprise) has generally been failing the GLAAD review for the last couple years.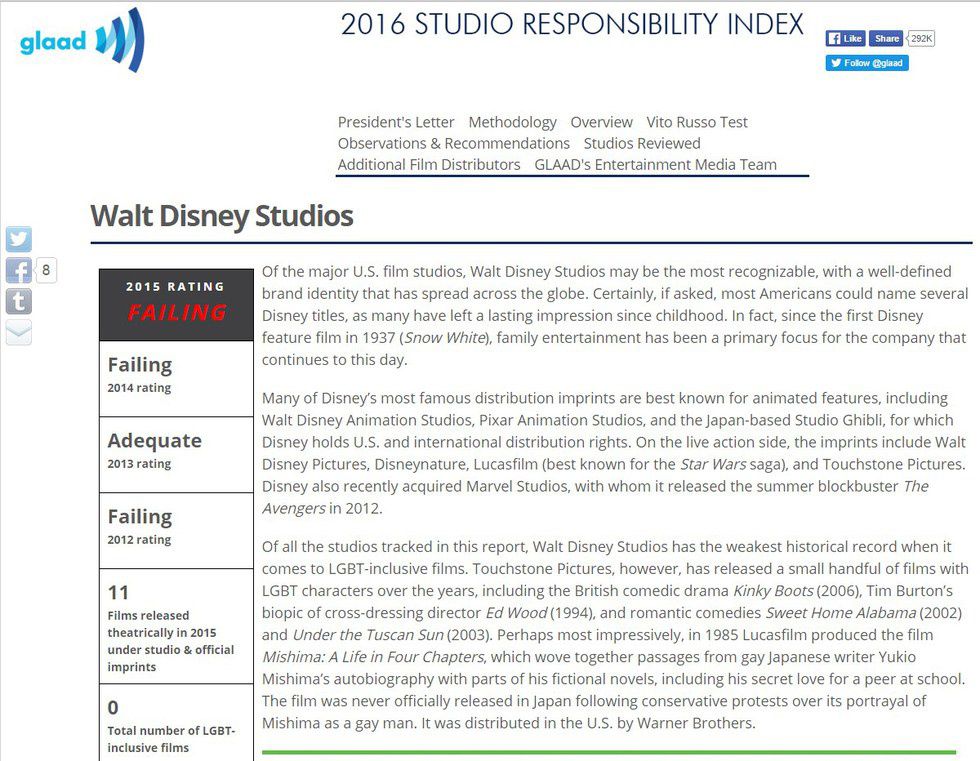 This isn't a big shocker but what got fans, reviewers and industry professionals buzzing was GLAAD's concluding statement of the report, suggesting that a great place to start with LGBT inclusion would be, you guessed it, Star Wars Episode VIII.
The new franchise's creators and actors have been under scrutiny over this potential "plot twist" for months now, and many Finn/Poe shippers rejoiced to hear Star Wars The Force Awakens director J.J. Abrams say, "When I talk about inclusivity it's not excluding gay characters. It's about inclusivity. So of course."
But are statements such as these really an affirmation of LGBT characters on the way? Or just another example of the industry queer-baiting?
"It is not enough for LGBT characters to simply be present," GLAAD's President and CEO herself stated. "Rather, these characters must be crafted thoughtfully and better reflect the full diversity of the LGBT community. Leaving LGBT people out of the picture — or including them only as a punchline — keeps old prejudices alive and creates an unsafe environment, not only here in America, but around the world where most audiences see these depictions."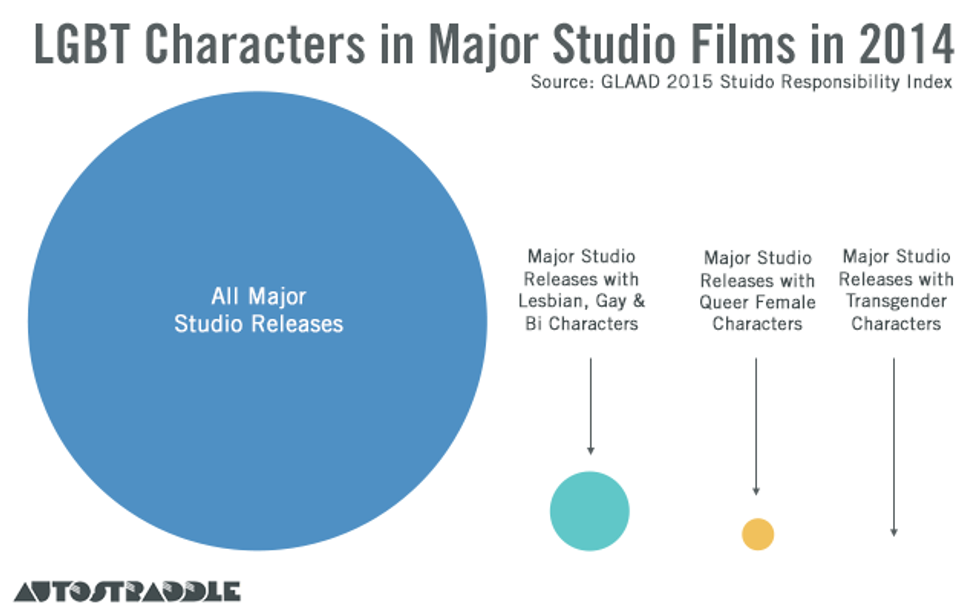 On that note, the news that Finn and Poe might suddenly bloom into a series love interest in the next installation, rather than making me optimistic, starts to make me cringe. The reality of the situation, from how I'm seeing it, is that most of Finn and Poe's on-screen chemistry was not scripted, but rather played up by their actors, particularly Oscar Issac. And while normally I would applaud a studio like Disney for listening to the fans, and potentially changing a script in order to include an overwhelming demand for diversity and inclusivity, I can't ignore the fact that suddenly writing these characters' romance in this way would, inevitably, come across as shoehorned and imposed rather than how an LGBT romance (or any romance) should be crafted.
As much as I want to see myself represented in the Star Wars universe, I'm tired of seeing LGBT characters being crafted in films so one-dimensionally. If the next Star Wars episode features a Finn/Poe romance, I won't be angry or upset. I'm sure I'll still enjoy it. I'll just be a little disappointed. It's not about checking off a box. It's about having gay characters that are more than their sexuality.
It's about time that Hollywood understood that what fans are asking for isn't a "gay" Jedi, but a Jedi who is thoughtfully written and well-developed. And also gay.