A few weeks ago, I stumbled upon a tweet (pictured below) that really made me think.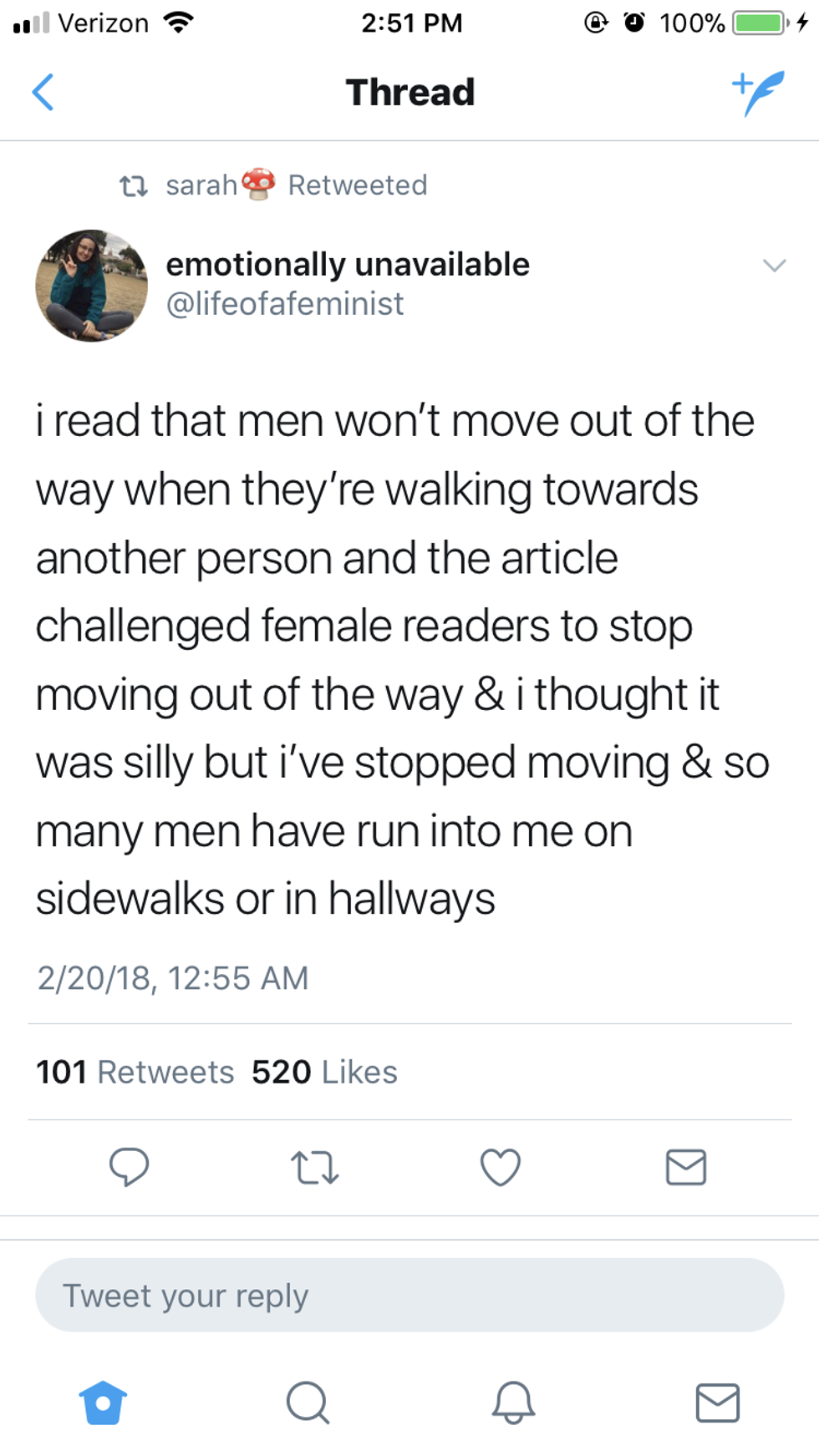 Although I didn't believe the validity of sed tweet at first, I decided that this was something I wanted to try. When it comes to walking in public, I am usually the one to move out of the way whenever somebody is walking towards me, so I never thought about the fact that others may not ever move.
During a three day period, I made a conscious effort to set a path that I was going to walk on, and never move from that path. I made a note of my results and am anxious to share them with you!
Disclaimer: I am not saying that men are the problem and that they are the only ones who do this (because I also found this tweet to be true for women).
Disclaimer (round two): I did not intentionally set out to collide with people.
Disclaimer (round three): I am a tall girl who usually has my backpack on, and I don't usually wear dull or neutral colors, so unlike my shorties/neutral color wearers out there, it is very VERY hard to not see me walking towards you.
So what DID happen??
The first day was beyond surprising. I really didn't believe the tweet but I had at least four men run into me every time I moved from one destination to the next, even if my destination was only two or three minutes from where I was.
What was even more surprising however, was how each different male reacted when they bumped into me. Most of the males I ran into didn't even realize they had just collided with another human being. During the first day, out of every person I ran into (we'll say this was about fifteen to twenty guys), only four said they were sorry, and two of the four said it in a tone louder than a mumble.
The second day, I had better luck. Every guy that ran into me said they were sorry or gave me a surprised "excuse me", which made me think they didn't see me. As my experiment went on, I also noticed that girls who were shorter than me tended to run into me, more so than girls closer to my height (five foot seven).
By the third day, I collided with very few people. While a few of the males I ran into actually moved out of my way instead of running into me, a majority of them did something very peculiar.
Most of the men I came across on the third day did this funny thing where they would freeze where they stood, and they would not continue walking until I had maneuvered around them. Even if I stood still in front of them for ten to fifteen seconds, not one male moved until I went around them.
Overall, conducting this experiment was really interesting. I was pretty shocked that the tweet I found actually seemed to hold true, even in Aggieland, where gentlemen are as common as fallen leaves in a Northern autumn.
At the end of the day, I found it intriguing how certain people do not ever move out of the way for others, as well as how certain people always do. Is it just the way we're wired? Does it have something to do with leaders and followers? Or is it something beyond that?