Small businesses across the country have been forced to close or change the way they operate to prevent the spread of the novel coronavirus. As a result, thousands of small businesses and local economies have been negatively affected. While the outcomes do not look as promising as we would hope, there are many strategies your business can implement that will help weather the storm and possibly help your business rebound once this is over.
1.Strengthen your social media presence
Social media marketing has long been important for any business but now it is more vital than ever. Use as many social media platforms as possible to keep customers informed on how you are continuing to conduct business. In addition to posting business updates, highlight positive local news, and share what your business is doing to help people in the community. For example, a restaurant in San Diego wanted to show their gratitude for healthcare workers so they catered lunch at a local hospital and posted it on their Instagram: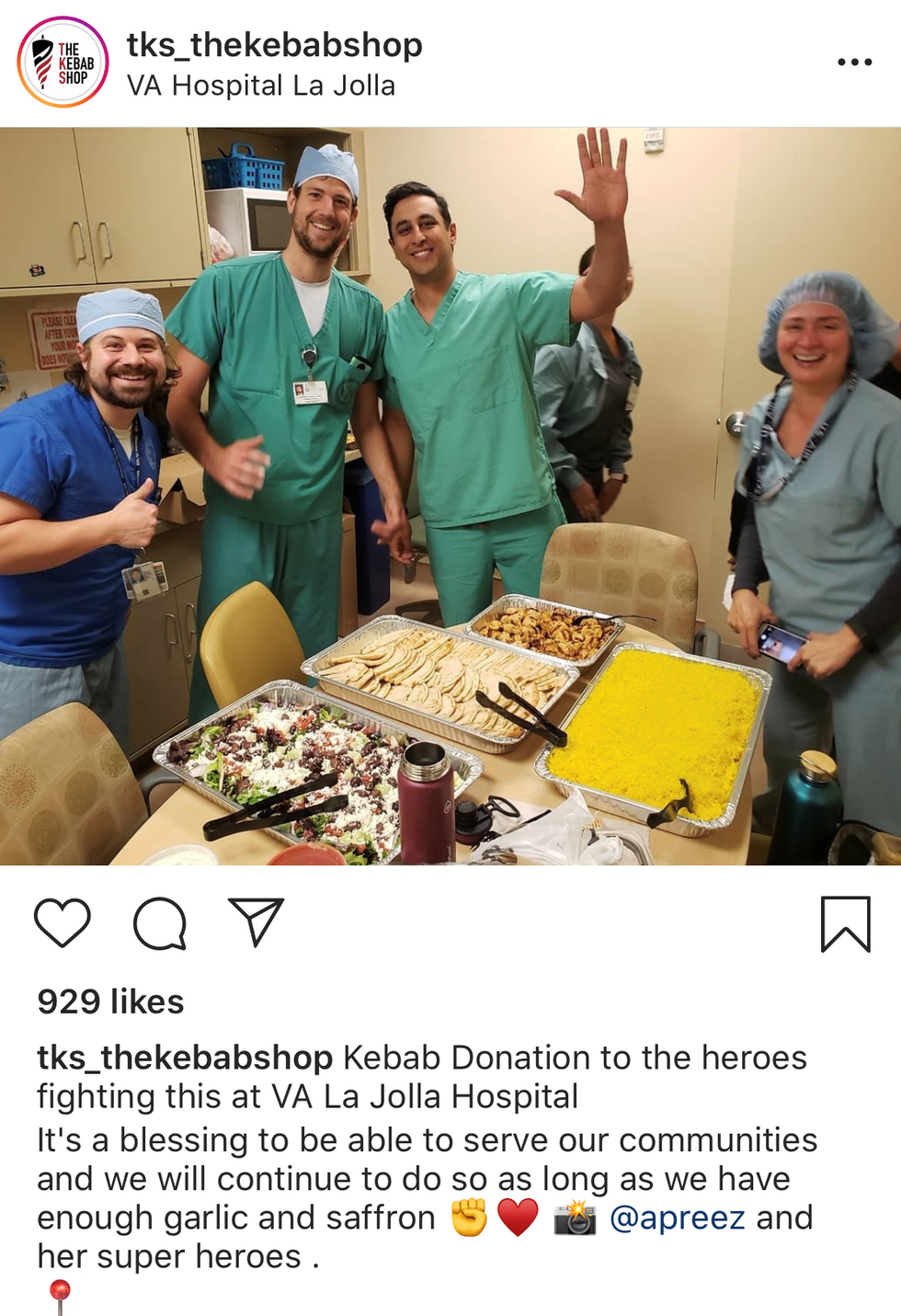 @tks_thekebabshop
While not all businesses are able to donate food to medical workers, small acts of kindness such as donating homemade facemasks or hosting a food drive will go a long way on social media.
2.Update your website and Google My Business Listing
Make sure to regularly update your website and follow SEO best practices. If your business does not yet have a website, now is the time to create one with user-friendly tools such as Wordpress or Squarespace.
One of the best ways your site can be more visible in search is by making sure all the information on your website concurs with what is on your Google My Business listing and regularly updating it. You can update your business hours and use the GMB Posts feature to communicate any business changes. For example, Corso Law Group, a small law firm in Arizona, uses the GMB Post feature to let customers know how they are now conducting business: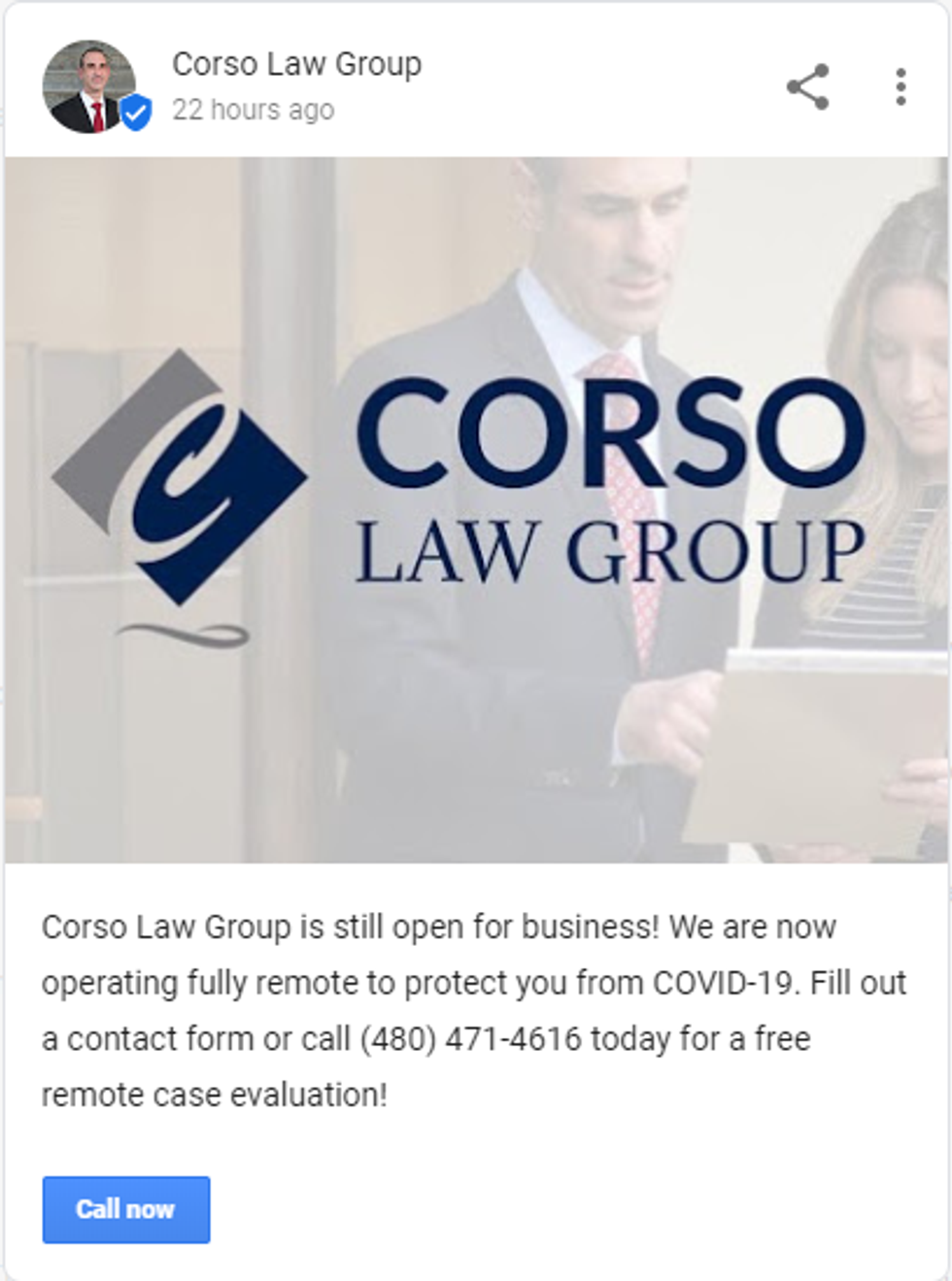 Regularly updating your GMB listing and website are easy ways to keep customers informed and increases your visibility in search results.
3.File a business interruption claim
There is no doubt that COVID-19 is a natural disaster. Businesses are losing revenue due to government stay-at-home orders, job loss, and supply chain disruptions. Take a look at your commercial insurance policy to see if your business interruption coverage includes interruption stemming from pandemics. If you are unsure if you are eligible to file a claim for COVID related losses, speak to a business interruption attorney in your area.
4.Apply for grants and loans
Recently, Congress passed the historic Coronavirus Aid, Relief, and Economic Security Act (CARES) that allocated $349 billion to help small businesses through the Paycheck Protection Program (PPP). As of April 2020, those funds have been exhausted but some banks are still accepting applications as a second round of funding is expected to be passed soon. In addition to the massive federal aid, large corporations and other government entities are stepping up to help businesses:
This, of course, is not an exhaustive list of all the financial resources available to businesses. New grants and programs are popping up every day. Set up a Google alert and do your research daily to learn about new financial assistance programs for small businesses.
COVID-19 has brought a lot of hardship in many communities. Fortunately, we have seen small businesses use this time to reinvent themselves, strengthen their digital presence, and form deeper ties with the community. Businesses around the US are showing their resilience to unprecedented times and will come out stronger than ever.