The Office is amazing, but I am sure that we all go into a phase where we want to watch other shows. I stayed away from the typical "Just watch Parks and Rec!" and went in a different direction. Here you go!
1. The Golden Girls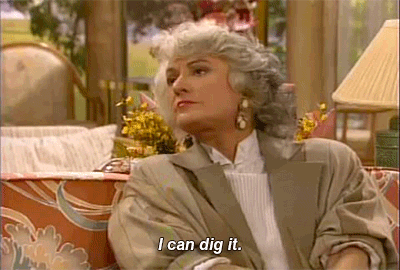 This show is a classic, and for more than just being from the 80s and 90s. If you don't know, this show features four women in their golden years living together in one house. You've got Dorothy, a schoolteacher; her mother, Sophia, an Italian woman proud of her heritage and ready to fight anyone she doesn't agree with; Blanche, a woman who is getting up in years, but not going down in popularity with the men she dates; and Rose, a Minnesotan who is innocent and naive.

The issues on the show can seem a little dated at times, though they address things that audiences may not have considered from an older, experienced perspective. The sarcasm and wit of this show outmatch The Office, and there are fewer characters, so there are more ways you can fall in love with the main four.
2. New Girl
I held off on watching this show for a while because I did not think it would be appealing to me- and I was so wrong! This show is fresh, modern, and is perfect for the girl who has lots of guy friends- or wants a sitcom that is different from others for that matter. In this show, we meet a wide cast of characters, though at core, it follows teacher Jessica Day and her four roommates, Schmitt (a womanizer who works in advertising), Nick (a bartender who is very awkward in most social situations), Winston (an aspiring police officer), and Coach (a basketball player who recently stopped playing). It's quirky, it's silly, and often times, it makes you laugh at the most random things. There is the perfect mix of stupid humor and serious content, though even when it is serious, it doesn't get super dark.
3. Frasier
This is another sitcom that is a bit older, but it is AMAZING. The premise follows Dr. Frasier Crane, a psychologist with a radio talk show where he advises clients. When he gets home from the office, though, is when the real story begins. Frasier lives with his aging father who, after being shot in the line of duty, has not been able to move so well. Along with his caregiver, Daphne and his brother Niles, Frasier tries to navigate life in Seattle with some mixed results. I'm not laughing every second I'm watching this, and there can be some slow episodes, but when you get down to it, it is a great show that will remind the viewer of classic shows like Cheers (oh, right, because it is a spinoff of the hit series- need I say more?)
4. Disjointed

Arguably one of Netflix's best attempts at a sitcom, this show follows the employees of Ruth's Alternative Caring, a pot dispensary that has quirky clients and even quirkier employees. My favorite character is Pete, the man charged with growing the marijuana, though Kathy Bates is hilarious in her role as Ruth. The show also tackles important issues including race and drugs as well as PTSD. It turned quite serious at times, but all in all, it'll make you delve into a brand new concept, and you'll learn a lot about pot while you're at it.

So next time you're wondering how to get away from Dunder Mifflin and the classic sitcom tropes of shows now, think about binging one of these iconic episodes.