Need some new music to add to your fall playlist? Well, look no further — Shortly's newly released EP, "Richmond," is the way to go! The five-track EP is fantastically written and full of experiences that everyone can relate to in some way.

Shortly is accompanying Mom Jeans and Just Friends on their U.S. tour, and let me tell you, her band really brings something unique to the show.
I was lucky enough to not only see Shortly play live during their tour stop in Minneapolis, but I was able to ask Shortly (real name Alexandria Maniak) a few questions regarding her EP, tour life and interests.
How is being on tour so far?
So good. Mom Jeans and Just Friends share members and have been friends for a long time already, and were quick to warm up to us. So, naturally, it feels like a big family slumber party punk rock show. This was my first time driving across the country, and I got to stop and see the mountains in Colorado again, the Grand Canyon again — really, just everything you'd want to see in September. The response to the music has been good so far, as well. I wasn't sure how it would go over, since our sound is dramatically different from the package, but it's actually a really cool dynamic and I'm into it.
How does it feel to have your first EP, "Richmond," being released to the world this Friday?
Releasing that EP was so relieving. I've had those songs on my shoulders for around two years now. Naturally, it feels really nice to have music for people to hear and actually talk about! And I feel like I can move forward with new music, as well. It's a big milestone for me to release something I'm proud of, even if it's just a set of five songs.
What did the writing process for your EP look like?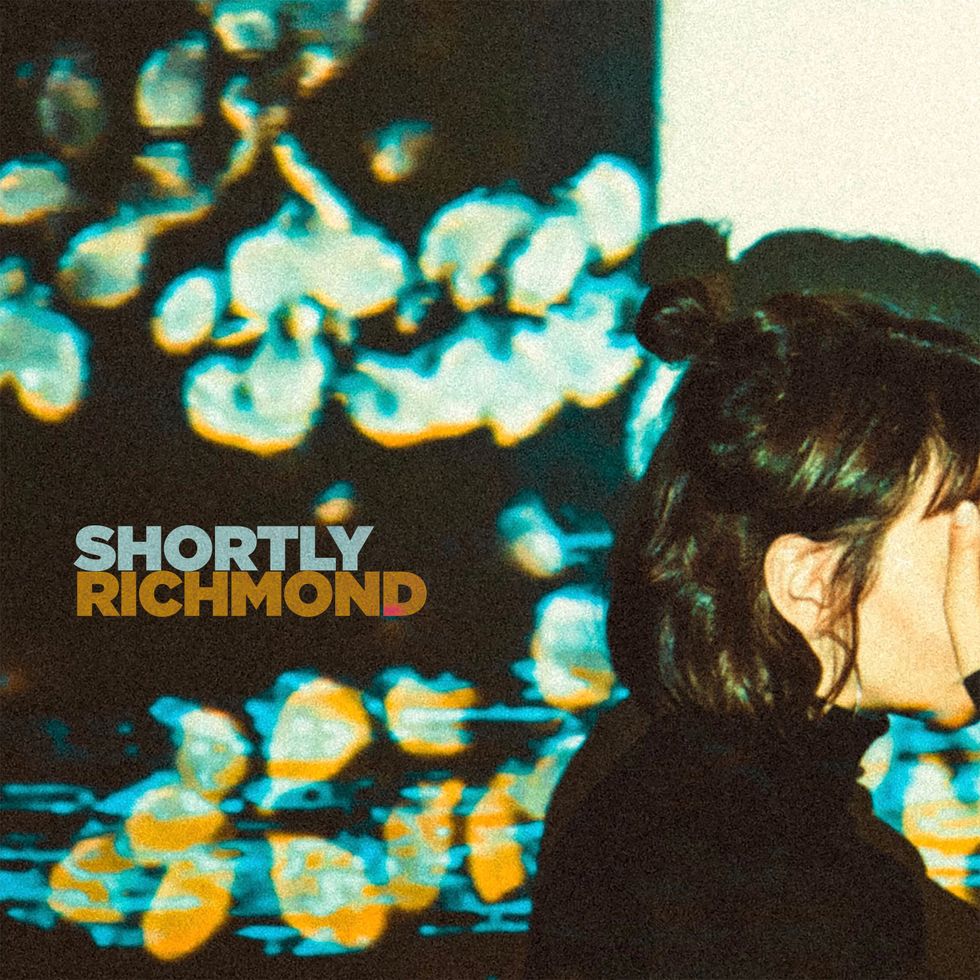 PHOTO COURTESY OF STUNT COMPANY MEDIA & SHORTLY
A lot of mashing everything together — copy and paste. The songs are combinations of lyrics from many more songs I'd written. Instrumentally, it was one big studio experiment. I'm happy with it.
Why did you choose the artwork that you chose to be on the cover?
I knew that I wanted myself to be represented on the first release, but I wasn't so sure about it being a straight-up portrait of myself. I'm a graphic designer, and my drummer is a photographer. I was using projections to paint a mural at work and thought, this could be cool for photos. We took that and ran with it, and it felt right.
What is your favorite song to play live and why?
Probably "Spare Time" because the full band kicks in so suddenly, and it always terrifies everyone. I get a kick out of it. Aside from that, it means a lot to me lyrically, and I feel the most comfortable performing it.
Which song of yours would you choose to play to somebody who has never heard any of your music before?
I'd probably go with "Spare Time" here, as well, since it has quiet-era Shortly and loud-era Shortly mixed together. I think it's a good summary of my lyricism. It is blunt, it has a simple melody but it tells a story that means something more than face value.
If you were to put together a mixtape right now to play in the tour van, what are three songs that would definitely be on it?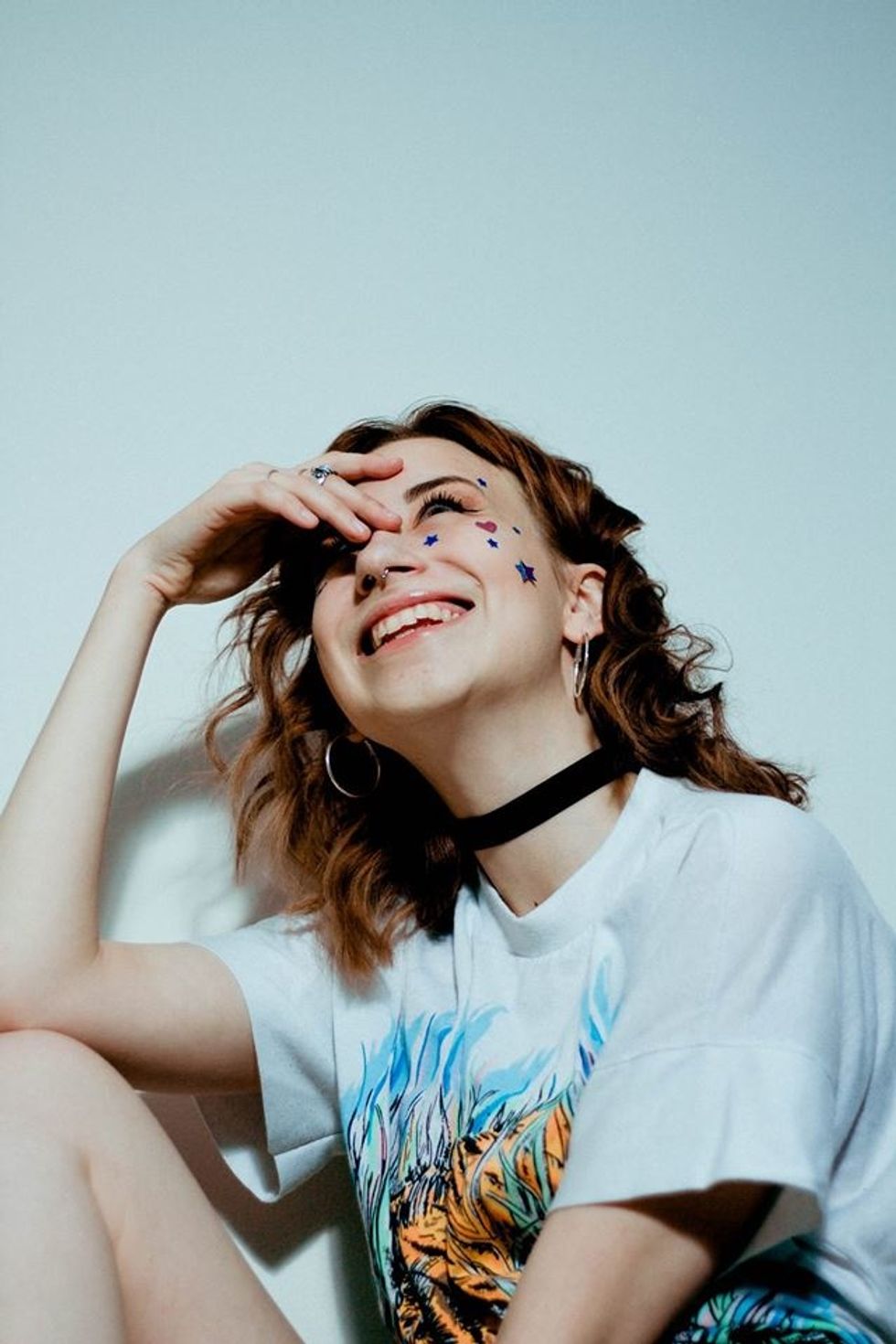 PHOTO COURTESY OF STUNT COMPANY MEDIA & SHORTLY. TAKEN BY ALEXIS BACKUS.
Oh god, don't do this to me. OK. Uh. "Scott Street" by Phoebe Bridgers, "In My Groove" by Mikaela Davis and probably "Time After Time" by Cyndi Lauper. They're essential for traveling at night.

Which music artists do you look up to? Who has influenced you and your music over the years?
Everyone I mentioned above. I look up to Jessica Abbott a lot, as well, and have loved watching her transform from Now, Now into the first Tancred record and into the newest Tancred record. She has been modifying her sound over and over, and it is still uniquely hers. That kind of artist's mark is something I'm looking for in myself.
What are three of your favorite things/essentials?
Ah! Does my cat, Goo, count? He's my favorite thing ever. If he doesn't, I'm not sure what does. A sketchbook to work on design work and doodles, maybe a novel (trying to make my way through "Pulitzer Prizes" right now) and my Switch. Maybe a PS4. Something to game on and watch anime. That's my hobby — keeps me going. Preferably, I like Goo being around for all of it, too...
Coffee or tea?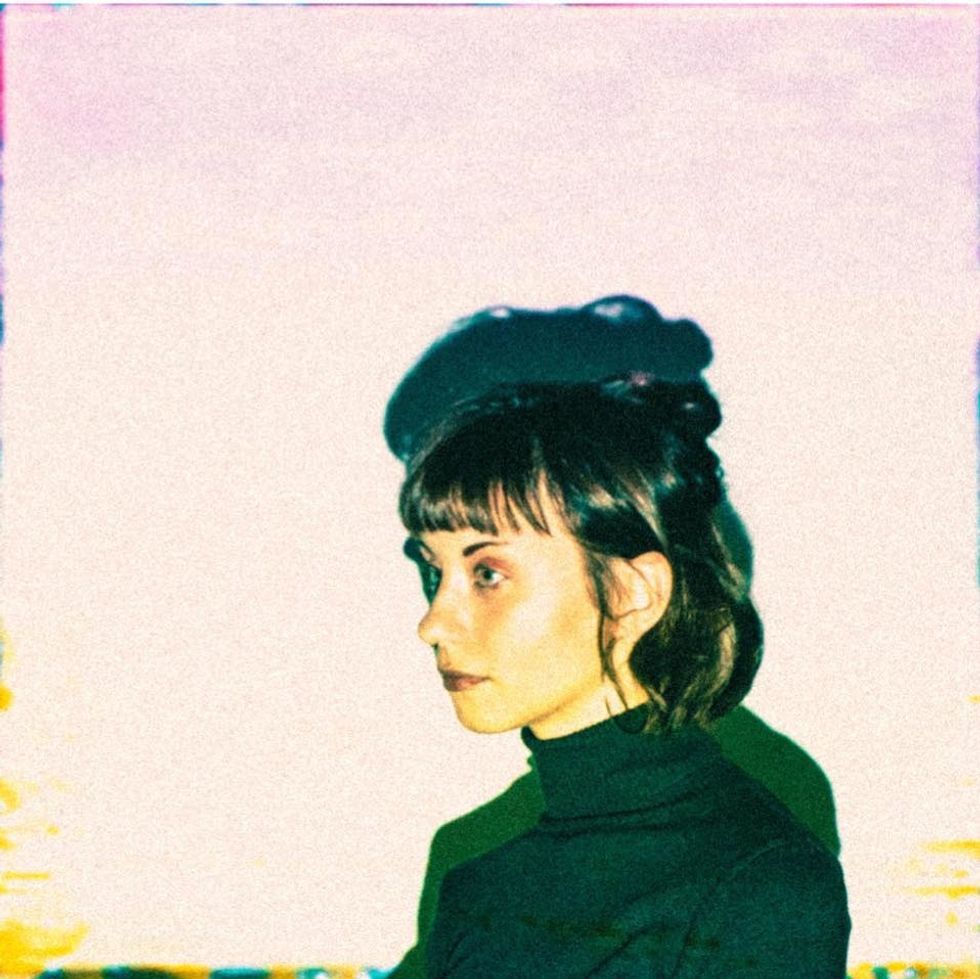 PHOTO COURTESY OF STUNT COMPANY MEDIA & SHORTLY. PHOTO TAKEN BY KRIS HERRMANN.
Coffee. I like tea a lot as well, especially iced, and am even considering making my own blends, but... coffee, for the same reasons everyone else likes coffee. Recently, I've been trading almond milk for oat milk, and it has changed the coffee game for me.
What is one piece of advice that you would give to somebody wanting to pursue music as a career?
Stick to the sound you want. You might not be the best at it yet, but that doesn't mean you should compromise to play what others think you're better at. I played hip happy indie piano rock for a while, before picking up an electric guitar, because I was better suited to cover Sara Bareilles than I was to cover My Chemical Romance (see you at the MCR tribute set this October in New Jersey).
Photo credit: PHOTO COURTESY OF STUNT COMPANY MEDIA & SHORTLY