The running world just got a whole lot crazier. One of the United States most successful marathoners has made history today at the New York City Marathon. Shalane Flanagan, a four-time Olympian, flew her way through 26.2 miles in an unofficial time of 2 hours 26 minutes and 53 seconds. She was over a minute faster then the three-time defending NYC Marathon champion, Mary Keitany of Kenya, becoming the first American NYC marathon champion in 40 years.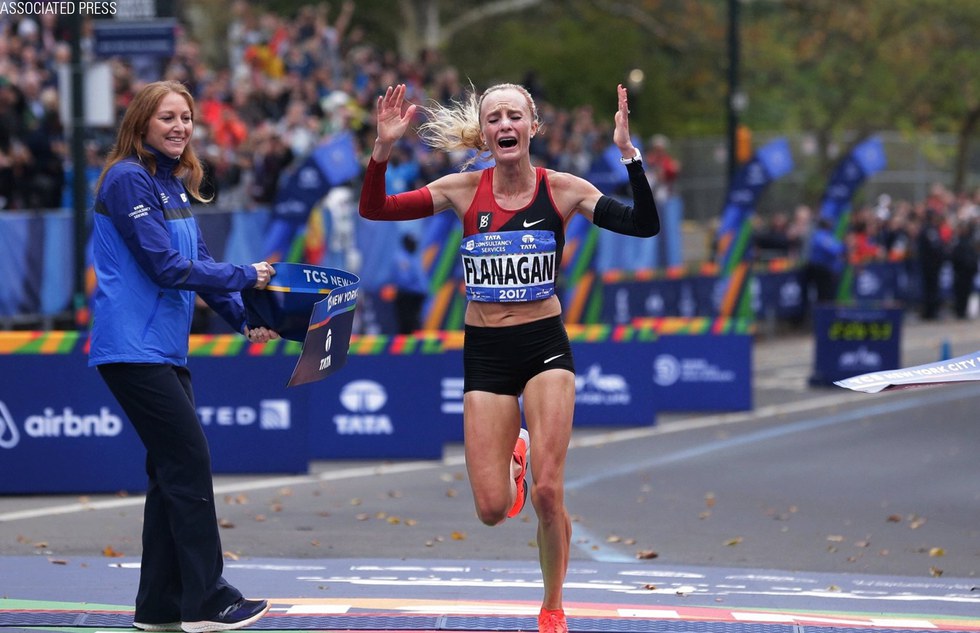 The last time the NYC Marathon has seen an American winner was Miki Gorman, in 1977. This wasn't Flanagan's first NYC Marathon, making her first appearance here in 2010, where she finished second. Flanagan is the current American record holder in the 3,000 meter indoor and 5,000 meter indoor races, and has won a silver medal in the 10,000 meter race in the 2008 Bejing Olympic Games. Flanagan went out strong and didn't let anything get in her way of this tremendous victory. During a post race interview, Flanagan couldn't believe that this happened, she has dreamed of this moment for so long.
"This is the moment I've dreamed of since I was a little girl," said Flanagan. "It was a tough week for New Yorkers and all Americans, and I was able to come through with the best performance of my life."
This was Flanagan's first marathon since her last appearance in the 2016 Rio Olympic Summer Games, finishing 6th with a time of 2 hours 25 minutes and 6 seconds. She suffered a fracture in her back in the winter of 2016, that didn't allow her to compete or train for the 2017 Boston Marathon, forcing her to take two complete weeks off of running and regrouping. After a few months of relentless training and wanting something bigger and better, Flanagan showed the running world that one injury won't stop her from dominating the beast, the thing we all call the marathon.
"It's indescribable, it's a moment I'm trying to soak up and savor," said Flanagan on her post-race reaction on winning the NYC marathon. "I had no physical limitations today, I felt good and it was a pretty flawless race for me."
Flanagan has mentioned earlier this year that if she won the New York Marathon, she may retire from running the marathon, but she had made no remark regarding her retirement. Could we be seeing more of Flanagan in future years?
"I'll sit with my coach tonight," said Flanagan about her retirement. "I think we'll have some decisions to make."
Flanagan is the epitome of long-distance running, always putting in 110% no matter what the circumstance is. Congratulations, Shalane!