These trees have a potent smell and an even more distinct look to them. The actual tree itself is colored like a rainbow. And no, they have not been painted, just see for yourself.
The Rainbow Eucalyptus tree is indigenous to the northern hemisphere in Asia. The tropical forests in which they live, receive a great deal of rainfall throughout the year make it possible for them to thrive. In their natural environment, the eucalyptus tree can climb up to 250 feet and nearly six to eight feet in diameter.
Even though these trees are in Asia, some can also be found in the United Sates as well. Places where the climate is warmer, such as Hawaii and Texas, allow the tree to live substantially. However, the trees growing in the United States only reach heights of 100 to 125 feet.
The bark reveals its true colors after the bark from the previous season peels off. The peeling of the bark leaves the tree with colors such as reds and oranges to blue and grays. However, if the tree grows outside of its natural habitat which are the Philippines, Papua New Guinea and Indonesia, the colors are usually not as intense and vibrant.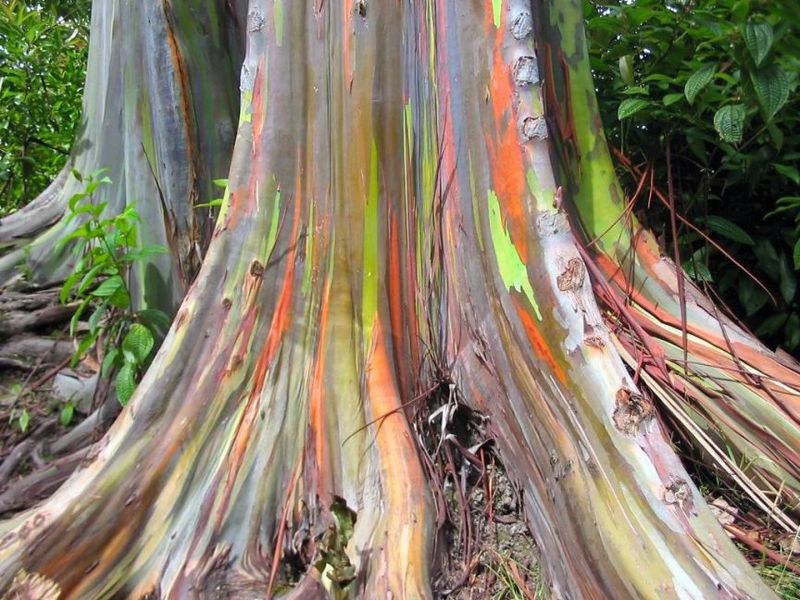 The tree will also produce white flowers and wide leaves. Even though the leaves can be crushed up to make eucalyptus oil, they do not produce as much as the other eucalyptus species. Instead, they are used in the Philippines for making paper.