Racism is a topic that many different groups of people brush off because "it's the "21st century and that doesn't happen anymore." Unfortunately, that is not the case, and racism is still ever-present, even on college campuses.
At Miami University's campus this year, there have been two separate incidents involving the same individual. First, he used a racial slur in a GroupMe chat among dorm residents, which sparked the original outrage since that took place after all the black students were kicked out of the chat just before it happened.
Then, just a few weeks ago, this same student talked to a girl on Tinder and boasted about being "edgier," referencing a link to an article from the student newspaper about the controversy he sparked last semester.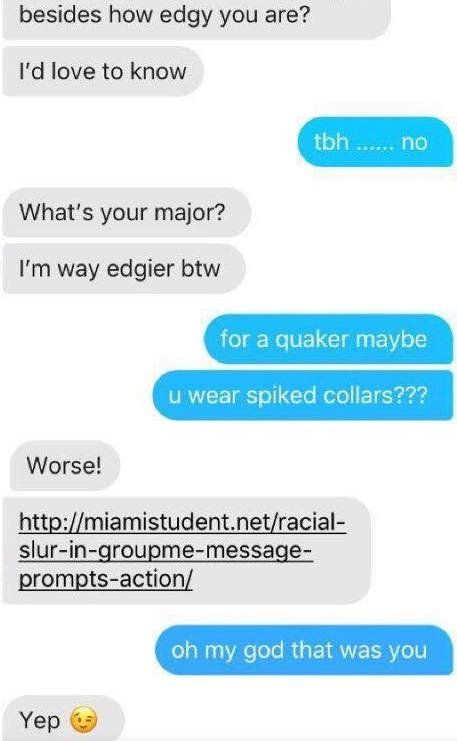 After the first incident, this student only received the minimal punishment due to the fact that he showed remorse for the situation he caused. Again after the second incident, the student displayed "remorse" in which he was seen messaging the girl from Tinder, begging her not to give the screenshots she took to the social justice organization that she was a part of.
A student bragging about being "edgy" because of using racist slurs is unacceptable, not only through the lens the university's Code of Love and Honor but also in life in general.
This demands action.
Students at this university are crying out for the administration to take more drastic action due to the unwelcome and unsafe feelings that are being directed at black students. I am currently in a class called "racism in US society," and during this class, we discussed what should be done with this student who repeatedly has demeaned his fellow RedHawks and ultimately given a poor representation of the rest of the Miami community to the public because of his racism.
In this class, we ended up taking a vote on what to do; every student voted for some form of action to be taken.
Perhaps we voted that way because we are studying racism in US society itself, but that only means that we have to share what we know and advocate for change within the university. Nine students in my class, including myself, voted to have the student expelled, either with or without cultural classes along with it.
While this may seem extreme, I want to bring up the question of whether it is OK to have someone on campus who creates a hostile environment, especially when he/she makes fellow students feel unsafe or unwelcome on campus?
In a society where supposedly everyone is equal, has equal opportunities, and "reverse racism" is a thing, situations like this should not even happen, yet here we are. Racism, on college campuses or otherwise, usually makes the news for a couple days, weeks possibly, and then society mostly as a whole forgets about it. The student at Miami shows that even though society might forget about it, the issue still persists, and something needs to be done about it.
Attention needs to be on racism because it is not gone, no matter how much people might want to say it is.
The president of the university issued a statement saying that "we need to rise up as a community" as a result of people continually reaching out to him to come forward with a statement about what happened.
We need to increase our attention to racism on campuses nationwide in order to create and continue discussions about racism so that this is no longer a silent or forgotten issue.