Our nation's history of oppression and racism is no secret. Everyone knows about slavery and the Civil War, the stigma against Muslims, and other forms of racism. The term, though, is most generally associated with Caucasians'/Whites' racism against African Americans/Blacks. Because of the tragic era of slavery in America, we still associate racism as an issue most widely faced by African Americans. So, when someone is racist against a Caucasian, it's most commonly referred to as 'opposite racism' or 'reverse racism.'
The term 'racism,' according to Dictionary.com, which primarily uses the Random House Unabridged Dictionary as a source, is most simply the "hatred or intolerance of another race or other races."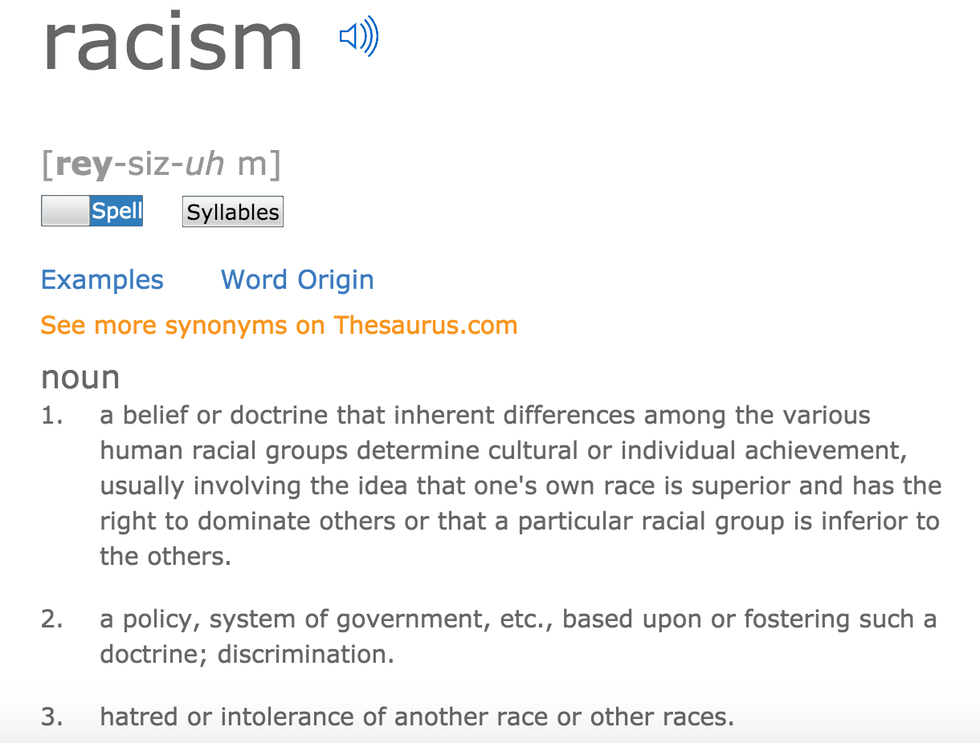 Nowhere in the dictionary definition of racism is there any mention of which race is allowed to or is most likely to be racist or which race is allowed to or is most likely to be discriminated against based on race. Racism is not only for white people, and black people are not the only race who suffer from racial hatred, discrimination, and inequality.
Just the other day, I overheard a conversation about someone being 'opposite racist' toward the white athletes in the NCAA tournament. Although I didn't say anything, this immediately rubbed me the wrong way. I know 100 percent that the person who made the comment had no bad intentions or ulterior motives when mentioning this, they just didn't know how else to describe racism against white people. Therein lies the problem. Racism against white people is racism. Racism against black people is racism. Racism against any race is simply racism as it is spelled out in the definition above.

There is no such thing as 'reverse racism' or 'opposite racism' because racism itself is not discriminatory against any particular race. Our society and our nation's people, especially millennials, because we are the population with the most potential to make change in our world, need to recognize that racism can be displayed by any race and toward any race. A certain race can even be racist against their own race, and that is not called 'self racism' or 'opposite racism' or 'backwards racism.' It is simply called racism.

I hope that everyone reading this will agree with me that racism is racism, and there is no reverse way to be racist. If you make a derogatory comment against a particular race, you are being racist, no matter what race your comment is directed toward. I also hope that everyone reading this will make an effort to be more aware of the words you choose when discussing racism. I hope that the next time you have a reason to say someone was being racist toward a white person, you consciously make an effort to say just that instead of 'reverse' or 'opposite' racism. It's time we put an end to the common notion that racism is a doctrine that may only be used against African Americans. Racism has the ability to harm all people of any and every race.