You've got stuff to do. You know that already, but yet it sits on the desk with the mental label of "later". Tired of seeing that pile get bigger and bigger?
Are you tired of feeling sick with stress and dread when you even glance at your to-do list on the fridge or on your desk?
To help you out with that, we've put together a list of the best productivity quotes to help you reach your goals. Take a look!
Let's start simple
"Life is too complicated not to be orderly." – Martha Stewart
A beloved in the kitchen, Martha Stewart's quote is pretty on point here, no matter what you're doing. There are a lot of things going on in life that will interrupt even the most organized person. So, what good will you be to yourself if you aren't organized?
Maybe you just need to write out a task list every morning. Or you need organization to the point where time-blocking and scheduling your day could make a huge difference.
Since life can be complicated enough as it is — especially when it involves other people — make it easier on yourself by being organized and efficient. You'll know exactly what you need to do to achieve those goals.
What are you really looking to do?
"My goal is no longer to get more done, but rather to have less to do." – Francine Jay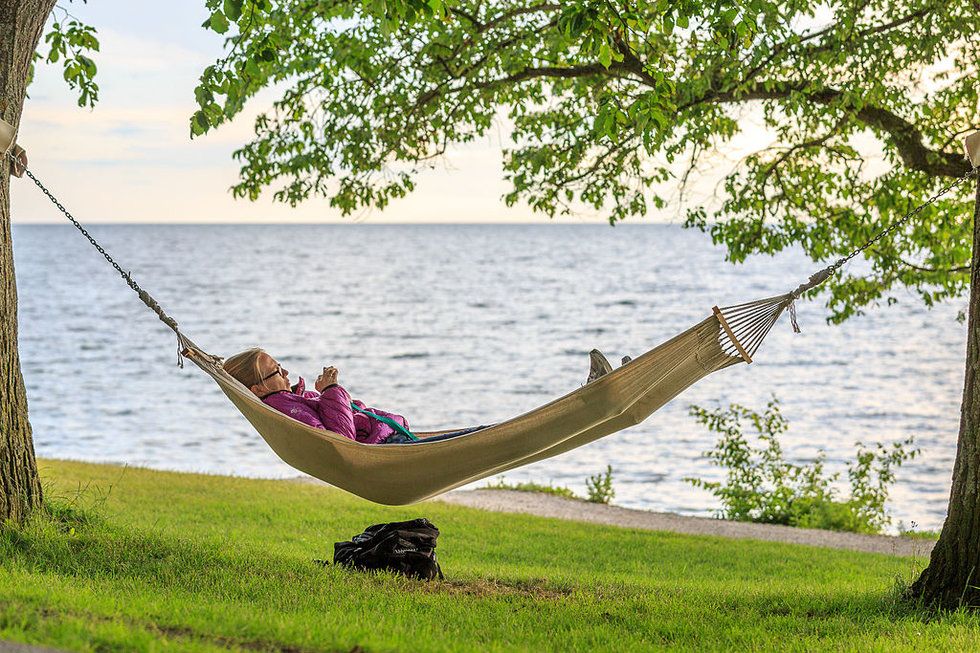 File:Relaxing in the hammock by the sea near Almedalen.jpg ... upload.wikimedia.org
We already know that life can be complicated and messy. So, too, can be the things that we want to accomplish. This quote helps you focus on what's really important when it all comes down to the details of your outlook.
Instead of seeing your to-do list as full of stuff, take the point of view that the more you accomplish, the less you're going to have to do the next day. Your list will be easy to achieve because being productive means that you will get more done and have less on your plate. Talk about life goals!
Keep it simple and essential
"Simplicity boils down to two steps: Identify the essential. Eliminate the rest." – Leo Babauta
This seems like one of those quotes that's very granola, but it really can be helpful. In order to be productive, you first need to understand what it is that you absolutely have to do.
Since we all tend to fill our lists with things that aren't productive or necessary, this is an important step. We might even do things that may not produce that much value towards our goals or tasks.
When you see what really is essential, you'll be able to streamline your to-do list and it will no longer feel so impossible to achieve those now "simple" tasks waiting for you.
Don't give up!
"If you're going through hell, keep going." – Winston Churchill
We all get bogged down in the details where our productivity is at a low and we feel as though we will never accomplish our goals. Remember, every step that you take is another step toward your goals.
You don't want to give up and fail when you're in a negative space. It will only fill you with more negativity and this will keep you from being productive or reaching your goals in the future. No matter how bad things may seem, keep going through them until you get to the other side.
Are you really giving it your all?
"If you have time to whine then you have time to find solution." – Dee Dee Artner
Cheeky, perhaps, but this is important. In order to be productive and accomplish those goals, you have to commit to the right attitude.
Sometimes we are so busy complaining or stressing about achieving those goals that we are wasting valuable time and energy that could be going into problem-solving and pursuing those goals. Put your energy to proper use.
BONUS
"Someday is not a day of the week" – Janet Dailey
We all tend to want to put off the planning and organizing for another day, but if you just say to yourself that you'll do it "someday", it's never going to get done. Set firm deadlines for accomplishing your plans and goals and do them.
The longer you put something off, the harder it will be. It will take you that much longer — and that much more effort — to accomplish your goals. Doing it sooner rather than later will make you feel productive and will help you to go after what you want most.