Thanks to coronavirus (COVID-19), most of the United States has gone into its own version of quarantine. While no one loves this new way of life we're adjusting to, it's the necessity that will eventually help us fling open our front doors and frolic freely once again! Premature thinking? Maybe. But while we're in the midst of this quarantine time, we're chatting about the most terrifying, the funniest, and the weirdest thing that quarantine has forced us into recently.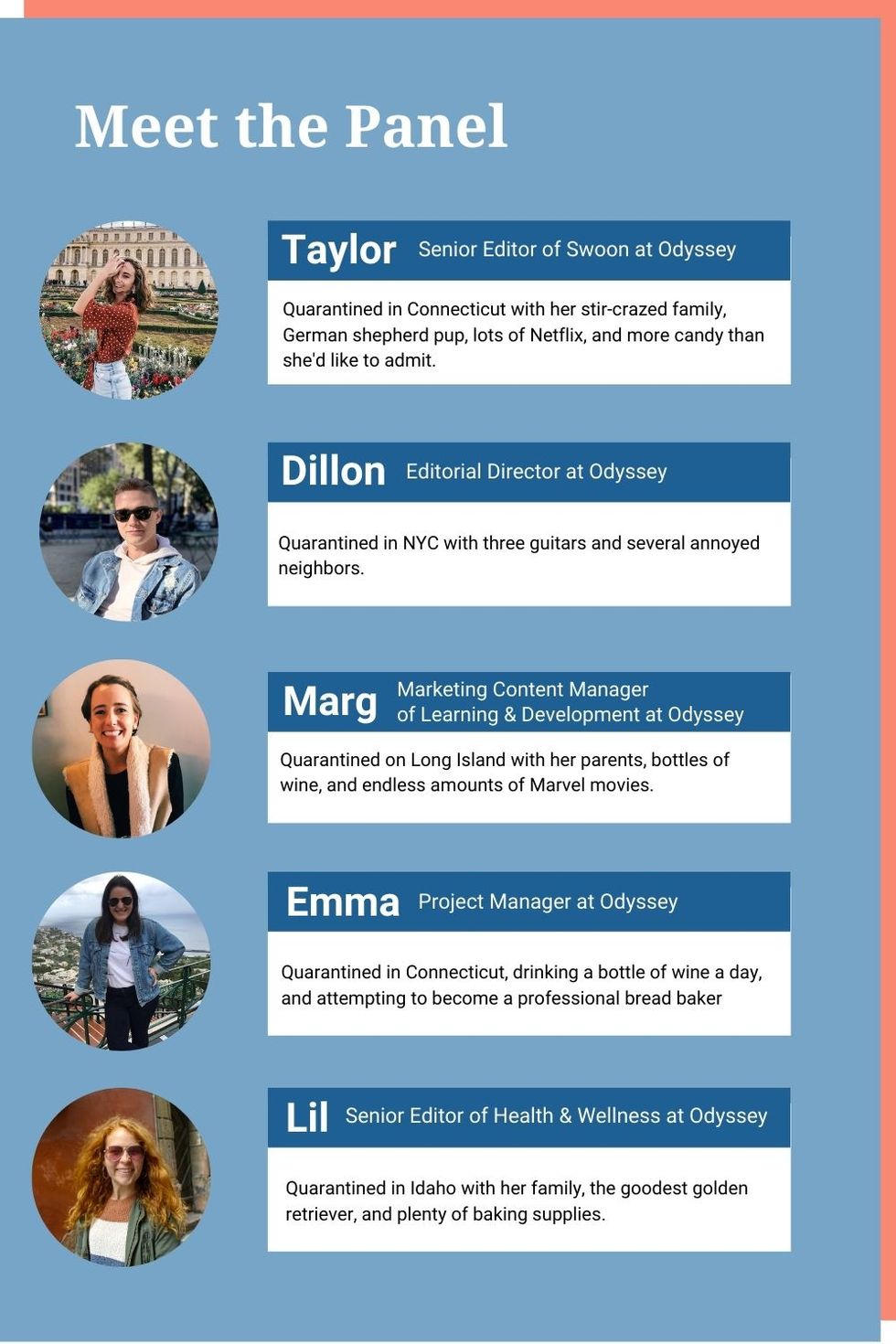 What's the worst thing that happened to you this week? 
Taylor — This week I learned my aunt, uncle, and cousin tested positive for coronavirus. While they're thankfully all home recovering, it's really scary and heartbreaking to hear how many new people are being affected by this daily.
Dillon — I ran out of high-quality toilet paper.
Marg — That's tough. Thankfully my life during quarantine hasn't been terrible considering what other people are going through. I'd say either the worst thing was seeing a dog in my backyard but having it run away before I could pet it or having to wake up at 6 a.m. on Monday.
Emma — I downloaded TikTok and my life is now over.
Lil — My dad went to the grocery store and failed to get avocados. Tears were shed.
What social media account is your favorite right now? 
Taylor — I'm into Pinterest right now! It's the only social media account I close out of feeling less stressed. Perfectly curating mood boards and pinning quotes has been surprisingly relaxing for me.
Dillon — @t.hanks on Instagram. Top-shelf trashy meme account.
Marg — He's just so pretty to look at.

Emma — Diane Morrisey (@dianemorrisey on Instagram) is my absolute favorite. Her recipes are so easy to make and sub in what you have in the fridge. Also, her Q&As are so funny and relatable.
Lil — I want to be @pieladybooks when I grow up.
What have you been bingeing this week? 
Taylor — Everyone has been talking about "Waco," so I gave that a go this week and it was a difficult one to watch, especially knowing it's based on real-life events. I immediately had to turn on something uplifting after because, while I knew the ending was going to be sad, I wasn't quite prepared for what I watched.
Dillon — "Ozark Season 3"
Marg — For about the 10th time I am rewatching the Marvel movies in order and it's great!
Emma — I am currently rewatching "Private Practice" for the fourth time.
Lil — I finished "Little Fires Everywhere," caught up on "Mrs. America," and dove headfirst into "West Wing."

What's the best snack you've had this week? 
Taylor — My mom baked these oatmeal chocolate chip bars that I can't stop eating.
Dillon — Homemade banana bread. It was so gooey and delicious.
Marg — Trader Joes Rainbow's End Trail Mix
Emma — I made homemade bread for the second time (I am basically a professional) so I have been enjoying that with butter from the farmers market (shop local)!
Lil — Well, it was going to be avocado toast. But I think you know how that turned out.
What's the funniest thing to happen to you this week? 
Taylor — I met two of my high school best friends' boyfriends via Zoom this week and let's just say they were very brave for meeting the six of us girls while we all shouted different questions through the computer. What a time.
Dillon — I snuck through the apartment in my underwear late at night to get water from the kitchen and my roommate's dog thought I was an intruder and started to bark and snarl under her bedroom door.
Marg — We put on some old family videos the other night and there's a video of my older sister when she was 11 years old belting out "Unwritten" by Natasha Bedingfield alone in her room pretending she's on "American Idol." My family and I laughed/cried for a good 10 minutes.
Emma — Nothing really funny has happened to me this week.
Lil — My mom, dad, and I hiked a butte that is close to their house. Come to find out, going back down the butte is very slippery and you have a 98.2 percent chance of falling. We can laugh about it now.
Want to be a part of this panel in future weeks? Want to host a panel of your own? Email lily.moe@theodysseyonline.com for more information!
As an Amazon Affiliate partner, Odyssey may earn a portion of qualifying sales.