When it comes to coffee, everyone has different criteria for what goes into their "perfect cup." Some caffeine lovers, though, are extra particular when it comes to their beloved beverage. One survey found that the state you're from (or the one you live in now) may play a part in determining how much of a coffee snob you actually are.
LiveShopper Sassie, the company behind this Coffee Project survey, received input from 1,000 coffee drinkers via their mobile app, PrestoShopper, to ask various questions about their coffee drinking habits and preferences. In return, these survey respondents got money back for their coffee — something any user who downloads the app can do as well (yes, even you).
Based on their results, the survey found which states were the hardest to please with their coffee based on the survey response ratings (from 1-5) of four categories: service, quality, how likely they'd be to return to the store, and how likely they'd be to recommend the store.
With these ratings, they gave each state an Ease To Please score by adding the Return and Recommend scores and dividing by the combined Service and Quality scores. The findings? Fascinating!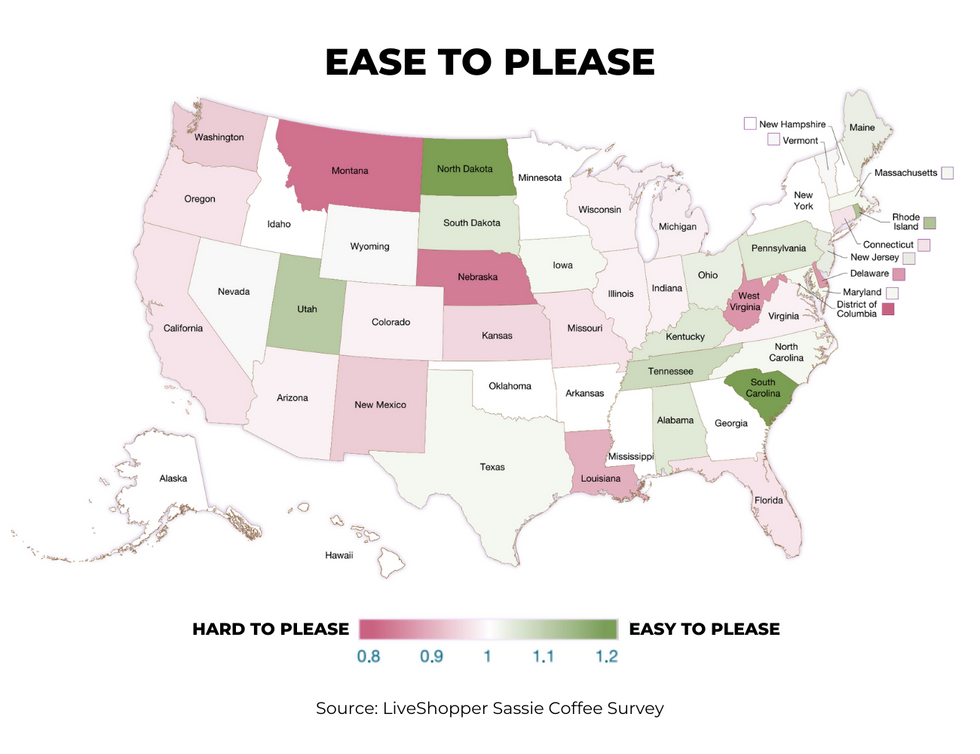 Coming in No. 1 as the most difficult to please is Washington, D.C., whose respondents gave high scores for service and quality, but still reported that they wouldn't return or recommend. Meanwhile, North Dakota and South Carolina came in at the opposite end as being the easiest to please.

As you can see from the map above, Utah and Tennessee were also on the easier to please side than most U.S. states, while Montana and Nebraska (I can't be the only one surprised here) were up there with D.C. as some of the other states that were more difficult to please.
SEE ALSO: Where To Find The Best Coffee Drinks In America, According To A Survey
On a scale of 1-5, how picky would you say you are about your coffee?
Want to participate? They're at it again using Live Shops to get feedback from customers to see what coffee drinkers think today.
Simply download the PrestoShopper App and create an account. Then, find participating coffee shop locations near you by using the Presto Map from your phone! Once you've found an assignment you can complete within 60 minutes, accept it, execute it, and complete the 10 question survey on your iPhone or Android mobile device (I repeat, you must do so within 60 minutes of accepting said assignment to participate).
Once you've verified that you've completed the assignment based on GPS technology and/or a photo of your receipt, you'll be rewarded with an Amazon code upon completion of the assignment.
In other words... getting money back for your coffee is as easy as downloading the app, completing a simple survey, and submitting your receipt! We love to see it.