Each day I find myself scrolling mindlessly through Facebook, searching for content that's actually worthy of my time. I remember being 13, starting a profile and liking every page under the sun. Obviously, like many other, that's changed. I want something I'm going to be interested in; something that will teach me or maybe even smile (I'm thinking of the dog videos, sigh.) I also find myself subscribing to media pages, some that are widely known and some that aren't. I can always find the typical, mainstream news that's been shown at least two or three times on a bigger station, but it's what I find on the tiny, independent ones. And just this past week, I found something that caught my attention.
Helly Luv, born Helan Abdulla, is a prominent Kurdish pop star born in Iran. Her life has been difficult from the start as she was born during the Persian Gulf War, fleeing from Iran to Turkey and finally settling in Finland. Growing up in a more westernized country, she was able to take drama, music and dance lessons, which helped her later on as she began her professional career. She later moved to L.A. to pursue her dreams and found herself collaborating with famous musicians, releasing new music, and even staring in a movie. This is truly the rags-to-riches life, but Luv wanted to do much more.
Being from the Middle East, as she saw ISIS take over her home, she knew she had to help. In her video, Revolution, we are shown the destruction war brings to towns around the area. We witness families being torn apart, people being killed and other running away as the big tanks come into the city. She finds herself walking towards them though, in a Peshmerga uniform and gold heels, protesting the brutality with her lyrics of love, peace, and unity. This is also how she wants to be known, someone who fights with music, not weapons. Oh, and ISIS was approximately 3 KM away during this video.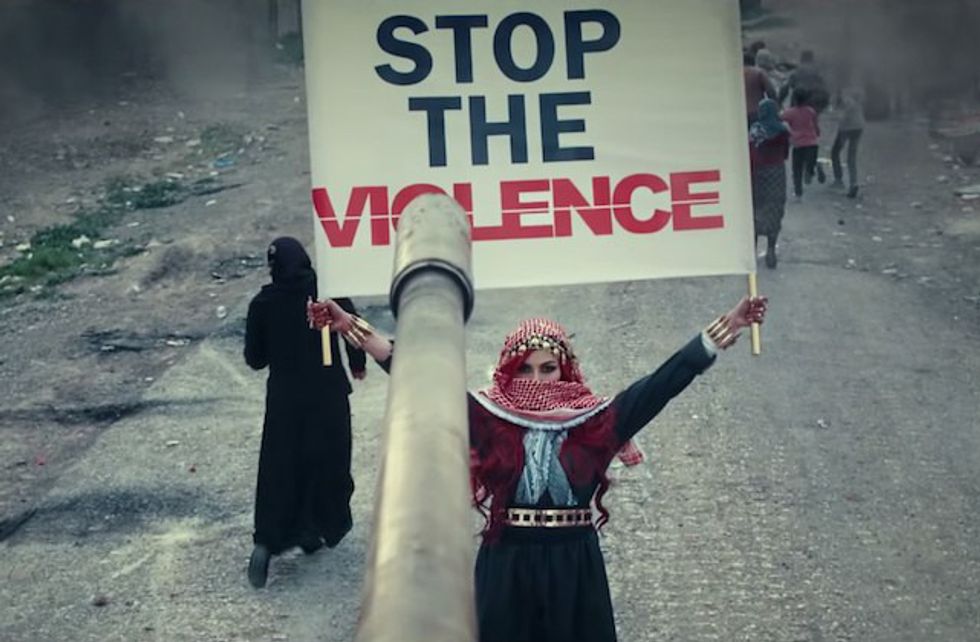 Not everyone is taking her message well though. ISIS has sent death threats and many have condemned her clothes' and make up choice. She is seen as provocative compared to the normal attire of the region. Even with the protest and dangerous threats, she states she's not scared of them. This is her way of fighting back, taking a stand, and empowering others.
Being in America, most of us are able to live a privileged life. We haven't grown up with bombs going off around us and fleeing your home country to save your life. It's important for us to be aware of these current events. We are encourage to fight back against ISIS and not be scared of them. Luv even sings, "Brothers and sisters we all come from one, different religions we share the same blood," in the song, which resemble real life. Luv is bringing the right idea of needing to rally against ISIS and violence. Hey, maybe this pop star could be the one to bring world peace.