In the United States, we recognize an inalienable right to free speech and the open sharing of differing opinions. These days, you can say pretty much anything and take cover under this free country, as your political opinions are protected by free speech.
But there is a difference we are forgetting about, America: the difference between political opinions and actively denying people rights.
Political opinions are the way you think government and politics should function. For example, some people think the government should be small and non-intrusive into the lives of citizens, while other think government should be large and involved in people's lives. This is a fair difference in political opinion.
There is no real right answer, though, because the government is man-made. There is no natural, moral answer to the question to what extent government should be involved in people's lives. The only way to answer that question is to openly discuss differing political opinions. That's what America is all about: diversity... Right?
Political opinions, though, do not cover existing prejudices against people different than you. You do not have the right to an opinion on whether another human should have rights.
Stop hiding behind your "political opinions" to justify your racist or sexist attitudes.
It is NOT a political opinion to think all genders are undeserving of equal rights to cis-gender men.
It is NOT a political opinion to think whites are the superior race.
It is NOT a political opinion to think all Muslims are terrorists.
I would say this is just you being homophobic, with your "political opinion" that gays do not have the right to get married like straight people do, but I find the "phobic" part of the word very problematic because a phobia means an irrational fear. Arachnophobia, for example, is the crippling fear of spiders.
You are not scared of the LGBTQ+ community. You do not fear them. You hate them. There is a difference.
So instead of proclaiming that people who include anti-gay rights in their so-called "political opinions" are homophobic, I venture to say they are simply hateful of gays. You are not transphobic. You are trans-hating. And hating people simply because they are different than you is NOT a political opinion. It is you perpetuating discrimination- NOT exercising your right to your own political opinions.
Stop saying such discriminatory things and then covering it up with, "well that's my opinion! Everyone has a right to an opinion!"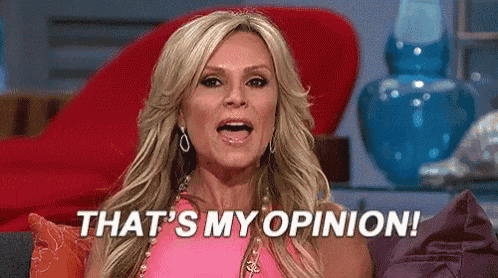 You do not have the right to form an opinion on who should and shouldn't get equal rights.
Yes, you can have personal opinions like, "I don't like Mary," but your prejudices against people from different countries and backgrounds, of different skin colors, or different sexual preferences, do not translate into hard political opinions.
Would you say we should ban all people named Mary from entering the country or getting married or getting equal pay to people who are not named Mary, just because you don't like her? Of course not.
But that's exactly what's happening here in America today. Because of your prejudices against different groups of people, you think you have the right to carry them as your "political opinions" and make them law.
Well, you don't. You do not have the right to dictate who gets equal rights.