When you think of final wishes, many people immediately assume it is a sad story dealing with the Make-A-Wish Foundation (for dying children). This story, though, is nothing but positivity! It is about an unlikely pair of two completely different organizations: a sorority and a World War II veteran.
World War II took place from 1939 to 1945, beginning with the bombing of Pearl Harbor in Hawaii. This event is particularly important to me because my grandfather was also stationed there at the time of the bombing. So was Paul Sonnier, the man this story is about. This 92-year-old veteran is under hospice care in Mississippi and often spoke to the nurses and interns at this care facility about dancing, specifically with a beautiful woman.
That is where Phi Mu comes in.
Phi Mu is a sorority based upon personal development, service to others, and commitment to excellence. This was a prime example being shown by the intern at Sonnier's care facility. Jessica Moreau is an intern at SouthernCare Hospice Services where she met this lucky vet.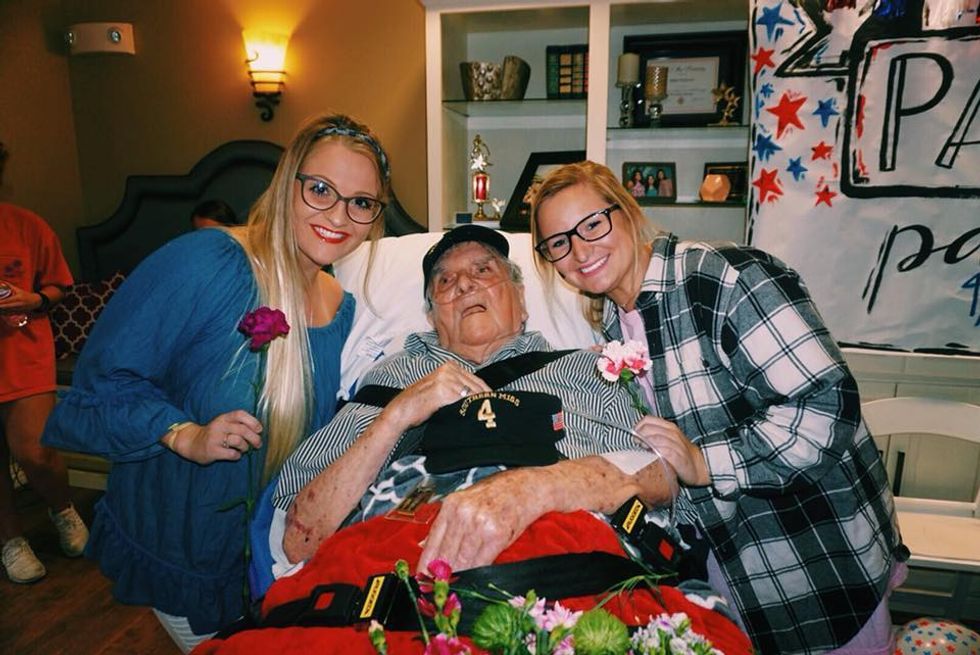 In an interview with Fox News, she told a reporter "he would always ask me if I wanted to go to Ropers (a local bar)" and "he says 'I'll teach you how to jitterbug and the waltz."
His dying wish was to dance with a beautiful woman, and Jessica granted that wish.
This wish encouraged the Phi Mu sister to give Sonnier the best night. She and the rest of the University of Southern Mississippi sorority threw a party in Sonnier's honor, Monday, in Hattiesburg, Mississippi, where he was a guest. This bedridden veteran "danced" the night away with many beautiful women holding his hands as he lied in bed.
Instances like this are what should be plastered all over the news. Amongst all the hatred and death in the world, this story was a breath of fresh air. It is not often you see a young person going out of his or her way for anyone, but this young lady made a dream come true.