Pete Buttigieg is not your typical Presidential candidate.
Buttigieg rose to prominence in the 2017 race for Chair of the Democratic National Committee, where he placed third. Still, Buttigieg's candidacy brought him national attention and piqued the interest of Democratic heavyweights like David Axelrod and Eric Garcetti. Buttigieg entered the race as a through-and-through underdog. The highest elected office he has held is the office of Mayor of South Bend, Indiana, a city of just over 100,000 people. Now he's trying to make the jump from Mayor to President of the United States.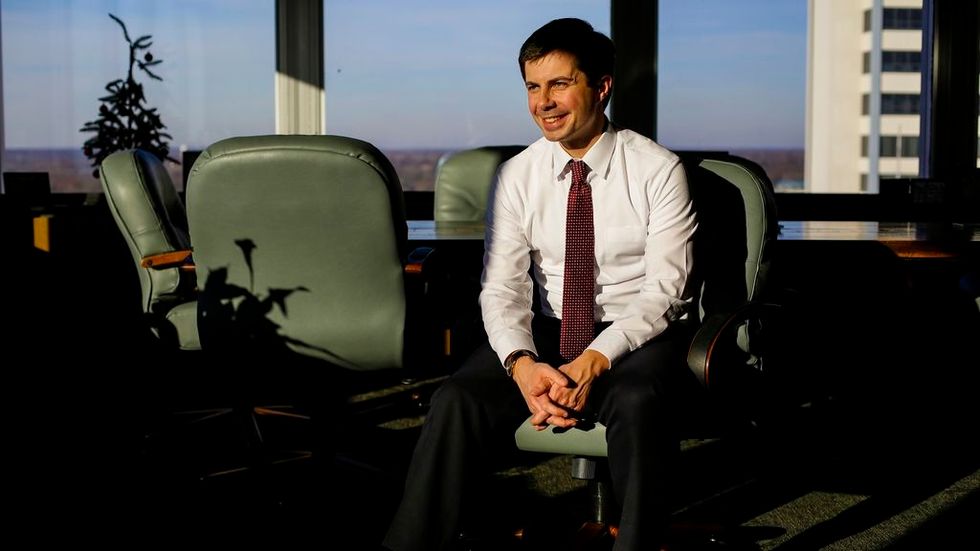 Buttigieg's unique background has classified him as a rising Democratic star.
Buttigieg is 37 years old, meaning if he was elected, he would be the youngest person to ever hold the office of the Presidency. He would also make history as the first openly gay President in American history. Buttigieg is a graduate of Harvard and Pembroke College, Oxford, the latter of which he received a prestigious Rhodes scholarship to attend. During his term as mayor, Buttigieg took a seven-month leave of absence in 2014 when he was deployed to Afghanistan after having been commissioned as a naval intelligence officer in the Naval Reserves since 2009. He is also proficient in Spanish, Italian, Maltese, Arabic, Farsi, and French, he speaks a little bit of Norwegian as well. Combining all of these features, the media began to buzz about Buttigieg's future career prospects, even sparking buzz of a Presidential run which was confirmed with his formal campaign announcement on April 14th.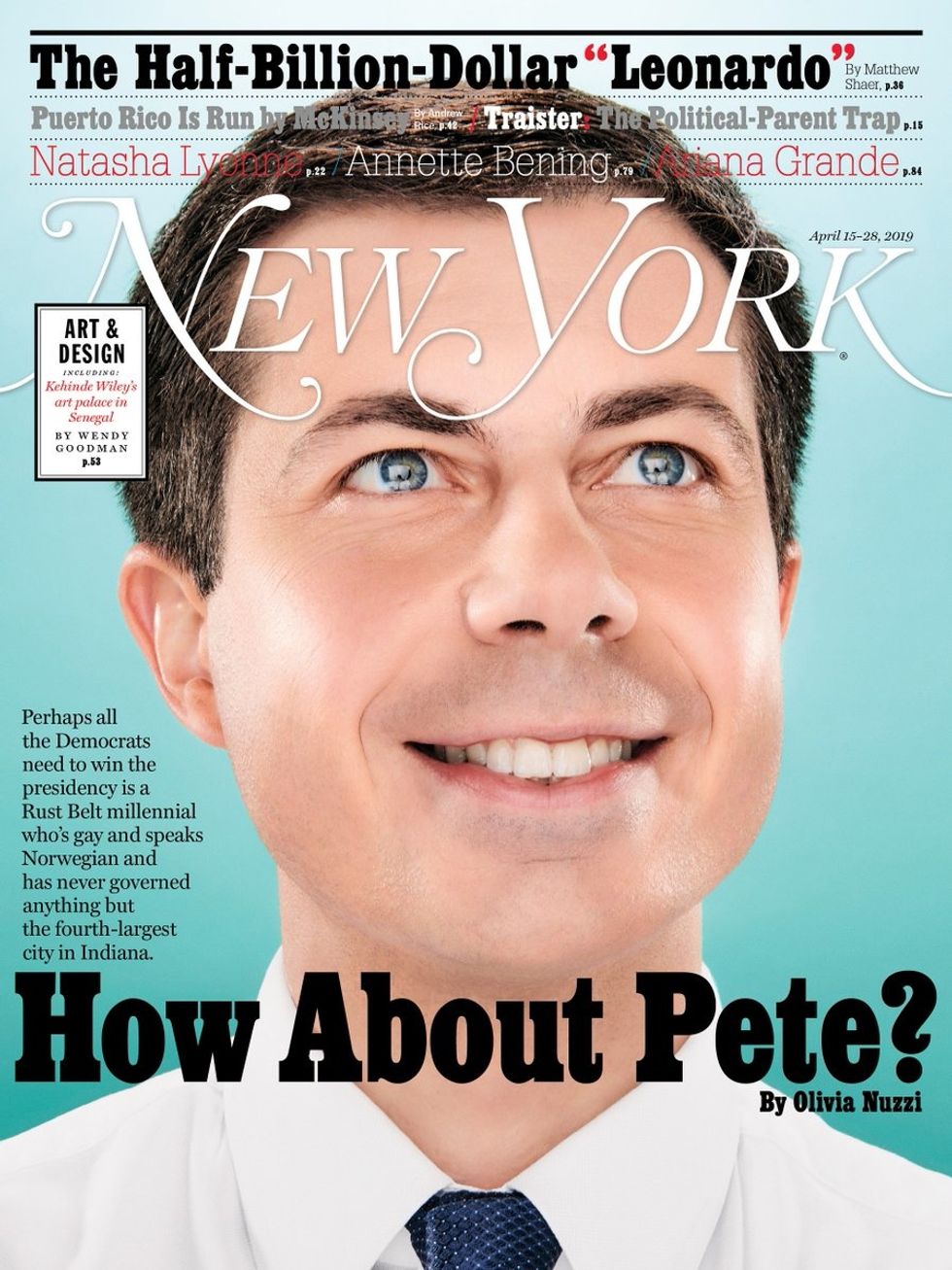 Buttigieg on the cover of New York Magazine
Buttigieg has become a darling of the mainstream media, increasing his standing in polls.
Buttigieg is everywhere. On magazines, newspapers, podcasts, cable TV, network TV, anywhere where there is a reporter who will listen. Charmed by his intelligence and folksy personality, the media has lightheartedly joked at being unable to correctly pronounce his name (it's Boot-edge-edge, by the way). His coordinated media strategy, masterminded by Obama campaign veteran Lis Smith, has landed him enough name recognition that fewer people are mispronouncing his name, and more people are planning to vote for him. The RealClearPolitics average has Buttigieg polling at 11.3% in Iowa, which would land him in third behind Senator Bernie Sanders and former Vice President Joe Biden. Nationally, the RealClearPolitics average has Buttigieg polling around 7.2%, putting him in fifth place behind Sanders, Biden, Harris, and Warren.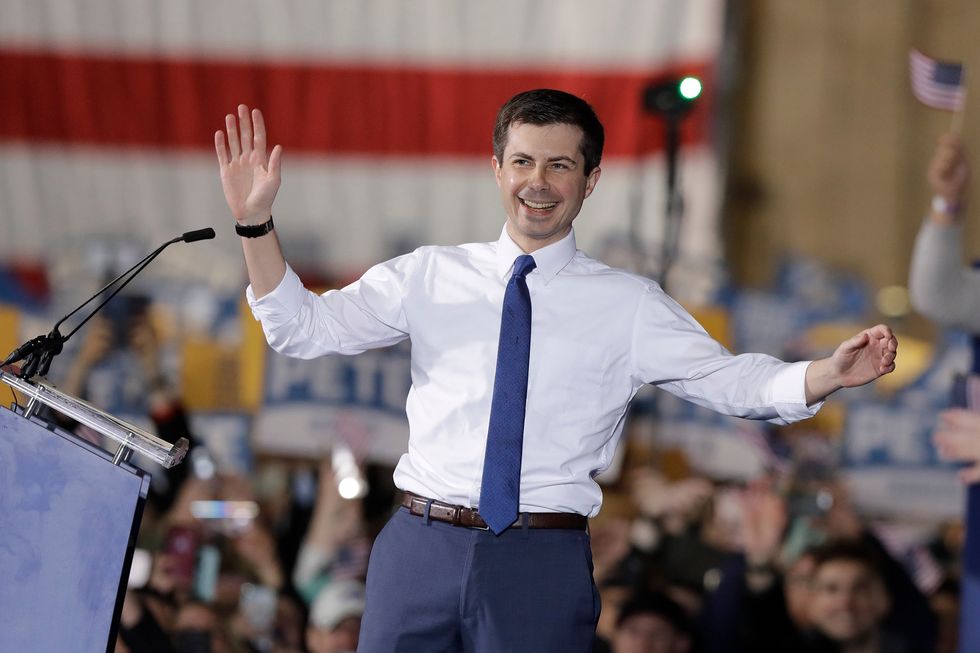 Election 2020 Pete Buttigieg, South Bend, USA - 14 Apr 2019
Can Buttigieg sustain this momentum?
Buttigieg stunned Democratic stalwarts with his $7 million fundraising haul in the first quarter, before he had even formally announced his campaign. His full-frontal media assault has provided him with a poll boost for now, but there are already signs that this may be temporary. In CNN's nationwide poll, Buttigieg fell from 9% to 8%, still falling within the poll's margin of error but rightfully concerning the campaign. It's important that Buttigieg keeps up his momentum, after all, there are still 9 months until the Iowa caucuses. There is plenty of time for Buttigieg to rise and fall in polls, but if his media presence is any indication, he is banking on shining in the debates as a fresh-faced, intellectual politician.